Over the years Cleo has grown to become the de facto leader in B2B integration, data communication and transformation, secure file transfer software, and any-to-any integration. In more recent years, Cleo has been recognized as the pioneer and global leader of the rapidly browing Ecosystem Integration software category, along with being the preeminent EDI provider. 
As Cleo's helped customers migrate from alternative EDI solutions, we have heard plenty of stories from businesses telling us what caused them to switch providers. Many of these complaints are about some of the largest, though not necessarily the best, EDI providers and solutions on the market.
We believe our expertise, innovation, and customer satisfaction provide us with the unique perspective to objectively assess the EDI space. This in mind, we compiled a list of five top EDI providers (ourselves included) that we identified for 2023. Take a read-through to better understand the EDI landscape, which providers are viable options, and the key differentiators and features that each EDI software offers. 

Top Providers
1. Cleo
Cleo is the pioneer and global leader in the Ecosystem Integration software category. Since welcoming new ownership in 2012, we have grown our team to more than 400 employees globally, and now serve and support more than 4,200 customers worldwide. 
EDI is a major aspect of ecosystem integration software. Cleo's flagship product, Cleo Integration Cloud (CIC), is a cloud-based integration platform solution that offers our customers innovative EDI capabilities and features that are routinely updated. With B2B EDI integration capabilities, your company can automate B2B and internal communications, therefore streamlining processing and creating more efficient operations. 
Along with EDI, CIC also supports additional integration use cases such as eCommerce/marketplace, MFT, API, and more. Users can harness API integration to:
Streamline revenue-generating business processes
Automate batch and real-time ecosystem interaction
Deliver persona-based visibility and actionable insights
Implementation Approach
Cleo offers customers varying levels of control over their runtime operations via our assortment of EDI service approaches. This allows customers to choose the level of responsibility and involvement they want over their EDI integration and processes. Our service approaches include:
Self-Service
When it comes to this EDI service option, your company's internal team is responsible for implementing and managing EDI processes. CIC was designed with the user in mind so users of all levels can easily access and navigate the platform. 
Managed Services + Transactional Monitoring and Management
With managed services, Cleo installs and manages your company's EDI processes. Our managed services team has more than 900+ years of combined integration experience, so we can confidently complete any integration request. 
In particular, one of our latest service offerings, transactional monitoring and management (TM&M), offers even greater support than our typical managed services. With our TM&M model, customers receive: 
Initial migration and EDI implementation

Change management and onboarding for trading partners

24/7 operational management

Experts at your fingertips

Continuous learning and certification
Blended Services
Our most flexible option, blended services, is a combination of self-service and managed services. This approach offers our customers the ability to customize which services remain in-house and which are outsourced. Offering a personalized approach toward achieving EDI compliance.
It is important to note too that customers can switch between service approaches as their business needs evolve. For example, a smaller company just starting with EDI may opt for the managed services approach since they do not have the skills in-house, but as they begin to grow and add team members, they may switch to self-service as they gain new skill sets. 
Key Features of Cleo Integration Cloud
End-to-end process automation for increased efficiency.
Real-time visibility of every EDI transaction so you can remain in control of your business.
Any-to-any data transformation enables your business to communicate and integrate with nearly any trading partner.
Automated error identification and notifications allow you to jump right into fixing the issues that arise.
Pre-built, customizable templates and maps for rapid trading partner onboarding.
Widespread protocol support so your business can accommodate EDI trading partners' evolving requirements.
A variety of service options, including TM&M (Transaction Monitoring & Management), that fit the needs of your business.
Self-service capabilities even when leveraging Cleo to manage integrations.
Cleo is an innovation-driven and customer-focused EDI provider that delivers all the EDI capable functions that companies require, along with additional features that further drive efficiency, agility, control, and visibility. Our all-encompassing, single-platform solution, CIC, along with our team of experts, equip our customers with the resources they need to scale their businesses and operate with a leading EDI software. 
Contact our EDI experts today to learn more by emailing us at sales@cleo.com.
2. SPS Commerce
SPS Commerce is a Minnesota-based, integration brokerage and EDI managed services provider. Founded in 1987, the company went public in 2010 and predominantly focuses on the retail ecosystem. 
Implementation Approach
SPS Commerce does not offer a true self-service approach. SPS only offers managed services, leaving customers with less direct control and visibility over integrations and trading partner relationships. SPS also retains ownership of trading partner maps and business process logic, even when a customer wants to leave, making it difficult to switch providers or solutions. 
Key Highlights
A strong retail space presence.
Web-based offering for suppliers needing only basic document delivery.
3. Boomi
Boomi is a Pennsylvania-based software company that specializes in integration platform as a service (iPaaS) and API capabilities for B2B SaaS requirements. Founded in 2000, the company was sold off by Dell Technologies in 2021.
Implementation Approach
While Boomi offers a self-service approach, the platform is an integration developer tool with a steep learning curve. For example, app-based integrations are multi-step configurations even though there are connectors, while some apps such as AMP do not have connectors at all. Any custom notifications need to be built by developers. Basic troubleshooting processes need to be built by hand, managed, maintained, and kept up to date for each error type. Customizations and complex business requirements need additional scripting and are not easy to implement.
Additionally, Boomi partners with managed service providers for customers interested in outsourcing. While helpful, it can add additional complexity since customers will not be receiving managed service directly from Boomi, but rather engaging an outside organization. For customers interested in managed services directly from Boomi, they do offer process monitoring and management services.
Key Highlights
Provides EDI, transformation, process orchestration, API connectivity, and most B2B iPaaS protocols, as well as connectors and accelerators.
Simple interfaces and flows that can be designed with low code.
Free 30-day trial.
4. TrueCommerce
TrueCommerce is a Pennsylvania-based supply chain EDI and eCommerce solution and services provider. Focusing on mid-market and omnichannel trading, TrueCommerce was founded in 1995 and was acquired by DiCentral in 2021. 
Implementation Approach
TrueCommerce follows a managed services-first approach. And while TrueCommerce does offer elements of self-service, it does not provide full self-service capabilities. For example, even with self-service, global mapping changes must be performed by TrueCommerce. Furthermore, customers don't own the maps they create when working with TrueCommerce, making it hard to ever switch vendors or migrate platforms.
Onboarding trading partners can also be a lengthy process. This is because TrueCommerce has invested in specific, rigid integrations. Customers need to follow TrueCommerce's strict onboarding and integration methods, or else they face an elongated implementation process. Therefore, this setup encourages users to utilize TrueCommerce's managed services. Lastly, when customers do reach out to customer support, they often talk to inexperienced team members that have difficulty solving the issues. 
Key Highlights
ERP connectors for SAP, Acumatica, MS Dynamics, Sage, and NetSuite.
Solutions have built-in localization and multilanguage support in five languages.
90,000+ active network participants.
5. OpenText
OpenText is an Ontario-based software company that helps companies with digital transformation and offers integrated information management platforms. Founded in 1991, the company went public in 1996.
Implementation Approach
OpenText offers managed service offerings including private cloud, assisted, off-cloud, and business network integration. OpenText also offers a limited B2B self-service integration approach via the cloud. For example, with self-service, customers must submit a service request for every map change, operational issue, etc. Therefore, customers are working with OpenText's timelines, not their own.
Key Highlights
Library of 500+ canonical maps.
Native app integration for SAP, Oracle ERPs, QuickBooks, MS Dynamics, and NetSuite FMS.
AI assistant for process orchestration and automation.
The Right EDI Provider Can Solve Your Unique EDI Problems
If your company is using an EDI provider that does not satisfy the needs of your business, there are two common solutions. Either your business could migrate to a new provider, which can be costly and time-consuming, or your company could add additional EDI solutions into the mix to fill the gaps of the first solution. Adding more EDI solutions will increase the total cost of ownership and increase complexity by having to manage multiple solutions. Also, EDI becomes more susceptible to errors due to the intricate nature of EDI and having more solutions involved.
However, your business can avoid the above scenarios by selecting the best EDI provider for your needs on the first try. A worthwhile EDI provider can help your business operate at peak performance by: 
Improving efficiency through business process automation.
Speeding time-to-revenue with quick onboarding via pre-built supply chain integration and Connectors.
Increasing system uptime and reliability.
Providing end-to-end EDI visibility into any transaction or process.
Eliminating missed SLAs with SLA management tools.
Capturing and sharing real-time data between platforms and partners via APIs.
Reduce costs associated with human labor and missed SLA fees.
Simplifying error resolution.
Wide protocol support so your business can accommodate any trading partner requirements.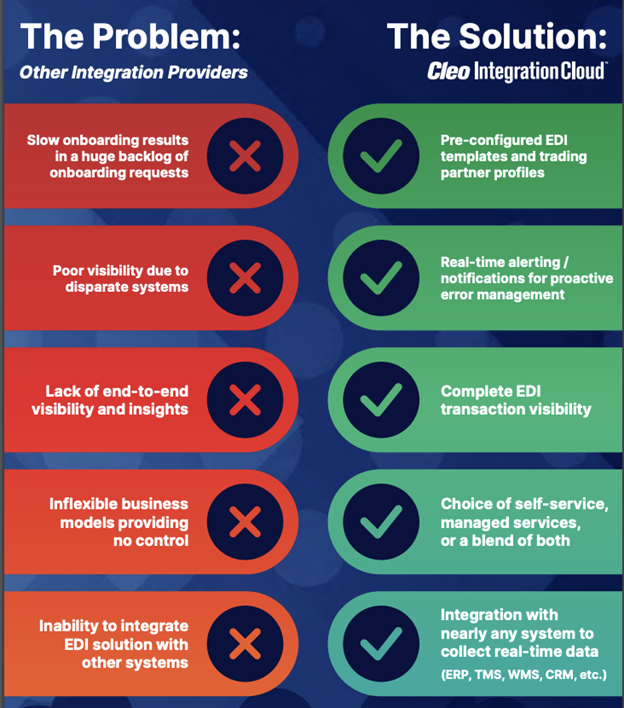 If you have questions about what was covered in this blog or Cleo's products and services, contact us at sales@cleo.com,  +1.815.282.7695, or by completing our brief form fill. Or explore some of our educational resources through our content hub.