Structurally today, most businesses are becoming complex digital ecosystems comprising a multitude of interdependent entities including their customers, partners, suppliers, marketplaces, eCommerce platforms, as well as the people, applications, and data that support them. 
What holds it all together? Your supply chain. 
But what holds your supply chain together? Integration technology -- including EDI, or Electronic Data Interchange software and related solutions. 
EDI is an electronic method of communication that helps companies improve operational efficiency and order visibility by replacing manual or outdated order management processes or business communication methods (phone, fax, email, paper) with standardized electronic document types and data transfer protocols. 
The majority of supply chain companies use EDI to connect to trading partners, thereby placing the technology directly in the middle of their business operations.
As such, the demand for viewing the EDI order process or EDI transactions in the context of business cycles has grown immensely. In short, companies want EDI visibility.
What is EDI Visibility?
EDI visibility is the degree of ease through which an enterprise can monitor, display, and analyze EDI data. 
Modern EDI dashboards provide advanced visibility through electronic reporting, allowing for direct insight into order statuses.
In short, EDI visibility and order visibility are one and the same. 
The digitalization of EDI capabilities has sped up routine business transactions, improves information accuracy, helps companies manage exceptions in real-time, and generally delivers better outcomes for all parties. 
Even the best supply chain management strategy in the universe will not succeed if you don't have EDI visibility.
Your business and the invaluable relationships that make it profitable will suffer.
Simply put, mastering your supply chain starts with EDI software. 
What does EDI Visibility Look Like? 
Full EDI visibility is best achieved through a centralized dashboard view into any and all of the multiple transactions taking place within your ecosystem at any given time, so anyone who needs to know, regardless of their role, can quickly ascertain the status of a given transaction, act on that information as appropriate, identify and correct errors ASAP, ensuring that the agreed-upon compliance metrics underpinning your key relationships (SLAs) can be met. 
The correct platform will deliver EDI visibility not only to EDI technicians and others with more technical backgrounds but also to business leaders outside of the IT team. 
Here you can see an example dashboard of the Cleo Integration Cloud EDI visibility dashboard.
You will notice orders and invoices are being tracked alongside issues and exceptions.
More importantly, although the underlying communication method sending, receiving, and tracking these processes is being done by EDI, the format of the dashboard allows for easy understanding for non-technical personalities.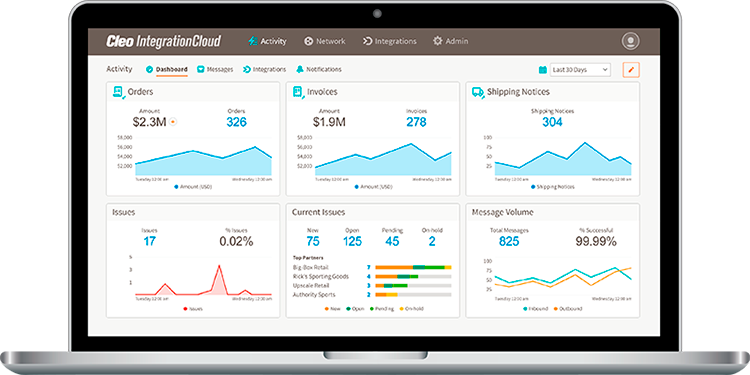 Beyond this, EDI visibility must also take into consideration your back-office applications (ERP, TMS, WMS, CRM, etc.) so it can be leveraged to, for instance, make onboarding new business partners smoother, faster, and hassle-free. 
Today's digital ecosystems thrive on relationships, where trust is at the core. Whether you are a manufacturer, in logistics & transportation, or engaged in warehouse distribution or retail, providing your stakeholders with timely, trustworthy insights about wherein the delivery cycle a product is, or the actual true and verifiable status of a given order, is becoming table stakes for most companies. 
This new environment is being driven in large part by the so-called "Amazon Effect," which has forever changed what customer experience really means.
Meeting or exceeding the expectations of your stakeholders (be they B2B or B2C) is critical to business survival because if you can't do it, someone else surely will.
As they say, loyalty is fleeting. 
Think for a moment about the various types of essential documents that change hands in the course of transacting business:
Customer orders
Purchase orders
Invoices
Advance Shipping Notices (ASNs)
Inventory reports
Acknowledgments
Pricing cards
Shipping timetables
And that's just the tip of the iceberg.
What does Order Visibility look like Within an EDI Platform?
All of these processes are communicated and executed via basic EDI transactions.
Here is what order visibility looks like in the Cleo EDI Platform:
In the transaction below, an inbound EDI 850 purchase order is received from an EDI trading partner (Rick's Sporting Goods).
Your order visibility can be seen as the dashboard is showing that the transaction arrived successfully and when it was sent.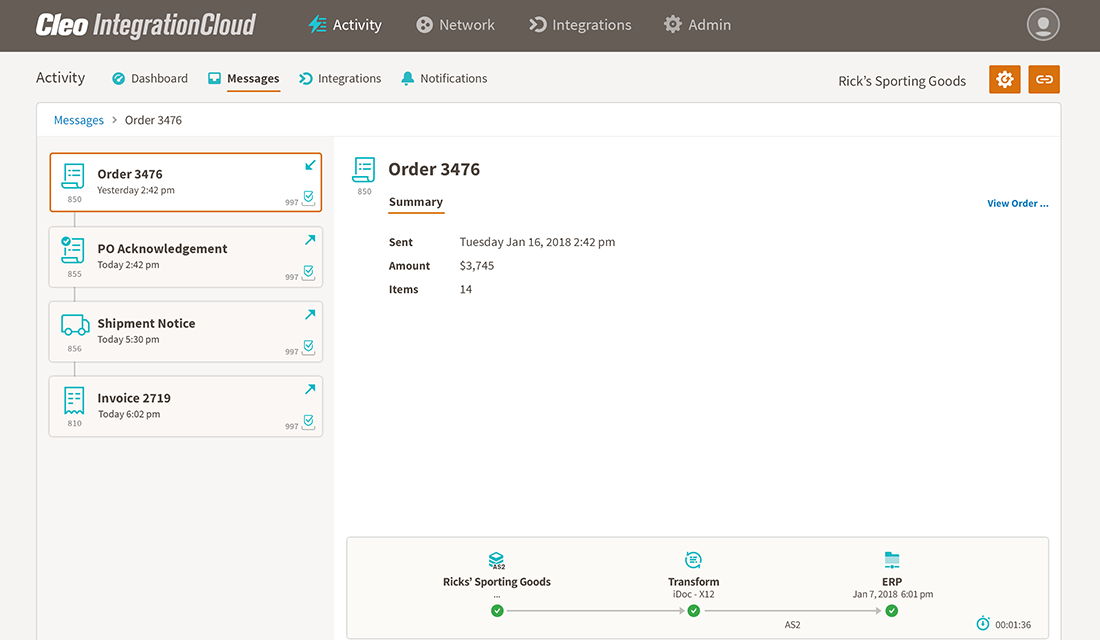 Here is an example of a failed EDI 850 transaction being automatically flagged by the Cleo Integration Cloud.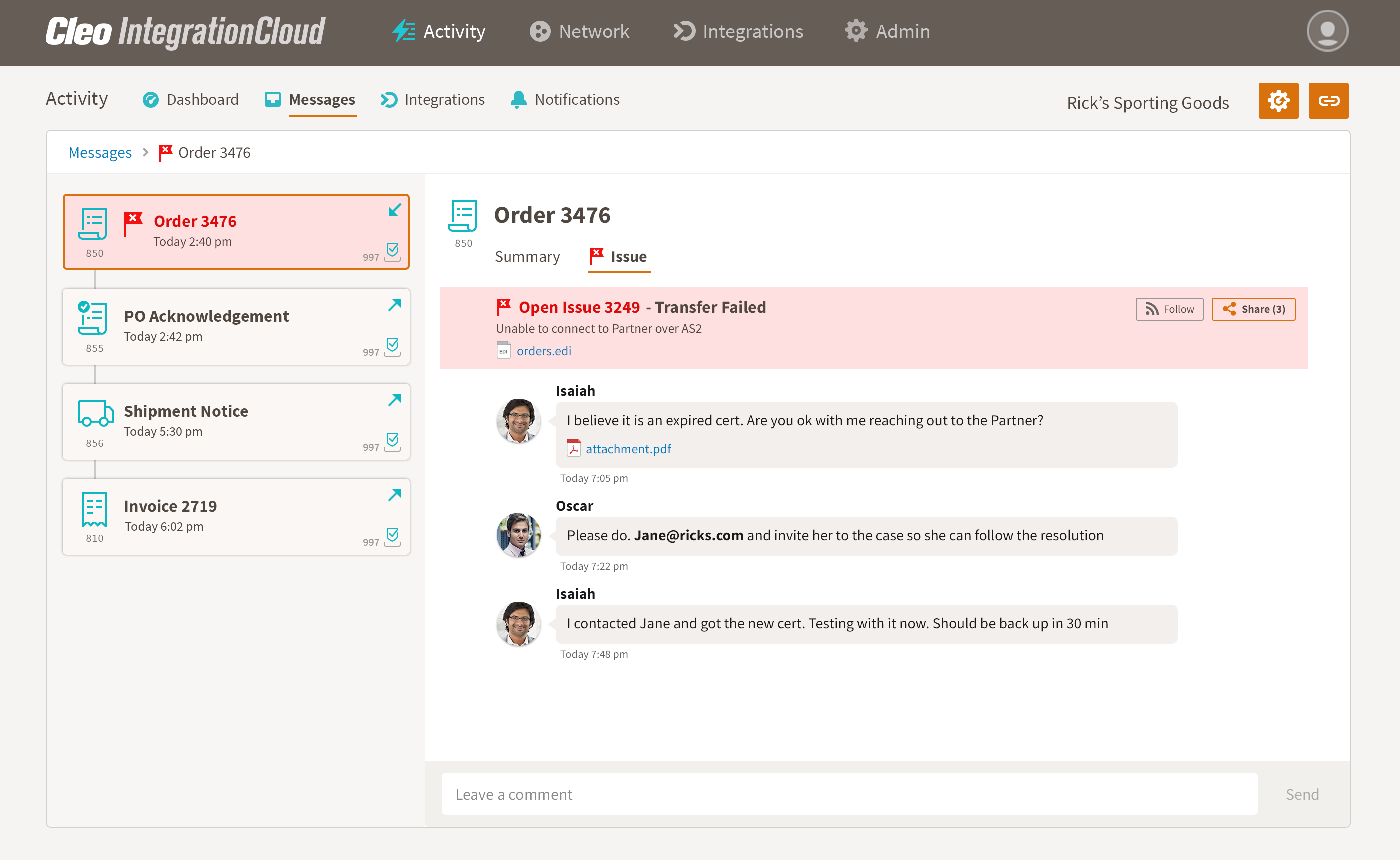 Being able to "see" into your systems to know the current status information about such revenue-critical documents is no easy technological feat.
But not having it can be disastrous.
Real-time insight is a powerful relationship-strengthening agent that adds value to your business. Attaining a meaningful level of EDI visibility, however, is challenging. 
Challenges to Achieving Full EDI Visibility
Not having EDI visibility generally means a business cannot answer even basic questions like these: 
Was an order actually sent?
When was a given order received?
Have there been any transaction errors this afternoon?
Was a shipment late?
Are we remaining compliant with the SLAs laid out by our partners?
What brings on such questions, and the associated angst of being unable to answer them is typically common EDI integration challenges like these: 
Challenge 1 - Faulty Integration with Back-End System
Today's ecosystems typically include a mix of on-prem and cloud-based applications, which impedes data flows and forces reliance on manual processes.
For data to flow seamlessly, you need integrated business processes between your external ecosystem entities' systems and your internal enterprise systems of record (e.g. ERP, WMS, TMS, CRM).
In short, you need automated EDI to ERP integration. 
Modernizing to this degree is a major challenge; plus, given the hefty investment most companies have made in legacy or customized solutions, they're understandably reluctant to give them up. 
Notwithstanding the durability and value of traditional systems, treating your need for EDI visibility as a reason to integrate your mission-critical business processes (e.g. Order to Cash, Procure to Pay, Load Tender to Invoice) end-to-end is a sure-fire way to begin streamlining your business operations.
But what's needed is a highly flexible integration solution that enables a blend of API, EDI mapping, and file-based integration on a single cloud platform.
Only this configuration can deliver complete visibility for business and technical users alike, while also ensuring the supply chain agility and responsiveness today's companies need to ensure a consistent customer experience. 
A complete integration should look something like the below diagram: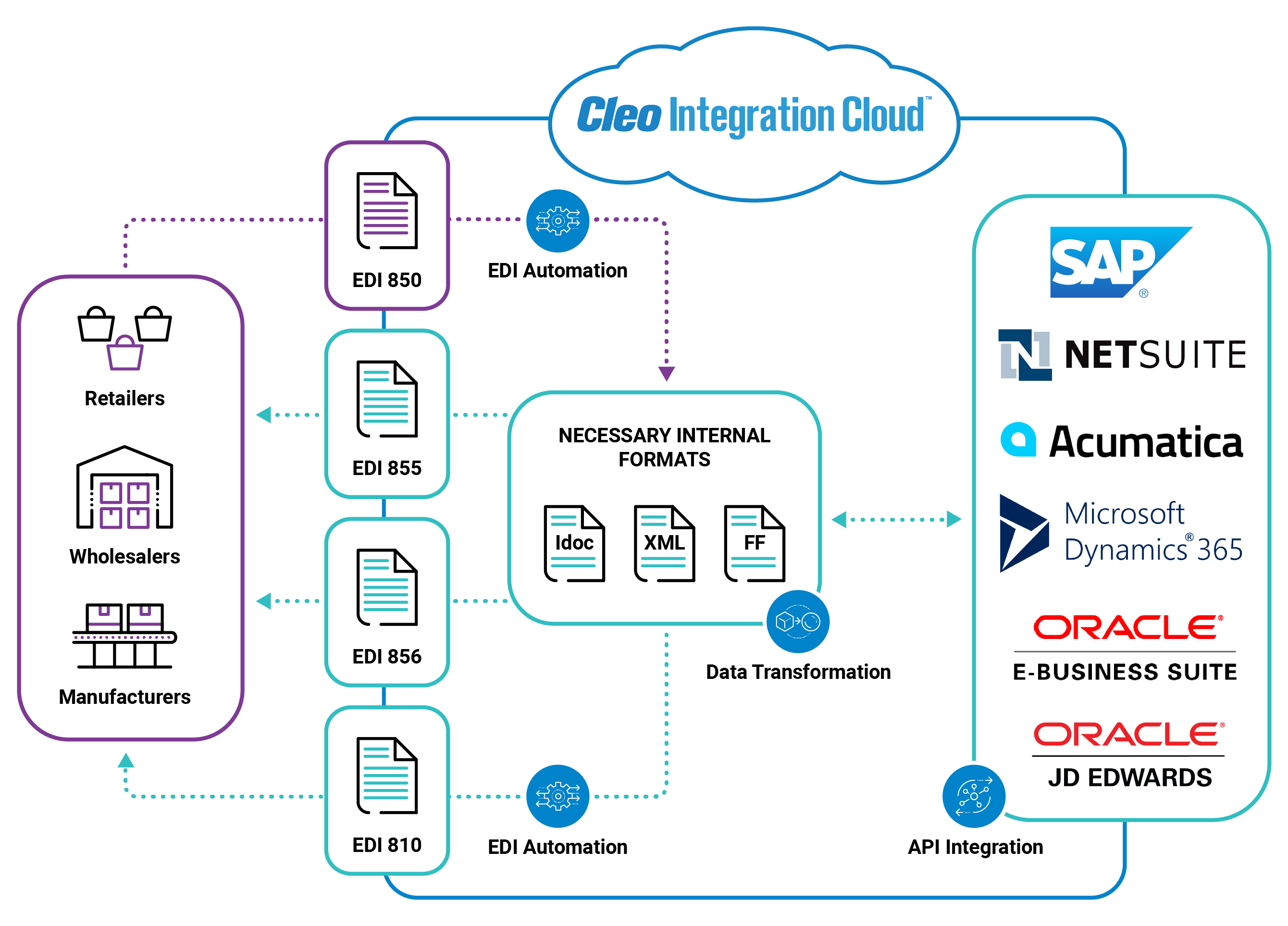 Challenge 2 - Lack of Automation 
A second challenge manifests as a general lack of automation, business process automation in particular.
To excel in eCommerce and D2C (direct to consumer selling), two major shifts happening across business today, the automation of core revenue-critical business processes is vital for companies to unlock EDI supply chain efficiencies and create business value. 
Here again, by focusing on end-to-end processes like Order-to-Cash or Procure-to-Pay, companies can gain the visibility and control they need, and also makes staff more efficient since they can apply real-time insights to make better decisions or use the extra time to focus on more productive tasks. 
By thinking "outside in," and moving beyond integrating just your internal applications to start integrating with your external ecosystem of business partners, eCommerce sites, marketplaces, even with consumers directly, EDI visibility opens your business to the modern world. 
Challenge 3 - Traditional Solutions Can't Keep Up
A third challenge or another reason to modernize integration to achieve rich EDI visibility is that traditional old-school approaches to integration, with their traditional solutions, can't keep up with the rapid pace of digital transformation that's redefining business today.
Integration brokerages and B2B Gateways aren't enough, because they exhibit two fundamental flaws that limit their customers' agility and growth: 
First, outsourcing causes a loss of control and visibility of core revenue-producing processes. Every inquiry, change order, or support request is by phone call or email, which is cumbersome and time-consuming. 
Second, they provide little help supporting application integration and services that power e-commerce and marketplaces, ERP, TMS or WMS systems, or other systems of record, limiting visibility and control and forcing a reversion to manual execution or worse — custom code and scripting.
Failure to overcome challenges such as these means EDI visibility will remain limited, and in turn, order visibility will continue to suffer.
Put another way, EDI visibility IS order visibility, i.e., one should think of EDI visibility as the essential component in order visibility.
Here's an example as to why.
The current rapid and widespread adoption of eCommerce has ushered in cloud services like Shopify and Magento, which automate the "order capture" portion of an order-to-cash process.
And as noted above, the so-called "Amazon Experience" has set expectations with buyers around speed, accuracy, and instant responses.
But it's what happens after the order is placed – i.e., the order is captured, inventory is checked, accounts are debited, items are pulled, packed, and shipped, shipping notices are issued, logistics gets involved, etc. -- that has caused companies to rearchitect data flows and modernize their integration technology.
Below, you can see what it means to integrate eCommerce with EDI and back-end systems.
Right in the center, sits Cleo Integration Cloud, providing complete order visibility in the supply chain. 
All these new points of interaction require new points of integration. EDI visibility is the key to confidently knowing your orders are under control.
As a rule, EDI order processing allows for a far shorter cycle than traditional, paper-based processes that require manual intervention.
Here is what an order processing sequence would look like at a high level:
A buyer chooses to purchase a service or good.
The automated EDI system used by the buyer creates an EDI version of a purchase order for the product and then sends the order to the supplier.
The supplier's order management solution consumes the order and its own systems.
The supplier's order management solution will then create an acknowledgment and an invoice and then the supplier's EDI provider will transmit both documents to the buyer to confirm the reception of the purchase order and provide a receipt for the order.
Attaining a process that gives you the order visibility you need, and that also positions your business to succeed over the long term, calls for moving beyond "traditional" EDI solutions into what's known as an "ecosystem integration" approach. 
Ecosystem Integration
Ecosystem integration is different from traditional "internal" integration approaches because it brings an "outside-in" approach to integration.
Traditional integration was always enterprise-centric, concerned primarily with connecting a company to a standard set of business partners and internal applications through common technologies such as EDI, and usually in a batch (i.e., not real-time) manner.
All the thinking was inside-out, not outside-in. 
In the age of the cloud, that's changed. Of necessity.
As a technology paradigm, digital Ecosystem Integration is about opening up a company to as many suppliers, customers, marketplaces, service providers, and SaaS applications as necessary so that it can conduct frictionless business -- in real-time. 
Imagine how fluid your business would be if all the revenue-producing processes that emanate outside your four walls were connected to your mission-critical internal applications through an agile technology platform that can seamlessly respond to changes in market conditions and business mandates from the ecosystem partners.
That's what Ecosystem Integration does. 
How? By blending traditional batch-based EDI with real-time API capabilities, to provide seamless orchestration across core business processes such as Order to Cash and Procure to Pay. 
Well, how can ecosystem integration get you the EDI visibility and order processing control that's right for you? 
Cleo Integration Cloud 
Cleo Integration Cloud (CIC) is a cloud-based integration platform, purpose-built to design, build, operate and optimize critical ecosystem integration processes. The CIC platform brings end-to-end integration visibility across API, EDI, and non-EDI integrations that give technical and business users the confidence to rapidly onboard trading partners, enable integration between applications and accelerate revenue-generating business processes.
On the platform, businesses have the choice of self-service, managed services, or a blended approach – ensuring complete flexibility and control over their B2B integration strategy.
When it comes to EDI visibility, Cleo Integration Cloud doesn't just support the technical integration, it gives you visibility into the underlying business processes.
You get actionable insights into the business value that each EDI document represents presented in the context of its impact on the broader business. 
EDI software with Cleo Integration Cloud offers complete integration within a true any-to-any transformation engine, so sure, you can do EDI to Flat File and Database, but you can also do:
 EDI to JSON
EDI to CSV
EDI to Web Services
EDI to APIs
You'll master your supply chain because you'll have order visibility in the supply chain in real-time.
Discover the benefits of using Cleo Integration Cloud for EDI integration by watching this short demo video:
Unlock Complete EDI Visibility