What is EDI? A Brief History 
Within the B2B industry, there has been a standard when it comes time to do business with other organizations. A standard that remains today in 2019, and will for much longer into the future. That standard is EDI, which stands for electronic data interchange. EDI is a computer-to-computer exchange of business documents with standards inside an electronic format between different business partners.
Before EDI, businesses relied on moving paper-based documents, which would take far too long and not provide the flexibility that an electronic exchange would. As smooth as EDI transactions run today in enterprises across many different industries, that wasn't always the case. In fact, the creation of EDI is a story that many IT pros who use it today might not even be aware of.
The manual process that companies would be faced with if not for EDI reporting is one that is simply cumbersome and inefficient: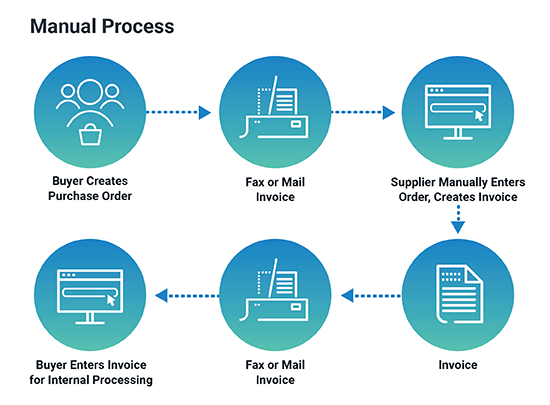 The EDI process, however, is one that companies utilize to save time, money, and make life a whole lot easier. According to Infoworld Magazine's survey of an enterprise company, the cost for processing a paper-based purchase order is almost $70, whereas the same transaction performed through EDI costs less than $1.1

But, in order to understand what is EDI, we have to go back in time quite a bit and first understand the history of EDI. And it all started in 1948 in Berlin.
Advent of EDI
The year 1948 was one of the most tumultuous times in the history of the United States. Ed Guilbert was an Army Master Seargent who had a problem. How was he supposed to deliver supplies to U.S. troops in Western Berlin after it had been cut off from Western Germany? The result was a marvel of logistics, the 'Berlin Airlift' which transported over 2.3 million tons of goods into West Berlin over the next year.
So how did Guilbert do it? He designed a standardized shipping manifest that organized the entire process, and tracked what was contained in each shipment and which pilots were delivering the cargo.
1960s
Years later, in the 1960s, Guilbert took his idea to the next level by developing an electronic messaging format to send shipping information around cargo. The transportation industry was the first to really take advantage of this new process and recognized the endless potential of EDI. The Holland-American steamship line sent shipping manifests in 1965 across the Atlantic Ocean by using telex messages. This allowed the Holland-American line to send a full page of data within roughly two minutes.
EDI really gained steam in 1968 with the creation of the Transportation Data Coordination Committee (TDCC) which started to create electronic standards within the transportation industry. Companies across other verticals began to adopt EDI as well, and soon were able to pass documents electronically through radioteletype (RTTY), telex messages, and telephone.
1970s
The year 1973 saw the file transfer protocol (FTP) published to enable the file transfer between internet sites. The FTP protocol was created as a standard in the RFC959 Declarative, outlining the different ports used, commands that FTP accepted, and values for the transfer parameters and modes allowed.
In 1975, the first national EDI specification was published, and Guilbert was a big contributor. The first VAN (value added network), Telenet, was also established in 1975, and was the first commercial packet-switching network to add more than just linking basic computer systems. Two years later, in 1977, a group of grocery companies and partners drafted an EDI project, and in 1978, the TDCC becomes the Electronic Data Interchange Association (EDIA). Soon, the EDIA is chartered by the American National Standards Institute and becomes the ANSIX12 committee which is responsible for publishing EDI standards.
1980s
ANSIX12 published its standards for the first time in 1981 and include the transportation, food, drug, warehouse, and banking industries. Soon after, major companies in the automotive industry, including Ford and General Motors, as well as retailers such as Sears and Kmart mandate EDI for their suppliers.
The EDIFACT EDI standard was created by the UN in 1985 in order to aid with the global reach of technology. Interestingly enough, EDIFACT was adopted by the automotive industry, but other industries insisted on remaining with ANSIX12.
1990s and 2000s
By 1991, as many as 12,000 companies were regularly using EDI. The Uniform Code Council (UCC) began EDI over the Internet (EDIINT) so it could standardize communications of EDI reporting data over the Internet. By 2001, AS/2 communication standard is published by the UCC to enable encrypted transmission of data over the Internet with the HTTP protocol. Walmart adopts the AS/2 standard in 2004 to communicate better with its suppliers, and other major retailers follow, although many remain on VAN communication.
EDI is Everywhere Today
Whether you purchase a jug of orange juice at the grocery store, order new shoes from Amazon, buy medicine at the drugstore, or sip that nice wine at your favorite restaurant, EDI plays a critical role in ensuring a dependable, repeatable experience.
Sure, it'd be possible for these things to happen in a non-standard way. Each manufacturer, retailer, or other business could manually fax paper orders and invoices, or email shipping data and confirmation docs. It would just cost a lot of time, money, and simplicity to do so. EDI enables the standardization and automation required to expeditiously execute – and track – these processes.
Some of the biggest companies in the world – Walmart, Target, and Home Depot, to name a few – mandate sending EDI via AS2 and prioritize securely connecting with suppliers, vendors, and trading partners to keep doing billions of dollars in business every day.
While the process itself isn't all that exciting, it's cool to know that EDI drives much of the global economy and has a hand in much of the commerce we transact daily.
Criticality of Modern EDI
Now, as we wrap up the year 2020, the importance of a modernized EDI solution has never been greater or more obvious. Modernizing your EDI integration positions your company to take on new business and respond quickly to customer and trading partner requests. The last thing you need is to disrupt your data flow and business processes because your environment isn't up to date.
Cleo Integration Cloud elevates your EDI integration processes and streamlines your B2B communications. Cleo Integration Cloud helps automate your EDI processes in order to connect, transform, and route your EDI and non-EDI transactions through your ecosystem without piling on the custom code.
Discover the benefits of using Cleo Integration Cloud for EDI integration by watching this short demo video:
Want to learn more?
1Millman, Howard. "A Brief History of EDI." Info World, pp. 83
About Adam Hughes
Adam Hughes is a Content Marketing Manager at Cleo. Previously, he spent over five years at TechTarget as a News Editor and Managing Editor covering cloud computing, mobility, and other emerging technologies.
Recommended for you
A well-qualified EDI-as-a-service provider can produce results rapidly while avoiding common errors that can risk business operations and trading partner relationships.
Learn about the role of modern EDI in the enterprise and discover the ways EDI can drive revenue for your organization.
Revolutionize the way you handle EDI exceptions.