Cleo Integration Cloud is purpose-builtfor logistics and transportation
Get a Demo
Cleo Integration Cloud is purpose-builtfor manufacturers
Get a Demo
Cleo Integration Cloud is purpose-builtfor distributors
Get a Demo
Over 4,000 companies trust Cleo for their EDI
Over 4,000 companies trust Cleo for their EDI
Over 4,000 companies trust Cleo for their EDI
"Cleo has really been instrumental in helping us grow and just the way that the system has been able to grow with us … It's kind of astonishing that you would buy a product by Cleo and expect it to have ten, maybe twenty connections and now we're looking at having over 400 connections on it. That's been one of the better products I've ever purchased."
Keith Curtis
EDI Manager,
Allen Lund
"Our costs and efficiencies have resulted in an average ROI of $5,000 a month, and having direct access to the map and communication means we spend less time troubleshooting EDI issues. Client satisfaction has also increased, as there are fewer problems with our in-house EDI connections, and our time to resolve and respond to our customers when issues arise has decreased by at least 60 percent."
Terri Sandine
Manager of Application Development,
Mohawk Global Logistics
"Cleo was the only option that enabled us to continually optimize our iSeries investment while at the same time extending our integration reach to the cloud so we could meet our customer-focused goals and objectives. Plus, operationally speaking, being engaged with their Managed Services team allows Cleo to do more implementation and support work for us, which frees up about 70% of my staff's time to do other things."
Trey Willis
Chief Technology Officer,
CTSI-Global
"At the end of the day, we want to be easy to do business with ... Cleo helps us accomplish that goal by allowing us to better communicate with both customers and partners. You can't put a price on that."
Michael Hegarty
Director of ERP and CRM Corporate Strategy,
Lipari Foods
Using Cleo Integration Cloud, Barilla moved 98% of business transactions on to a single EDI platform. With transactions coming in and out 24/7, Barilla has eliminated downtime, helping keep business flowing.
With Cleo, Mondetta received the EDI, flat file, protocol, and information integration support it craved and the apparel manufacturer was able to reduce the time it takes to connect to customers by 50%.
"With Cleo Integration Cloud we have one cloud-based platform that offers every type of transaction processing that we would need, whatever our customers are asking for. We don't have to build custom solutions or find a different tool. We're even using Cleo for a new API-based HCM (Human Capital Management) system we're deploying."
Jan Arvay
Vice President of IT,
Sauder Woodworking
"Cleo never stops … It runs 24/7. I have one or two people responsible for monitoring this on a day-to-day basis and 99% of the time we are just lights-out, up-and-running. Bringing these tools in has allowed me to uncover flaws in external parties, and that was huge … we used to get blamed for things not working. But when you have proper logging and you have tools that are working and recording errors, I can actually tell you that the partner is down, not us."
Michael Winsor
Integration Manager,
New Balance
"The Cleo Integration Cloud platform is secure, easy to use, and highly flexible to meet our business requirements ... We experienced zero problems or issues even though we implemented CIC during our peak business time, not to mention a pandemic."
John Hwee
Director of IT,
Duraflame, Inc.
EDI Software
The integrated EDI you need to speed partner onboarding, automate every EDI / non-EDI transaction, and gain unparalleled visibility from a leading EDI solution.
Over 4,000 customers agree— your business runs on EDI
Spend less time integrating EDI
and focus on actual revenue growth with a leading EDI software
Are manual processes and EDI integration issues weighing down your business? Manual errors and integration tasks consume your team's time, leaving them little room to focus on new opportunities or pursue more innovative endeavors.
Ease the headaches of manual tasks and business processes with complete EDI integration automation. From faster order processing, integration templates— to centralized data visibility, the right EDI solution will streamline key revenue-generating business processes, even amongst today's ever-changing digital landscape. With Cleo, you get more than cutting-edge EDI solutions that eliminate process errors, connections, and visibility gaps. With 900+ years of combined integration experience, Cleo has been rated a Leader in EDI and integration for over 4 consecutive years. Robust integration capabilities make this EDI solution the most refined method towards building an agile EDI network, which is why Cleo is trusted by thousands of leading organizations.
Why EDI solutions are a MUST
Besides the various benefits such as automating order processes, increasing business agility, and providing visibility into supply chains, it is worth mentioning that many major companies require their trading partners to utilize EDI for conducting transactions. By implementing the right EDI solution now, you can greatly improve your control and visibility over business relationships, setting yourself for trading success.
Let's explore a few additional "Whys" behind the Top EDI software for modern business…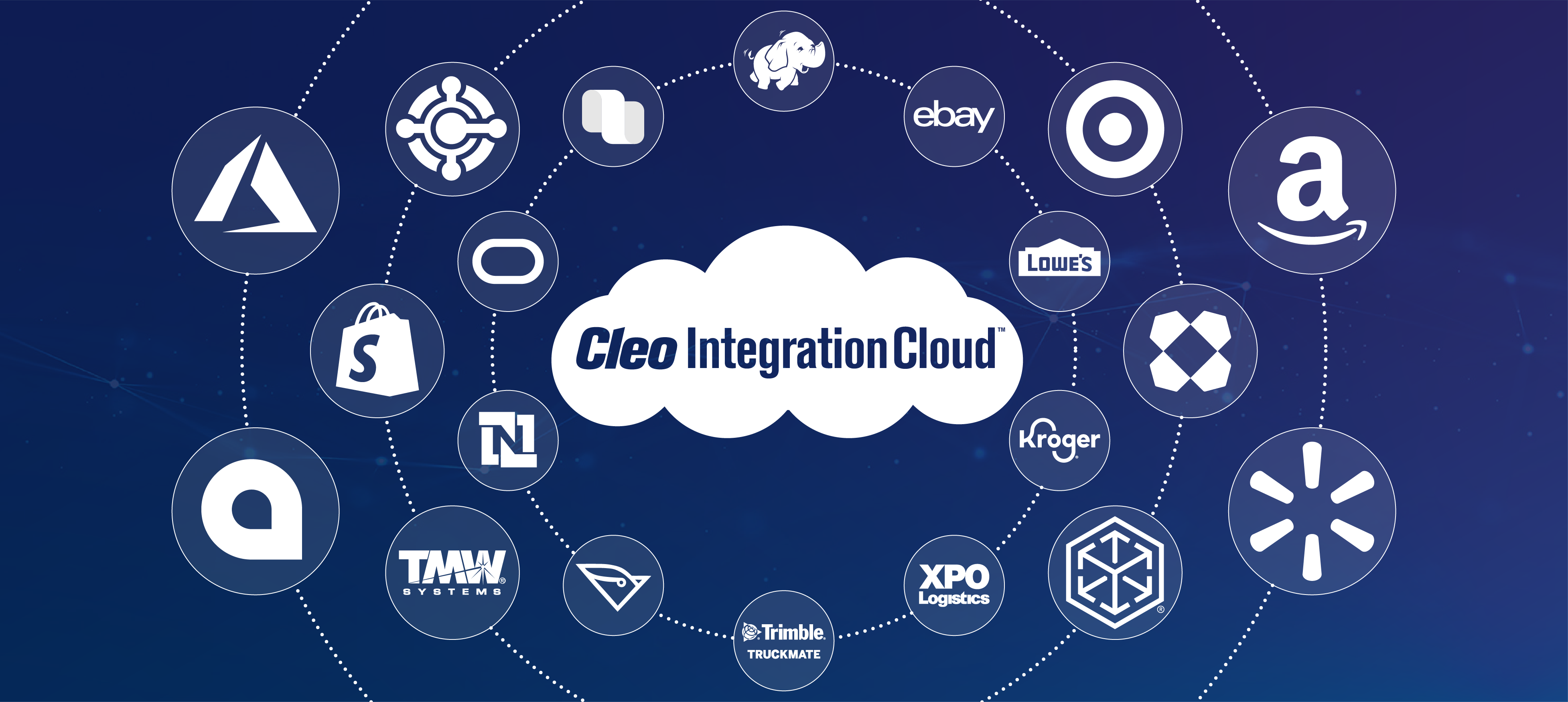 Your EDI Software Solution Should Enable:
Accelerated trading partner onboarding time
and faster time-to-revenue
What would your business look like if you could onboard EDI trading partners in as little as 3 days?
The right EDI workflows can cut down the time it takes to onboard new trading partners. Faster partner onboarding for both EDI and non-EDI workflows is made possible by a centralized EDI software, that offers all the connections needed to link any application without any code.
Seamless ERP integration
Integrate your ERP or accounting system to send your EDI files directly and eliminate the need for manual data entry.
Cleo provides a full suite of ERP connectors to integrate data across your ecosystem and reduce the complexity of end-to-end integration.
Robust, scalable, cloud-based EDI to
eliminate inefficiencies and dependencies
Easily manage advanced workflows with a single, unified view displaying your partners, EDI & API transactions, and EDI documents.
Our user-friendly interface and tailored dashboards give you the tools you need to see transaction activity across all channels.


Cleo's extensive network enables quick access to thousands of trading partners worldwide, in every industry ecosystem.


Reduce SLA violations by monitoring the time/frequency of sent files with RADAR.
Take control and error-proof your EDI,
resend and reprocess failed messages
Find out what went wrong
Use auditor logs to quickly troubleshoot what went wrong within any EDI transaction.

Find out where it went wrong
Use transformation data we provide to locate the root cause of any EDI failure.

Find out why it went wrong
Find the exact rule number where the transaction failed and take hands-on action.
Learn more about Cleo's Top-Rated EDI Software
See what our customers have to say:
"We were able to go from about 20 EDI partners to over 60 in the span of one year. We do not have to spend hours troubleshooting problems as the few problems we do run into are handled by Cleo. Our technical team is able to focus on other projects and growing our company rather than troubleshooting errors."
"CIC gave us the ability to scale quickly and bring more of our onboarding processes in-house. Cleo's really helped us to help ourselves when it comes to EDI enablement for our customers."
"CIC is a robust tool that can efficiently empower the end user to maintain an EDI connection. The dashboard has a user-friendly interface, which helps to translate various data formats to other data formats. Overall, Cleo helps streamline our process effectively and has visibility into all transactions."
"With Cleo Integration, we are resolving transmission issues and system glitches. We can identify rejected EDI transmissions and determine why an invoice was rejected. It has created structure and processes for handling technical issues with purchase orders. We have also resolved payment gaps by pulling Cleo rejections and sending them for resubmission."
"End-to-end visibility makes the EDI process more efficient."
Book a Demo
Fill out this form to request a custom demo and see how Cleo can help you take control over your EDI integration.