More and more in this economic environment, businesses must deliver exceptional customer experiences throughout the customer lifecycle. Companies, as well as consumers are placing more importance on the customer experience when selecting brands to buy from. Enterprise Resource Planning (ERP) systems are essential for supplying the information required to provide those customer experiences, along with the experiences within the supply chain. Although ERPs have been traditionally used as back-office systems for accounting, financial information, etc, they must connect with customer-facing systems like e-Commerce, Customer Relationship Management (CRM) systems, customer service software, and more to create seamless customer journeys.

Within an enterprise, many different systems and processes help manage the many facets of an organization. Businesses need a modern ERP integration platform approach to overcome the many challenges along the way. One that enables them to create exceptional customer experiences on every side of their organization.
What is ERP?
An ERP (Enterprise Resource Planning) usually refers to a category of business management software—typically a suite of integrated applications—that an organization can use to collect, store, manage and interpret data from many business activities.
ERP software is designed to simplify and centralize specific business processes, such as purchasing, inventory management, and customer relationship management (CRM), and it can be paired with other business modules to facilitate finance and human capital management processes, for instance.
Essentially, an ERP enables companies to manage the critical parts of their business from a single application. Having a general understanding of an ERP's purpose will help businesses understand the different ERP deployments and help better design ERP system integration.
What is System Integration?
System integration (SI) is a process that connects the various IT systems and applications in an enterprise so that they work cohesively in a coordinated and unified manner.
What is ERP Integration?
An ERP integration is the process of connecting your ERP system with another software in your organization. The integration enables your systems to share data and information that are critical to many business processes. It's a way of automating daily operations and increasing productivity across a business.
ERP system integration is a method of connecting and synchronizing your ERP software to other systems like eCommerce applications or an EDI platform (Electronic Data Interchange). The point of ERP integration is to ensure that automated and consistent information is shared between both systems, creating a single source of truth.
A business might use an ERP to keep track of inventory levels for each of its products. After implementing a direct-to-consumer business model, that company has begun to sell products online using a new eCommerce platform. When they sell an item online, the inventory count within their back-end ERP system must be adjusted to maintain accurate product numbers.
Without eCommerce integration, that business must manually update the inventory count in its ERP system AND its eCommerce application.
And therein lies the value of a well-executed ERP software integration. This strategy eliminates the need to enter the same information into two or more systems.
An ERP Software Integration Example: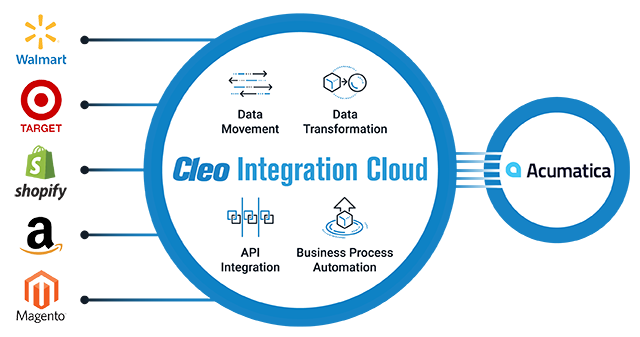 In this ERP integration diagram above, you can see external trading partners' communications and eCommerce data from Walmart, Target, Shopify, Amazon, and Magento being connected to Acumatica, a back-end ERP solution, through the use of an integration platform.
In this ERP integration flow diagram, external front-end data is moved from left to right, transformed, and then automatically integrated into the back-end ERP system.
ERP systems house the back-end functions that drive a business forward, but it's ERP system integration with the rest of your IT stack that's critical to achieving enhanced organizational outcomes.
Whether you should use an on-premise ERP or a cloud ERP depends on your IT resources and specific business needs, but there are benefits and challenges to using both.
Every company aims for high customer satisfaction, and believe it or not, your back-end ERP system has an impact on that.  How? Let's examine this from the integration technology perspective. 
Common Types of ERP Integrations
With ERP integrations, all data flows freely between the connected systems (ideally in real-time) and the information is stored centrally in the ERP. There are numerous ERP integrations that can improve business operations and processes. Examples of some of the most common  include:
eCommerce to ERP Integration
eCommerce platforms such as Shopify and Magento allow customers to shop online. From a customer's perspective, this looks like browsing products, placing an order, and paying. On a company's end, this looks like checking and updating inventory levels and shipping the product to the consumer. Businesses rely on eCommerce platforms to sell products and perform order fulfillment. 
Customer Relationship Management to ERP Integration
Customer relationship management (CRM) systems like HubSpot and ZoHo are essential to sales teams as they help manage accounts by recording all customer and potential customer data, along with sales activity. For example, CRMs commonly hold data such as contact info, notes on customer pain points, and a log of outbound calls. Businesses can use this data to remain informed and organized with each account, as well as communicate strategically with customers.
Project Management Software
Project management software platforms like Asana and Basecamp keep teams organized by tracking timelines, project status updates, budgets, shared files, messages, and more. Companies rely on this software to help plan, coordinate, and complete projects accurately and on schedule.
Business Intelligence Software
Business intelligence (BI) software like Tableau and Domo are used to collect and analyze data, often allowing users to create pre-made or customizable reports, visualizations, and dashboards. Companies can analyze this data to discover insights that can help inform and influence strategic business decisions.
The Challenges Faced Without ERP Integration
Not only can ERP integrations help companies improve operations and processes, but they can also help prevent multiple pitfalls, including:
Siloed Data
ERPs centralize and compile data from various sources, making it easy for everyone in an organization to access accurate information quickly. Without ERP integrations, companies often experience data silos, which isolate data from the rest of a company, its departments, and teams. This can lead to a slew of negative consequences, including:
Preventing internal information sharing and collaboration
Duplicate data 
Requiring more storage space
Less-informed teams
Poor decision-making
Wasting time collecting data that is already compiled
Slow-Moving, Manual Processes
ERPs utilize automation to improve efficiencies and reduce the need for manual intervention. For example, a salesperson has a call with a client and records the call information in the company's Salesforce CRM. With an ERP integration platform, all the information entered into the CRM will automatically be shared with the ERP in real time. If the CRM is not integrated with the ERP, an employee will have to physically transfer the data from the CRM platform to the ERP. This is a slow and error-prone process, and can often lead to missing data if nobody remembers to physically transfer the data.
Absence of Real-Time, Accurate Data
ERPs are great tools for data collection. With an ERP integration, all data is automatically pulled from each system and is stored in one central repository that more often than not is updated in real-time. Without ERP integrations though, if a user wants to view data they have to physically go into each platform and hunt down the information they need. Processes like this are repetitive, time-intensive, and error-prone.
Lack of Customer Experience
The customer experience is greatly improved with ERP integrations. This is because ERPs help companies collect a wide variety of user data that can enhance a customer's shopping experience. For example, companies can use the collected data to provide product recommendations and delivery updates. Without ERP integration though, the data would be siloed, unorganized, and fragmented, interfering with a company's ability to provide helpful suggestions and updates. 
Most companies still think of their back-end ERP as the engine that runs their business operations.  However, it is that and a whole lot more – it is actually a critical component of delivering a high-end customer experience.  The more efficiently your network of partners, applications, marketplaces, and data are integrated through integration technology, the greater value you'll get out of your ERP solution.  
 
| | |
| --- | --- |
| What Types of ERP Systems Can You Integrate? | |
On-Premise ERPs
A traditional on-premise ERP is installed locally within a company's environment, rather than hosted by a third-party provider in the cloud.
Much has been made of the debate whether an organization should migrate some or all of its business processes into the cloud, and for some industries, the amount of security and control that you get in your own environment is too valuable to risk.
On-Premise ERP Benefits
1. Easier to modify - On-premise ERPs allow enterprises to make changes and customize their application to meet their specific needs.
2. More control - For those companies in niche or highly regulated industries, on-premise ERPs give a much greater level of control to maintain and manage data.
3. More security - Much like control, an on-premise ERP secures data to a level that you might not be able to obtain in certain cloud environments.
On-Premise ERP Challenges
1. Implementation time - Because on-premise ERPs allow for more customization, it also means delays in implementation time, which can result in some potential headaches when a vendor updates or modifies the software.
2. Upfront investment - An on-premise ERP often requires larger hardware and other capital investment upfront, whereas a cloud application often can be managed over as an operational expense.
3. Ongoing maintenance - Because an enterprise is responsible for maintaining and managing its own environment when the technology doesn't work like it's supposed to, it's the company's responsibility to fix and pay for it long term.
Cloud ERP Integration
A cloud ERP is hosted on a third-party cloud computing platform, instead of behind a company's firewall or within its own data center. Much like an on-premise ERP, there are benefits and challenges to choosing this model that will vary based on your enterprise's needs.
Cloud ERP Benefits
1. Cost - The most alluring factor to choose a cloud ERP revolves around just how much money an enterprise can save. Costs are predictable over time, and enterprises only pay for what they use, with a modest upfront investment and no additional hardware investments.
2. Accessibility - The proliferation of cloud computing also has enabled mobile accessibility, allowing enterprises to use their applications from anywhere and on most devices.
3. Stability - A cloud ERP will have greater stability through a third-party vendor because of the continuous updates the vendor does to improve the software and the resolution of issues that arise.
Cloud ERP Challenges
1. Lack of control - IT admins will lose a certain amount of control with a cloud ERP over customization and integration because the control usually is in the hands of the third-party provider.
2. Security (or lack thereof) - As the most alluring factor to choose a cloud ERP is the cost savings, the biggest drawbacks center on the security of the cloud itself. Your business loses the ability to proactively protect critical information stored in an ERP system that resides on a third-party provider's cloud.
3. Compliance - Enterprises, especially those in highly regulated industries, must ensure that they remain data-complaint at all times. When selecting a cloud ERP, data residency requirements and standards need to be met, which can be difficult since data can live in multiple cloud data centers across many different regions.
Postmodern ERP
While on-premise ERP and cloud ERP are the two most common forms of enterprise resource planning, there is a new strategy that combines both to create a sort of hybrid model, called postmodern ERP.
Gartner defines postmodern ERP as "a technology strategy that automates and links administrative and operational business capabilities … with the appropriate levels of integration that balance the benefits of vendor-delivered integration against business flexibility and agility."
This definition takes into account two types of ERP strategies: administrative ERP and operational ERP.
Administrative ERP Strategy
Administrative ERP refers to aspects of an ERP including financial management, human capital management, and indirect procurement. Many industries only require administrative ERP capabilities, such as manufacturing or distributors, so their ERP strategy is completely focused on administrative functions.
These industries might then supplement the ERP's capabilities through industry-specific functions.
Operational ERP Strategy
Organizations utilize an operational ERP strategy when they must tackle various workflow functions, such as order management, supply chain, and manufacturing.
For companies that need to pair operations with the maintenance of assets in their ERP, integration between administrative and operational ERPs helps organizations streamline processing and enable visibility within each ERP.
A postmodern ERP strategy is designed to give businesses the flexibility to use the best applications for their specific needs while ensuring these components adequately integrate and interact with each other to meet the larger business goal.
Conclusions
An ERP system automates business processes to make the organization more efficient and provides better visibility into those processes. But to reap the full complement of ERP benefits, businesses must integrate their ERP system with the rest of their systems and applications.
While integration is a critical component of any ERP deployment and strategy, elegant integrated ERP software strategies still elude many organizations.
Cleo Integration Cloud provides a full suite of ERP connectors to integrate data across your ecosystem and reduce the complexity of end-to-end integration. 
Request a demo today and discover how these out-of-the-box adapters expedite the ERP onboarding process and deliver robust integration capabilities designed for you to better leverage your critical ERP applications.