Since ancient times, much of business success has come from having strong relationships. Fast forward to our modern, digital age, where so many business relationships are made or broken through digital technology, and while this centuries-old truth still holds, it's grown much more complex. 
Nowhere is this more apparent than in the world of EDI (Electronic Data Interchange). In particular, EDI chargebacks, financial penalties some companies lodge against their vendors and suppliers for failing to maintain EDI compliance with agreed-upon SLAs  (Service Level Agreements), continue to wreak havoc on trading partner relationships. 
What does being EDI compliant mean? 
EDI compliance refers to the ability to exchange business documents (or EDI transactions) in the format required by your trading partners. Each document must meet a specific EDI format for smooth exchange, or businesses will face costly errors, missed EDI SLAs, and delayed operations.
Countless organizations insist that their trading partners communicate using EDI software, including retail giants like Walmart, Target, Costco, and Amazon. 
EDI Compliance Requirements
Many major companies have requirements for EDI trading partner setup and maintenance, both of which are important in keeping compliant.
Here you can see Walmart's "Getting Started with EDI Implementation Guide," which helps companies become EDI compliant with the retailer. 
In the document, Walmart lays out 4 EDI compliance requirements for all partners
The ability to exchange the basic EDI document set
The timeline for EDI data testing 
Connection requirements
Functional acknowledgment expectations 
First, the basic EDI documents required by Walmart are:
821 Claim
864 Text Message [for invoice errors]
Second, as far as the acceptable timeline for EDI testing, Walmart dictates that the period in which a vendor must prove that they are capable of transmitting all of the basic documents can take no longer than 6 weeks. 
"If testing takes longer than six weeks, the supplier may be removed from EDI testing for non-compliance."
– Getting Started with EDI: Implementation Guide, Page 8
Third, to trade EDI with Walmart, vendors must maintain a consistent AS2 connection. This means that a business must not go offline or experience any disruption in its communication with Walmart.
Since AS2 is the sole means of connecting to Walmart and the method by which EDI documents are exchanged, a drop in connectivity can negatively affect a trading partner's relationship with the giant. 
Fourth, the EDI trading partner MUST send EDI 997 functional acknowledgments no more than 24 hours from when Walmart purchase orders were placed in their partner mailbox. 
Why is EDI compliance important? 
With virtually all major trading partners demanding that businesses who wish to trade with them be EDI compliant, the importance of building and maintaining EDI compliance can not be understated, especially given how it can benefit your bottom line.
At its most basic level, EDI compliance means your business can use EDI to receive your purchase orders and send out invoices.
Solid, trust-based relationships built on being EDI capable foster confidence and business growth. EDI implementation issues are not only frustrating, but they can also be costly. And that cost of being non-compliant comes in the form of EDI chargebacks. 
What are EDI chargebacks? 
EDI chargebacks are financial penalties for non-compliance with your trading partner requirements. Trading partners issue EDI chargebacks because of vendor non-compliance with agreed-upon elements of the Service Level Agreement (SLA). Because vendor non-compliance disrupts operations and creates additional expenses for the trading partner, the customer offsets those additional costs by issuing EDI chargebacks to the vendor. 
In the simplest terms, EDI chargebacks hit you because you caused mistakes that disrupted a customer's business operations and cost them money. If you're late with a delivery, packages are incorrectly labeled, or a shipment is damaged or incomplete, expect to receive an EDI chargeback.
Due to frequency of changes in routing guides, the complexity of managing dozens or hundreds of individual chargebacks, and the internal, cross-functional team effort required to combat EDI chargebacks, eliminating them entirely is often a tall order. Continue reading below to understand the different types of chargebacks and why they are assessed in the first place. 
Types of chargebacks
EDI chargebacks can take many forms. The EDI 856 ASN (Advanced Shipping Notice) is no doubt one sort of EDI document transaction that most people reading this are familiar with.
The ASN is far and away the riskiest transaction for chargebacks.
Its primary purpose is to provide tracking and packing information ahead of delivery. As seen above, Walmart explicitly mentions the timely sending of ASNs as a key component of EDI compliance. 
Some of the most common elements included in an ASN are the purchase order number, ship notice number, and the location where the product will be shipped.
Beyond ASN errors, some other common reasons that B2B customers might execute an EDI chargeback to a vendor include:
Using the wrong carrier
Shipments arrive too early or late
Key specs are missed (failure to meet proper packaging specifications, for example)
Orders aren't filled at the appropriate rate
Something's delivered to the wrong location
Incomplete or incorrect paperwork 
See the graphic below for some example chargebacks Amazon extracts from non-compliant partners:

Top 3 Types of Amazon Vendor Chargebacks:
ASN Chargebacks: When using Fulfillment-by-Amazon (FBA), vendors must promptly send the Advanced Shipment Notification (ASN) to Amazon upon order receipt. It is crucial to adhere to the ASN protocol and meet the specified timeframe outlined by Amazon. Failure to comply or errors in shipping information will result in automatic chargebacks.

Routing Request Chargebacks: Upon receiving orders from Amazon, suppliers or vendors must accurately encode and submit routing requests within the shipping window. These requests enable Amazon to determine the shipping destination for the products. Failure to fulfill this requirement will lead to chargebacks.

Delivery Chargebacks: Timely delivery is essential. If orders are not delivered within the designated schedule, the products must be returned to Amazon. Failing to do so will result in order cancellation and financial penalties.
Learn more about EDI compliance with Amazon in a virtual tour of our EDI integration platform.

EDI Compliance Solution: Amazon
While every customer-supplier agreement is different, to offset unexpected expenses, EDI chargebacks levied by companies can range from hundreds to literally thousands of dollars per violation, adding up to huge – and avoidable -- revenue losses on an annual basis. 
When asked how much annual revenue they lost in 2020 due to poor EDI integrations, 66% of respondents to a recent survey said their companies lost up to $500,000, compared with 43% losing up to that amount the prior year. 
In 2020, 8% percent said they lost between $500,000 and $1,000,000, and 10% estimated they lost more than $1,000,000. Strikingly, when asked how many orders they lost, 26% of respondents answered, "I don't know."
Any EDI transaction document must contain a certain minimum amount of vital data. Without these requirements, an EDI document becomes useless. Adhering to strict EDI feed formatting rules helps define precisely how and where each vital part of the required data in the document will be found and used. Each document is assigned one of the dozens of transaction numbers from the EDI public format.
This is why getting EDI transactions right is so important. Rules are rules. And being EDI compliant is better for all parties.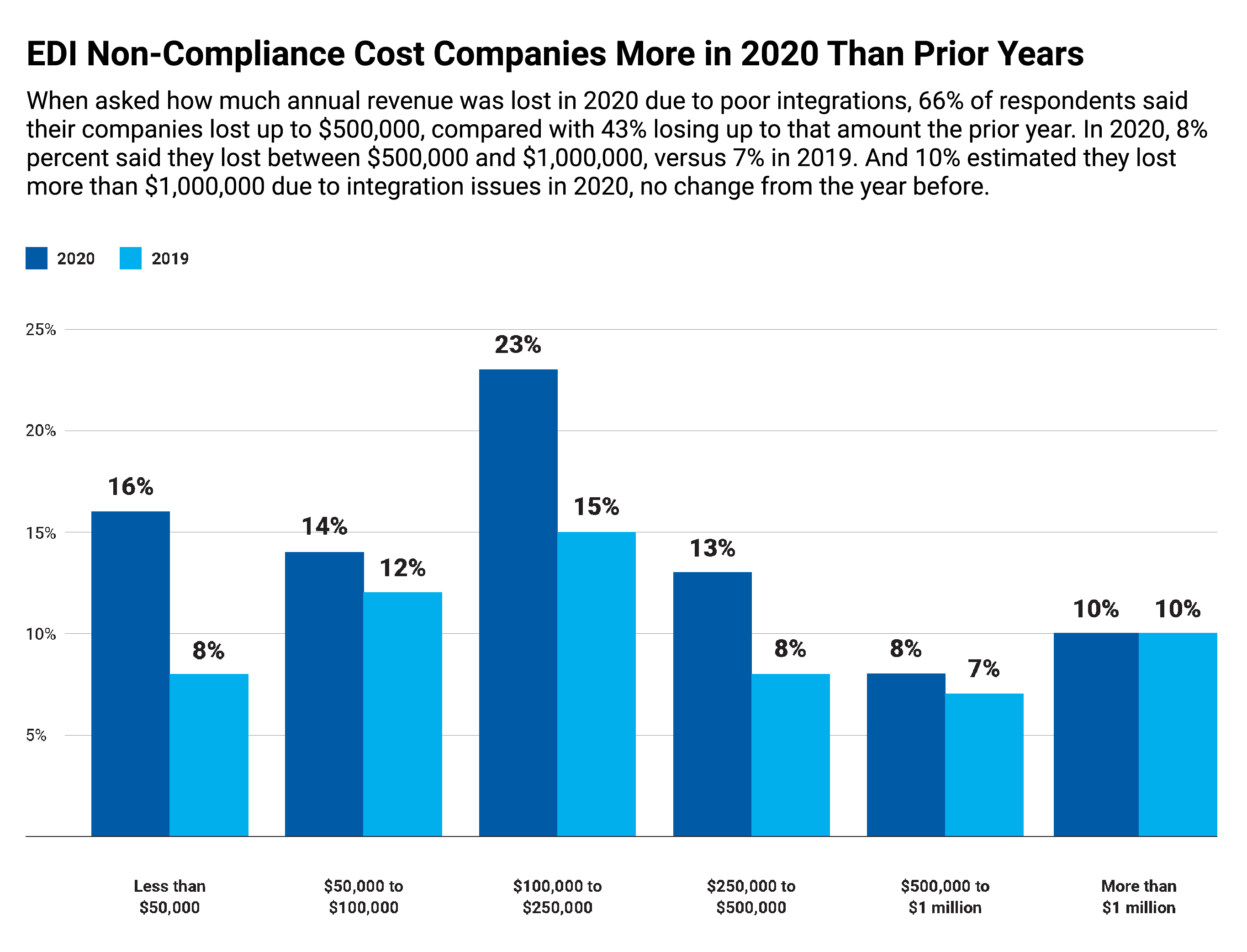 How to Become EDI Compliant
Poor or outdated integration technology is often a cause or contributor to these types of chargebacks, and while they may seem minor individually, an EDI compliance problem can be so financially devastating that it cripples even the most critical business relationships.
Fortunately, there's a better way to ensure EDI compliance so that EDI chargebacks happen less frequently, SLAs can be better met, and valuable relationships preserved: With an Ecosystem Integration platform, that's flexible, modern, cloud-based, and dependable. 
Here are 3 ways to reduce chargebacks using a Cloud Integration platform as your EDI provider:
By using a cloud-based EDI system, you can design, build, operate and optimize critical ecosystem integration processes. This means you can mature your integration solution on your terms and timeframe, always confident that your solution is flexible enough to grow as your business needs dictate.  

Such a platform brings end-to-end integration visibility across API, EDI, and non-EDI integrations, giving technical and business users equal confidence to rapidly onboard trading partners, enable integration between applications, and accelerate revenue-generating business processes. By having strategic, "outside-in" visibility into the critical end-to-end business flows happening across your ecosystem of partners and customers, marketplaces, and internal cloud and on-premise applications, your vital business relationships will become stronger.  

For some companies, the criticality of remaining EDI compliant and avoiding chargebacks makes it worth outsourcing all or some of this important function to a third party. With a true Ecosystem Integration platform, businesses have the choice of self-service, managed services, or a blended approach – ensuring complete flexibility and control over their B2B integration strategy.
EDI Compliance with Cleo Integration Cloud
Here is how Cleo Integration Cloud makes EDI compliance easy and helps your business avoid EDI chargebacks.
In the hypothetical platform screenshots below, you can see an example of EDI order processing in action.
The Cleo EDI platform automatically communicates with your trading partner (Walmart is used in this example) to ensure full compliance and completion of the purchase order to invoice cycle.  
Note that with every transaction exchanged on the Cleo EDI platform, a Functional Acknowledgment EDI 997 is included, without exception.
If you recall the Walmart EDI compliance requirements listed earlier, then you will remember that an EDI 997 must be sent within 24 hours from when a purchase order is placed in your partner's mailbox.
Because Cleo's EDI platform automatically sends EDI 997's, using a comprehensive EDI mapping process, the need for manual intervention is eliminated and you can rest easy knowing that Walmart is receiving your Functional Acknowledgments and that you are remaining compliant.
Below, you have a zoomed-in view of the transaction set, showing where you can see confirmation of the successful delivery of the EDI 997 to Walmart after each EDI transaction is sent.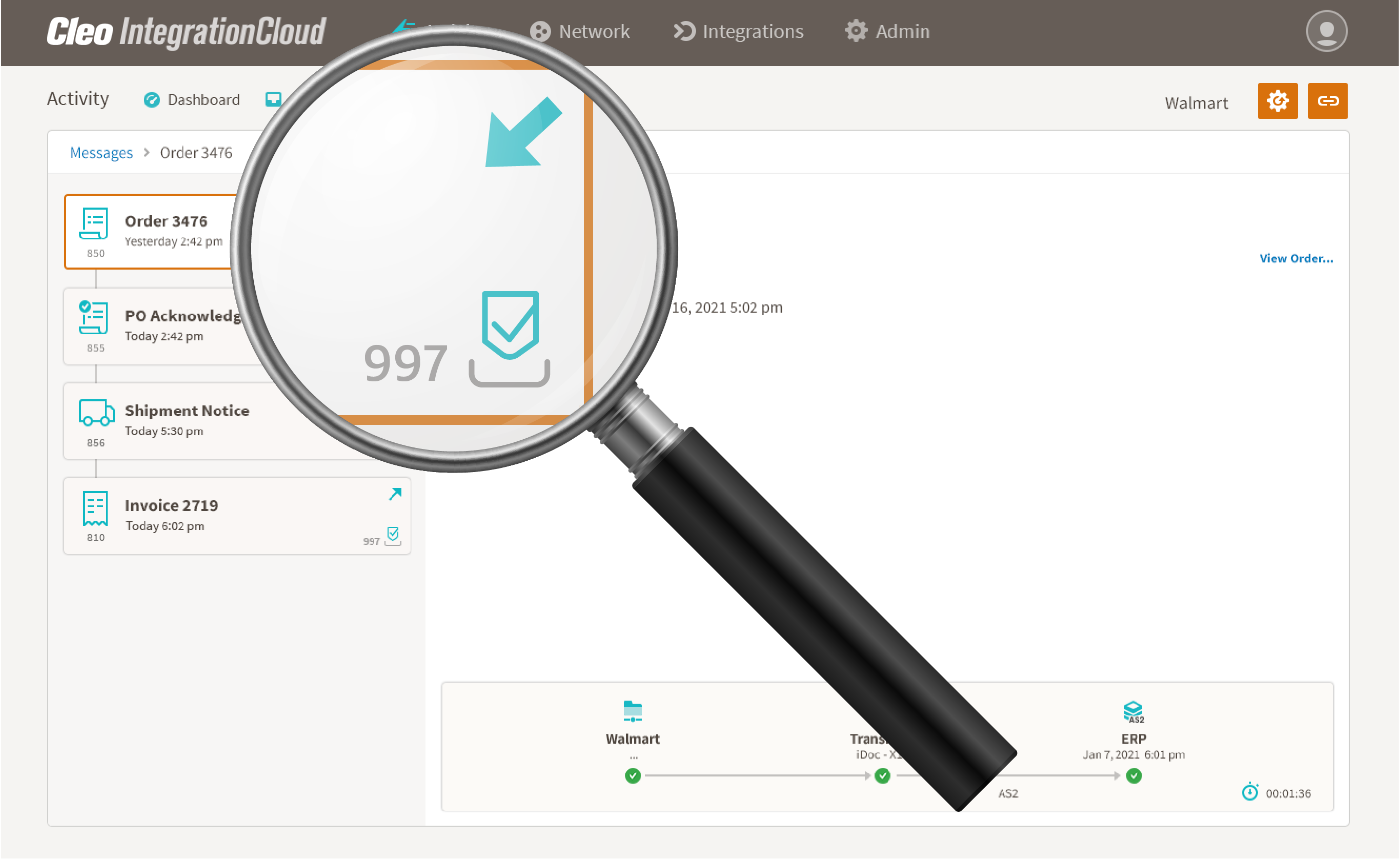 Now, for the actual purchase order to invoice EDI process.
First, an EDI 850 purchase order is received from Walmart: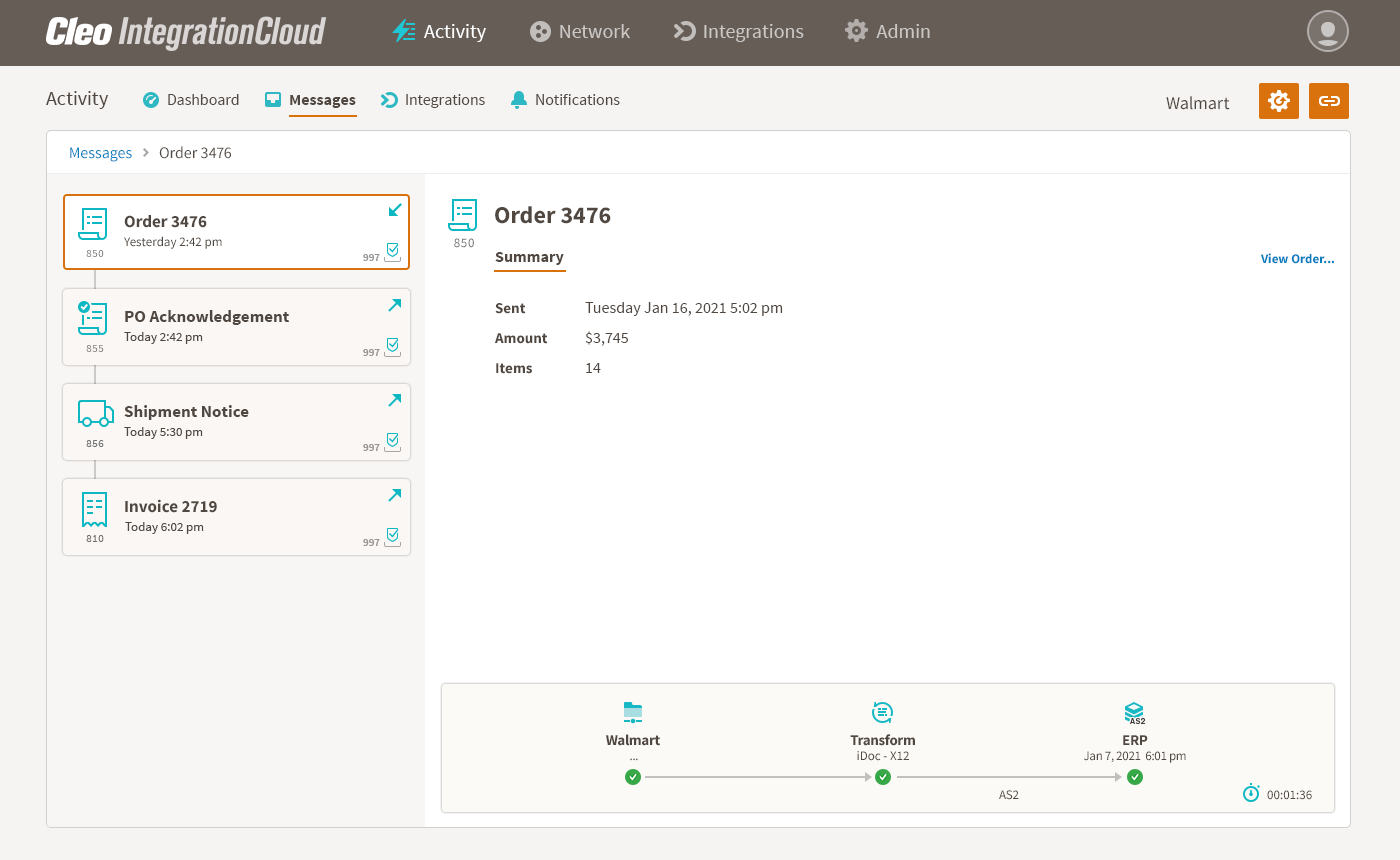 Second, an EDI 855 Purchase Order Acknowledgment is sent to Walmart to acknowledge the reception of the EDI 850 purchase order: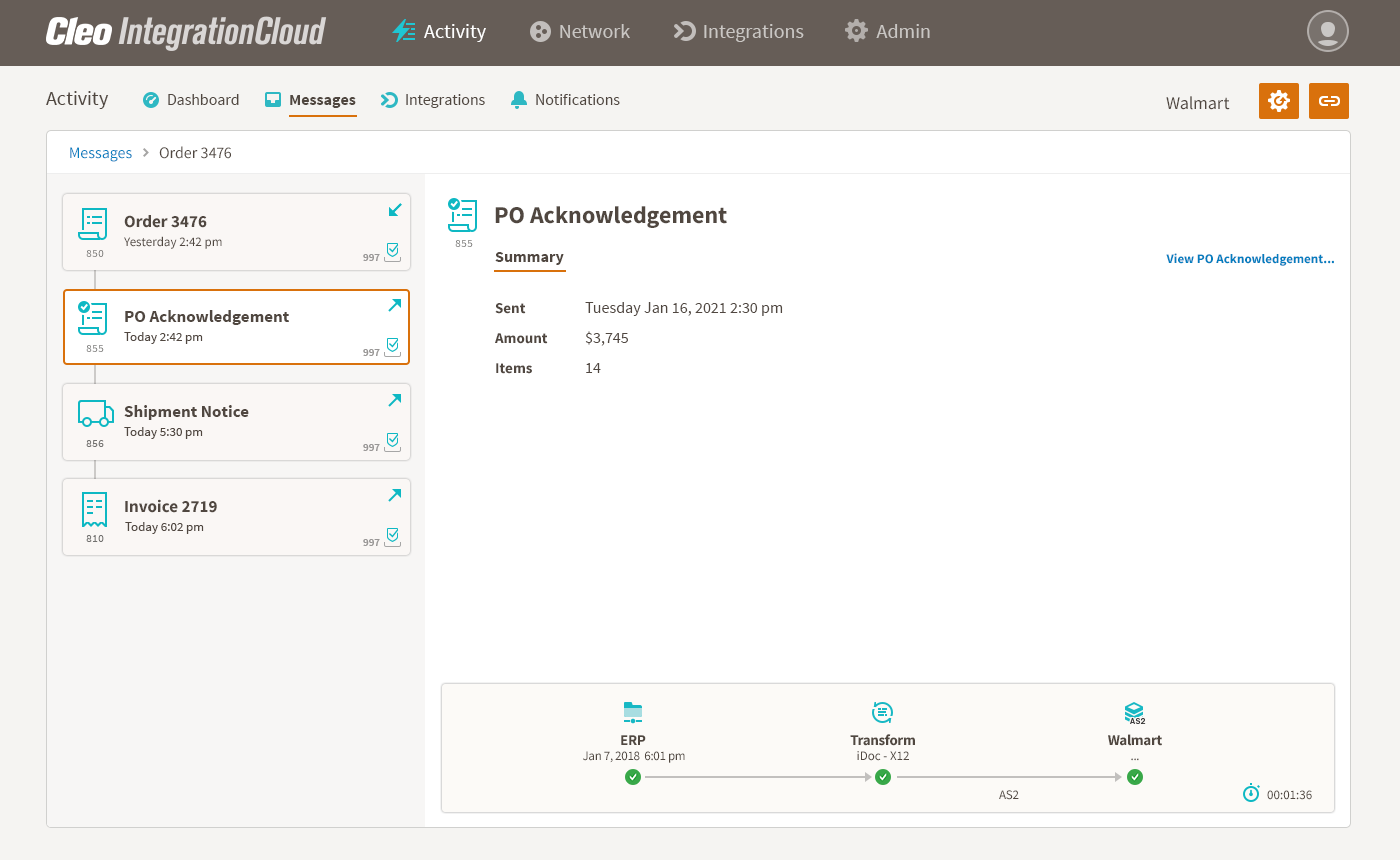 Third, an EDI 856 is sent to Walmart, giving information on the contents of the shipment.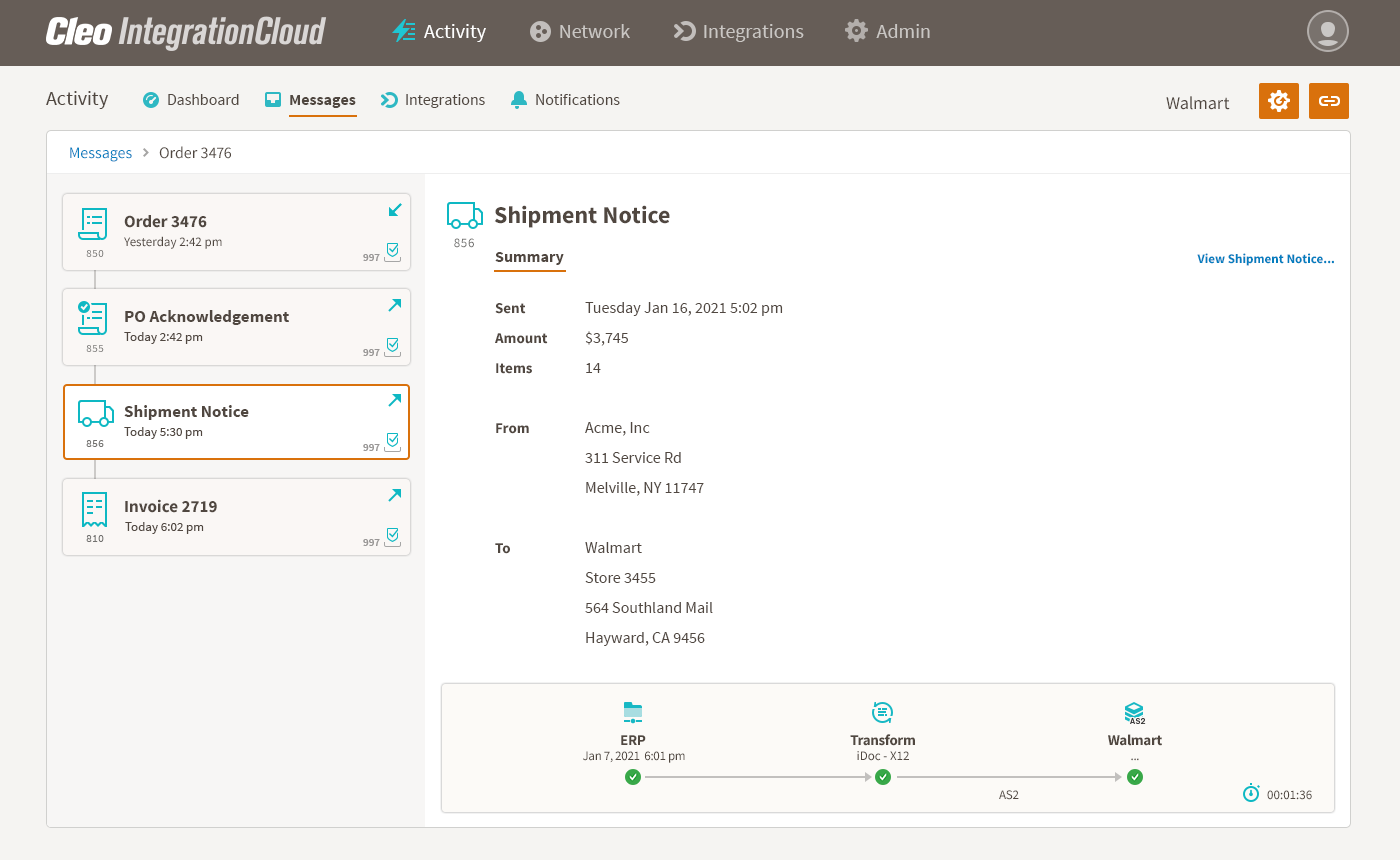 Fourth, an EDI 810 invoice is automatically generated and sent to Walmart.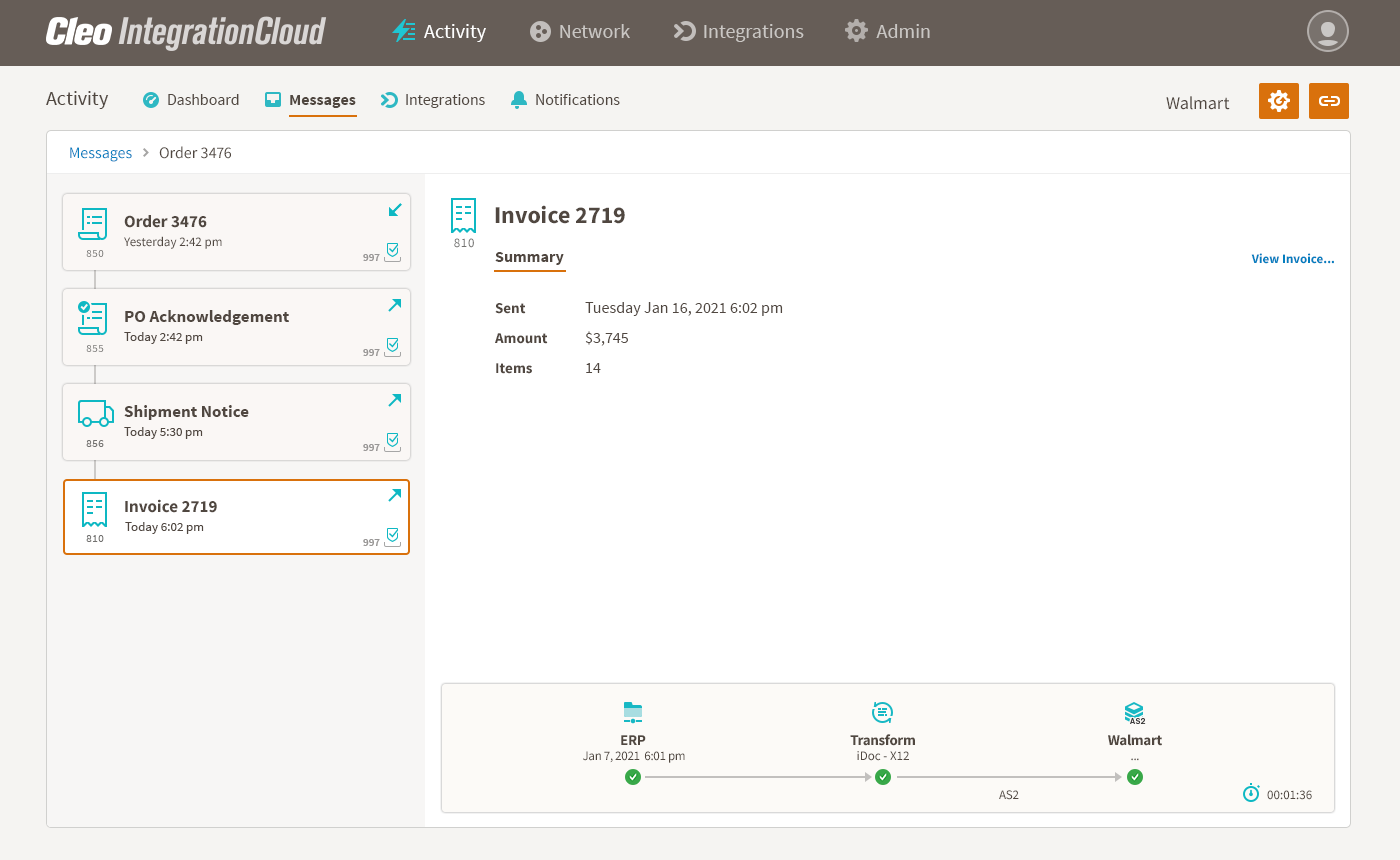 As you can see, EDI compliance is made easy with Cleo Integration Cloud. 
Finding the Right Technology
Integrating your ecosystem gives you peace of mind knowing your business can stay compliant, all while supporting customers' evolving needs.
Cleo developed the Cleo Integration Cloud (CIC) platform to give you the power to quickly meet all trading partner requirements to get EDI compliant. With CIC you'll rapidly identify and address errors, pinpoint EDI compliance violations, and rapidly resolve issues, significantly curbing dropped, late, or inaccurate orders, invoices, ASN, and acknowledgments.
If you're ready to get with modern times and streamline end-to-end data transformation, orchestration, and integration with secure EDI from Cleo, have a look at our EDI demo library.  
---
EDI Compliance - FAQs
What is EDI compliance?
EDI compliance refers to your business's ability to smoothly exchange business documents in the precise manner your trading partners require. Which entails adhering to specific EDI formats for each transaction to guarantee a successful exchange of EDI documents.