The term API stands for "application programming interface," and that basically means software that enables two or more applications to exchange data (messages) with each other.  You can think of an API as a sort of virtual interface, like a touch screen, that you can interact with to enter data, read data, or send/receive data. Web-based APIs can be conveniently accessed via the internet.
What is API Integration?
API integration refers to the process of connecting two or more applications or systems by using APIs (Application Programming Interfaces) to exchange data and perform actions. APIs are sets of protocols and standards that allow different software applications to communicate with each other.
Two or more systems that have APIs can interoperate in real-time using those APIs, which saves time, money, and is far more reliable in terms of information currency and data accuracy. 
For example, let us say your company has a TMS (transportation management system) and my company has an ERP (enterprise resource planning) system, and these two systems need to exchange data.
In the old days, we might have faxed or emailed this information or discussed it on the phone.  
With API integration, it happens digitally, without human interaction. API integration is what opens a channel that enables our companies to, quite literally, conduct business faster and more accurately. 
In this diagram, you can see a visual representation of API integration with a Netsuite ERP instance connecting to Amazon Marketplace, Shopify, and SAP Ariba: 

By keeping data in sync in all connected systems, productivity is enhanced, so you can leverage that data to improve efficiency and drive more revenue.  
4 Ways to Use API Integration
From applications and data, all the way to business ecosystems, APIs are quickly becoming a mainstay in most enterprise integration strategies. Here are just four of the countless ways your business can start looking at APIs to facilitate integration.
# 1 – APIs for Configuration, Administration, and Monitoring of Products
When someone discusses "headless administration," this type of API integration is what they are referring to. A "headless" environment is a computer that operates without a monitor, graphical user interface (GUI), or other devices, such as a keyboard or even a mouse.
This type of API allows you to do any type of administration with your cloud that you can do through an administrative GUI. You can run the system "headless" and manage it without having to go to a keyboard and literally touch things. All data management functionality is available today through REST APIs. There are limited capabilities to manage the translation or transformation through APIs, but part of the design of that is that the transformation is headless, so the studio and the runtime are separated. So, in many ways, while there are capabilities, there remain some gaps to fill in as well.
Rather than using the GUI to update your trading partners, AS2 connections, or to manage your certificates, you would use an API to accomplish those tasks. Instead, a clearer way to think about it is to treat the scenario as if it were an administering API that automates several key product tasks, including:
The next steps from here would be to complete the REST APIs for data movement and refine the "headless" strategy for data transformation.
#2 – APIs to Upload and Download Files
If you take a look at data movement capabilities, typically you will start with multiple secure communications protocols. These protocols are wide-ranging, used for file-based integration, and include FTP, SFTP, AS2, as well as is often the case, a secure portal for person-to-system file flows. If you want to upload a file, you can use REST APIs to accomplish that, as well as supportive APIs that can be set to programmatically upload and download the files to and from the integration platform. These types of APIs are relevant to how a company can operate within the traditional data movement and support versatile and flexible file-based integration scenarios in their environment.
#3 – Using Tools to Connect Other Systems Together Using Their APIs
The third example revolves around the APIs that are provided by other systems, versus those in-house. Some of the most popular examples of core enterprise systems include Salesforce with approximately 20 percent of the global CRM market, and NetSuite, a consistently dominant name in the ERP field, to name a few. In this case, Salesforce and NetSuite present those APIs allowing a company to consume them to do some sort of application-based cloud integration.
#4 – Using Cleo Tools to Provide APIs for use by Other Systems
The fourth and final example is actually the other side of the previous example, where an enterprise would use the system's APIs. Here, the enterprise presents the APIs for others to access. For instance, providing an API to order products. Someone at Salesforce wants someone to be able to access their environment, to be able to do operations using a program through their APIs. So how do they do it?
That's performed by presenting an API to the world that others outside of the company can call and access. If someone wanted to provide an API to order a product or check their order statement, they could use integration technology to build that API and allow people to call in and try to understand what is happening with their order.
Presenting Vs. Consuming APIs
The important distinction to make between the third and fourth examples is that the third example is calling or consuming an API provided by someone else, while the fourth example is providing an API for other people to call.
What is the Cost of API Integration?
The cost of building an API integration can vary widely depending on a number of factors, including the complexity of the integration, the number of systems being integrated, and the level of customization required. Depending on the complexity of the integration and the amount of time spent by your developers, a single API integration can easily reach $10,000 or more.
Some of the costs that may be involved in building an API integration include:
Development costs: This includes the cost of hiring developers to design and build the integration, as well as any software development tools or frameworks that may be needed.
Testing costs: It's important to thoroughly test an API integration to ensure that it is functioning correctly and meets the needs of all stakeholders. This may involve setting up test environments and running automated or manual tests.
Integration platform costs: Depending on the complexity of the integration, it may be necessary to use an integration platform or middleware to connect the different systems. These platforms can range from simple cloud-based tools to more complex on-premise solutions.
Maintenance and support costs: Once the integration is live, it will need to be maintained and supported over time to ensure that it continues to function correctly and meet the changing needs of the business.
Overall, the cost of building an API integration can range from a few thousand dollars to tens or even hundreds of thousands of dollars, depending on the scope and complexity of the project. It's important to carefully evaluate the costs and benefits of an API integration before embarking on the project to ensure that it makes sense for the business.
Why Do You Need API Integration?
In Cleo's State of Ecosystem and Application Integration Report, an annual survey, integration experts across industries called out some of the top integration challenges their companies are facing today.  Here's a snapshot: 

API integration using a modern integration platform can help you to address each of these challenges and more. Here's how: 
Integrating legacy applications 
More than half of companies struggle with integrating legacy applications, a problem that's only growing more profound as cloud-based applications proliferate. Many businesses have invested heavily in their legacy applications, and they don't want to throw the baby out with the bathwater, yet they do want access to the cloud.  
Fortunately, with today's modern integration platforms companies can accelerate seamless end-to-end integrations between their multi-enterprise ecosystem and their internal systems.  Plus, by introducing APIs to complement your EDI onboarding processes, you can automate them and take on new ecosystem trading partners faster. IT Modernization steps like these will upgrade your integration capabilities so you can activate B2B eCommerce more quickly and ensure the success of your business strategy.  
Revenue loss due to integration issues
We all know time is money, and when companies cling to outdated, manual processes they can't help but fall behind financially in today's digital economy. 
According to the survey, 66% of companies are losing up to $500,000 per year due to poor integration, with 10% losing more than $1 million annually. 
Digitalization via API integration helps everything involved with your integrations move faster, and ultimately that means money moves faster too.  
Integrating new applications
With a modern integration platform, your business can unlock any communication protocol whenever you need it, with no additional costs. Such a platform leverages proven pre-configured connectors and templates, allowing you to spin up fast and efficient application integrations. With API integration, for example, the information contained in an important database can be shared with your other internal systems, increasing the value of that data across multiple teams.  Externally, your company could make its APIs available to your customers and partners, so selected, mutually beneficial data can be shared seamlessly and in real-time. 
Poor application and system visibility
Increased visibility into data processes running across your entire ecosystem reduces exposure to risk. Next-generation integration tooling provides real-time visibility via customizable dashboards, and such technologies deliver real-time monitoring and reporting to alert stakeholders of any data challenges with their most important business relationships. With a modern integration platform that accommodates API integration, you know whether your new trading partner relationships are at risk.
All told, API integration is important for logistics companies, manufacturers, wholesale distributors, retailers, and others today because with it, existing applications can be preserved yet opened up to other systems and applications across your entire B2B ecosystem. Doing this speeds up your business's processes, delivering faster application integration and increased visibility across your end-to-end (external and internal) business processes, ultimately driving more revenue, better relationships, and higher performance. 
Additional Benefits of API Integration
As you can see, API integration provides many valuable benefits for your overall business, but diving a bit deeper now, what more can API integration help with?  
We mentioned better relationships above.  And there's probably nothing more important these days than consistently delivering a customer experience that is commensurate with what your customers and partners expect.  In fact, customer experience precedes revenue in its importance, because only by being easy to do business with can you ensure yourself happy, repeat customers.  They have many alternatives, and loyalty is often fleeting. 
For decades integration has been one of the most complex, specialized, and frustrating tasks in all of IT. APIs help makes integration easy by making connections, data movement, and data transformation easy. By enabling different systems or applications to collaborate and seamlessly share information, all of your business processes become more fluid.  
Further, with today's plethora of largely pre-built solutions, you can accelerate delivery of custom API integrations and save on development costs -- or enjoy having your developers build applications that are core to your business instead of spending their time building complex API-based integrations themselves.  
Performing tasks manually is cumbersome and time-consuming.  Automation of routine tasks through API integration is a sure-fire way to make your life easier.
Ideally, your automated API integrations should look something like this screenshot from the Cleo Integration Cloud platform. In the interaction below, you can see Shopify eCommerce data on the lefthand side being automatically converted and connected to be ingested into the Netsuite ERP on the righthand side.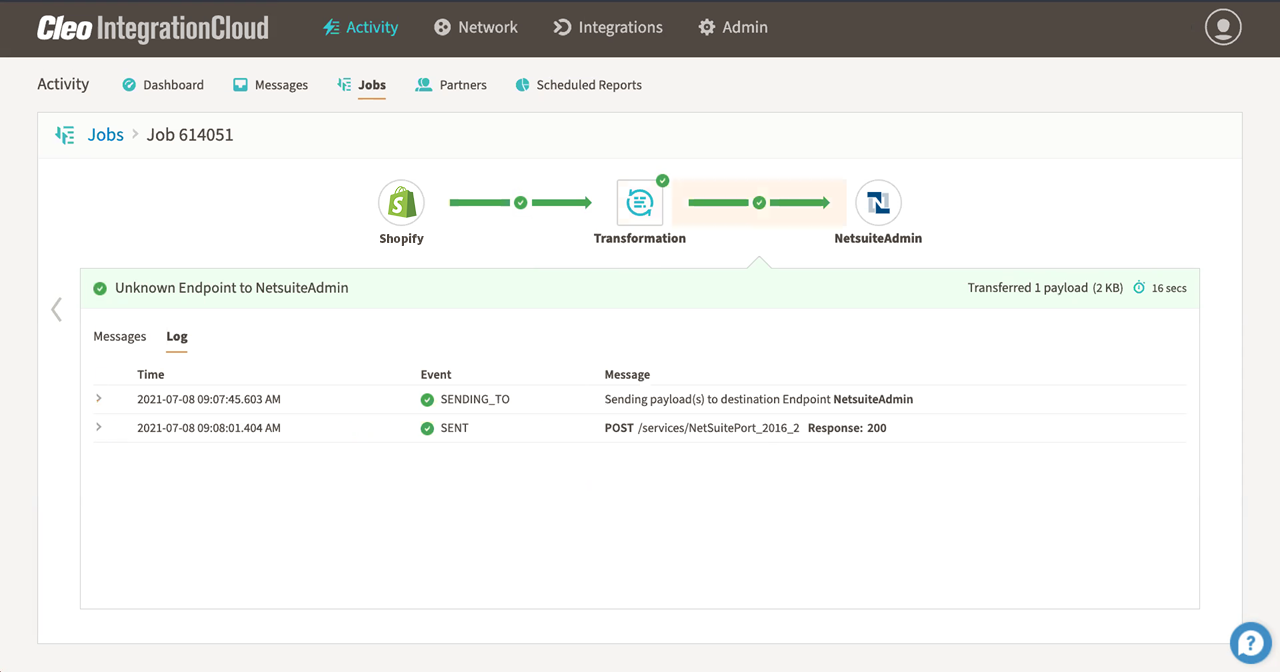 With an API-first approach to cloud integration, you get built-in capabilities to resolve virtually all your integration needs, allowing for application integration that naturally works in conjunction with EDI/B2B integration.  
API Integration Use Cases By Industry
Companies use APIs for different purposes depending on their industry and unique needs. We list some of the most common use cases by industry below.
1. Logistics
1. Real-Time Tracking
Logistics companies are using APIs to provide real-time tracking to their customers. By using APIs to share data between different players in their ecosystem, companies can provide customers with real-time updates on the status and location of their shipments, as well as optimize their operations by improving visibility and control over their supply chains. 
2. Delivery Management
APIs are being used to integrate delivery management systems with other logistics systems. This allows logistics companies to optimize delivery routes, track inventory, and manage warehouse operations more efficiently. 
3. Freight Management
APIs are also being used to create freight marketplaces where shippers and carriers can connect and arrange for transportation. This allows shippers to find carriers more easily and carriers to find more business opportunities.
2. Manufacturing CPG
1. Warehouse Management
APIs are being used to integrate WMSs with manufacturing systems and ERPs. This allows manufacturers to optimize and monitor inventory levels and helps them pick and ship Goods.
2. eCommerce Integration
Further, APIs are being used to integrate eCommerce stores with WMS and manufacturing systems. This enables omnichannel shopping and ensures eCommerce purchases/orders can only be placed if there is sufficient inventory.
3. Marketplace Integration
APIs are also being used to integrate digital marketplaces with manufacturers' ERPs to manage orders, fulfillment, inventory, and logistics feeds. Marketplaces tend to have stringent guidelines since they deal with third-party sellers, so using API-based integration provides greater customization so companies can meet evolving marketplace requirements.
3. Manufacturing Food and Beverage
1. Real-Time Inventory Tracking
Food and beverage manufacturers use API integration to monitor inventory levels in real-time. Having accurate inventory levels is vital because it ensures that a company only accepts and processes orders that it can fulfill based on its available inventory.
2. In-Depth Analytics
By using APIs, food and beverage manufacturers can integrate their digital ecosystems with data lakes. Data lakes help manufacturers conduct and implement business intelligence, big data analysis, data archiving, machine learning, and data science. Companies can take their findings to optimize processes, create strategies, and plan for the future.
3. Logistics Provider Integration
APIs are being used to integrate food and beverage manufacturers and logistics providers to streamline communication and provide enhanced updating. Using APIs, food and beverage companies can receive real-time updates from logistics companies, such as the location of a truck that's on route to deliver a shipment, or when a shipment is expected to be delivered to a grocery store.
How Leading Organizations are Accelerating API-based Integrations in 2023
What then is the real value of choosing a modern API-based integration platform?  In kitchen-table-speak, it just makes life easier and better, both for your company and the customers and partners that comprise your business ecosystem.  In tech-speak, it brings you three key capabilities no doubt your integration approach couldn't benefit from before.  
First, you get the ability to perform API and EDI integration using a single platform, eliminating the need for multiple disparate integration solutions.  Second, it gives you direct control and visibility over your most revenue-critical end-to-end business processes, like Order to Cash, Procure to Pay, or Load Tender to Invoice.  Last, you get a choice of how such a platform would best be deployed in your unique circumstance – do you want a self-service model?  A managed-services approach?  Perhaps a blend of the two is best? 
Cleo Integration Cloud is the only modern integration platform that can accomplish all three. Even better, you can start wherever you are and steadily mature your ecosystem enablement capabilities as your digital transformation initiatives progress.  Plus, if you're using a solution like Cleo Integration Cloud, the API support for both presenting and consuming APIs is built right into the platform so you have everything you need to be able to integrate and use those APIs for your integration, gaining end-to-end visibility as a result.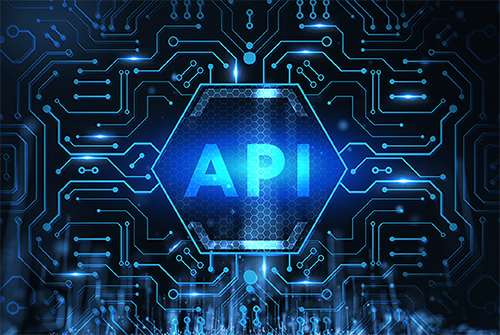 As the world leader in ecosystem integration technology, Cleo is always listening to its customers and innovating new capabilities to enrich our platform. Cleo Integration Cloud also enables such common, essential API use cases as transforming batch processing to real-time, and provides API equivalency for EDI to deliver more agile interactions with members of your business ecosystem.  
There's much more to Cleo Integration Cloud than this, of course, and we invite you to learn more.