Companies across the world continue to rely on EDI for their important B2B data exchanges because it's a standardized and effective way to communicate with all the members of their business ecosystem, which today includes trading partners, customers, suppliers, and vendors, and so many other entities. While the demise of EDI has been predicted for years (and greatly exaggerated), it's the demise of traditional EDI mechanisms that's more likely happening right now. That's because as businesses look to improve agility and IT flexibility, cloud-based EDI platforms have become a preferred way to get there.
Traditional on-premise EDI (Electronic Data Interchange) usually refers to the exchange of electronic data format types, which are defined by standards organizations, usually X12 and EDIFACT. Modern EDI generally includes more of the governance, onboarding, and data transformation processes that enable traditional EDI, and it reflects how diverse a business ecosystem really is in the era of today's digital commerce.
Traditional EDI methods have worked for many years and become tried-and-true solutions that enterprises rely on, but there are more modern solutions that offer new and effective ways for companies to conduct business using EDI and even non-EDI. Because there are so many partner and customer data requirements that companies must manage, from protocols to support for connections across systems, applications, and other data resources, a modern cloud-based EDI solution gives companies more flexibility than a traditional EDI system.
Here's how the modern enterprise can benefit from cloud-based EDI software as part of a hybrid integration platform.
Here's Why Companies are Migrating to Cloud EDI
Certain traditional EDI tools become restrictive and inflexible, which is why many organizations are turning to a form of cloud EDI instead. Cloud EDI software offers a combination of technological and business process improvement designed to meet the demands of a 2023 business. From data transformation capabilities to streamlined automation, cloud EDI tools put your enterprise in a position to tackle any potential integration challenges that arise, without having to deploy and manage the software and hardware.
A centralized cloud integration platform capitalizes on an EDI translator that can accept and transform EDI (as well as most other data formats like XML and flat files) and then move that data to other systems and applications, whether internal or external.
In short, when you need to connect legacy, on-premise processes, systems, and applications within your environment to cloud applications – which is the case for most businesses today – cloud EDI offers more elasticity and business agility.
Common Challenges with EDI
Because many traditional EDI providers have become outdated as more companies embrace cloud IT strategies, it becomes more difficult for enterprises to conduct successful EDI in order to keep up with the demands of modern customers. Here are some of the most common challenges enterprises face from their EDI technologies and why they should strongly consider a move to a cloud-based EDI solution.
Rising Costs
EDI certainly is an expensive investment. But maintaining outdated and legacy EDI solutions can further exacerbate costs. When an enterprise owns software and hardware for EDI, that also requires various financial and employee resources to manage all of it. Additionally, when something does go wrong, the hours and costs for maintenance also add up quickly.
Scaling
Yes, EDI is a standardized data format, but the members of your digital ecosystem will each have their own EDI transactional sets that you must be able to support. From industry to industry, even standardized EDI requirements will vary, which becomes a huge problem across numerous trading partners. Outdated, homegrown, or one-off EDI software will not be able to scale to support all the data requirements necessary to participate in your ecosystem as the business grows.
Lack of Automation
One of the biggest benefits of modern EDI cloud solutions is that they can integrate with other business systems and applications to automate EDI order processing or other more general business cycles, like order to cash and procure to pay. Traditional EDI mapping solutions are usually pretty rigid and can only perform specific EDI tasks because they can't natively integrate EDI with an ERP or CRM for end-to-end processing. Companies try to address it by throwing people and manual resources at the problem, but that's time-consuming, inefficient, and unscalable.
Complexity
B2B and EDI integration can become complex in a hurry with all the trading partner demands in the queue. Legacy EDI tools often cannot keep up with the required changes, EDI implementation issues, and are prone to errors. Businesses can become overwhelmed with the number of errors that their EDI transactions are throwing. Additionally, validating each segment in order to render a transaction as EDI compliant can prove challenging as well without the right technology.
How a Modern Cloud EDI Solution Can Help Overcome Obstacles
A modern business needs modern EDI capabilities to compete in today's hyper-digital business landscape. Take TaylorMade, one of the largest golf equipment and golf ball manufacturers in the world, and its decision to modernize its EDI and embrace web-based EDI software in the cloud. The company needed to expand into APAC and other markets, but to do that, the interactions with its products and catalogs by its partners needed to be seamless to ensure reliable fulfillment and distribution.
TaylorMade utilized Cleo Integration Cloud to migrate its EDI to the cloud. Now the company can move and transform all its EDI data to support the requirements of its digital ecosystem, from trading partners to customers. Migrating its ecosystem to a single, centralized EDI cloud solution enables the millions of transactions a year and supports TaylorMade's omnichannel revenue streams. Cleo's cloud EDI software is specifically built to handle the many different transactions your business needs to handle to keep up with its digital ecosystem.
Choosing the Right Cloud EDI Solution
Most businesses are not all that well-versed in EDI or EDI integration, and it's why so many today are moving toward cloud EDI solutions. By refocusing your employees' time on core business initiatives and leaving the tedium of EDI to the experts, you'll be able to more quickly execute on your important business goals.
Cleo Integration Cloud modernizes your EDI by connecting, integrating, and analyzing the end-to-end data flows across your ecosystem and internal systems. With cloud-based EDI from Cleo, modern enterprises can:
Accelerate EDI partner onboarding

Say "yes" to new integration requirements

Scale to meet changing market demands

Drive more revenue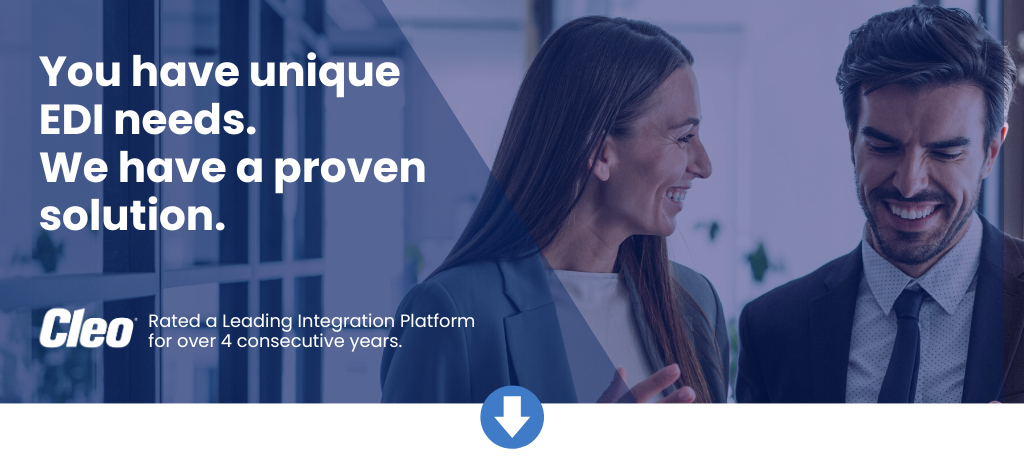 Contact Cleo today to set up a demo to learn how Cleo Integration Cloud can solve your EDI challenges.