Ultimate Guide to Choosing a B2B Cloud Data Integration Platform
Integration software technology has seemingly been around forever, at least since the earliest days of the digital revolution that started in the second half of the 20th century. And while B2B integration software solutions are among the more complex aspects of IT work, just where would we be if we couldn't connect the thousands of applications and business processes, and leverage cloud data integration software to move data among them efficiently? Without cloud data integration technology, the digital business world of today would come to a screeching halt.
Yet although integration technology has been around for several generations, it is now rapidly evolving and maturing as times and technologies change. Every digital connection … every B2B data exchange ... every business transaction ... that happens with your ecosystem of customers, suppliers, logistics providers, financial institutions, data providers, and more contribute to the customer experience your company ultimately delivers. Today, once again, industry trends are favoring innovation, such as the development of cloud data integration platforms. And recent studies underscore why that's a very good thing indeed.
What is a cloud data integration platform?

A cloud integration platform connects and shares data to enable file-based, EDI, and application integration. This allows for optimization of end-to-end integration processes within a dynamic network of trading partners, applications, suppliers, customers, and marketplaces.
Current Trends in Integration Technology 
A 2022 survey of more than 300 of integration experts interviewed in-depth during Q42021 discovered a 40% increase in companies losing over $1 million annually due to poor integration and an overall lack of supply chain agility. So clearly, companies' inability to outsmart supply chain disruption is gravely impacting their revenue and profitability, and the losses are mounting at an increasing rate.
While 85% of companies say they are losing money to integration issues related to their supply chains, nearly a quarter of companies (24%) are losing $500,000 or more. More worrisome, an increasing number, 14%, say they are losing over $1 million per year, up from just 10% each of the prior two years, reflecting a 40% year-over-year uptick.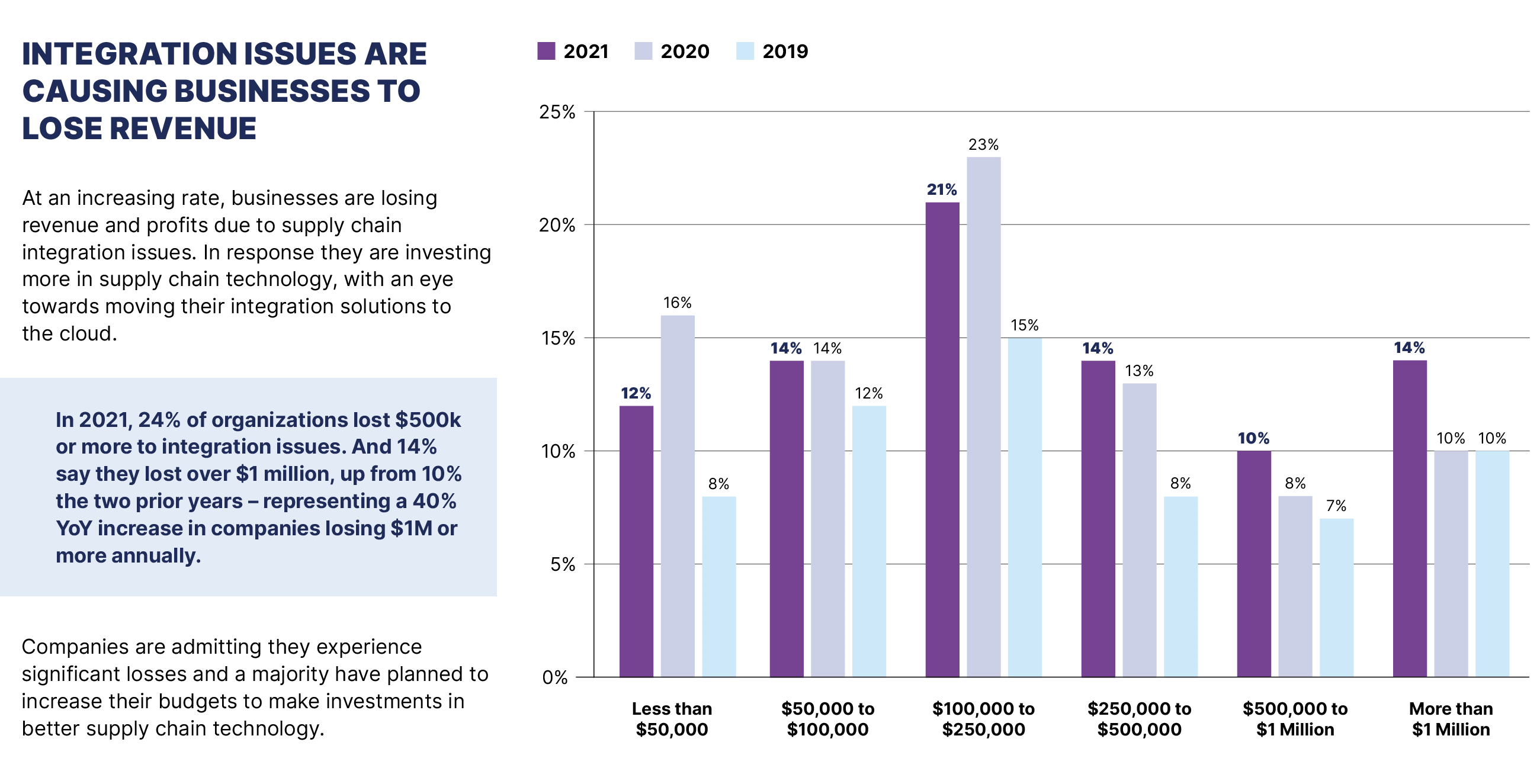 What is causing these mounting losses? 
According to the Cleo-sponsored survey, it is largely coming from outdated integration systems and poor business-process integration with their ecosystems. Due to a lack of end-to-end business process visibility, about half (49%) of all businesses don't really know what's happening at key integration points across their business transactions. More fundamentally, companies are split over whether it's their own integration technology or process shortcomings or that of their business partners that's really to blame.
Beyond the financial losses, the amount of time it takes to onboard new business partners is also increasing.  
In 2021, 45% of integration experts surveyed said it took between one week and one month to onboard a new supply chain partner, up from 37% the year before. And 42% say it is taking over a month, up from 36% the prior year. These delays directly impact revenue, vendor scorecards, and customer satisfaction. The root causes for these delays can be found not with poor partner performance, but internally with the companies themselves, where outdated legacy or homegrown applications, overreliance on manual processes, or too much custom code are hindering partner onboarding for over 50% of businesses. Additionally, the dwindling availability of skilled talent was cited by 37% of respondents as yet another top challenge impacting partner onboarding.
It sounds gloomy. And for many companies in laggard industries such as manufacturing, logistics & transportation, or wholesale distribution, it can be crippling.  But the good news is an increasing number of respondents believe that modern cloud-based solutions for B2B integration can help them remedy the situation. Sixty-nine percent – up from 66% in 2020 and 63% in 2019 – believe ecosystem integration technology can deliver cost savings and boost their bottom line. And 4 out of 5 companies (81%) claim they have begun or will begin migrating their integration capabilities to the cloud for its greater data security and control. 
More about the concept of ecosystem integration in a bit.  But first, some more good news.  
In another survey extensively researched in Q42021 and published in the first half of 2022, companies that invested in integration technology to improve supply chain and organizational agility reaped significant financial gains in 2021. Business leaders from one in five companies (19%) stated that increased agility resulting from such investment drove $3,000,000 or more in additional revenue in 2021. 
For 50% it was at least $1,000,000, and for three out of four (73%), it was at least $500,000 – proving that integration technology, given its direct impact on both overcoming supply chain disruption and driving business growth, should be a top strategic priority among business executives.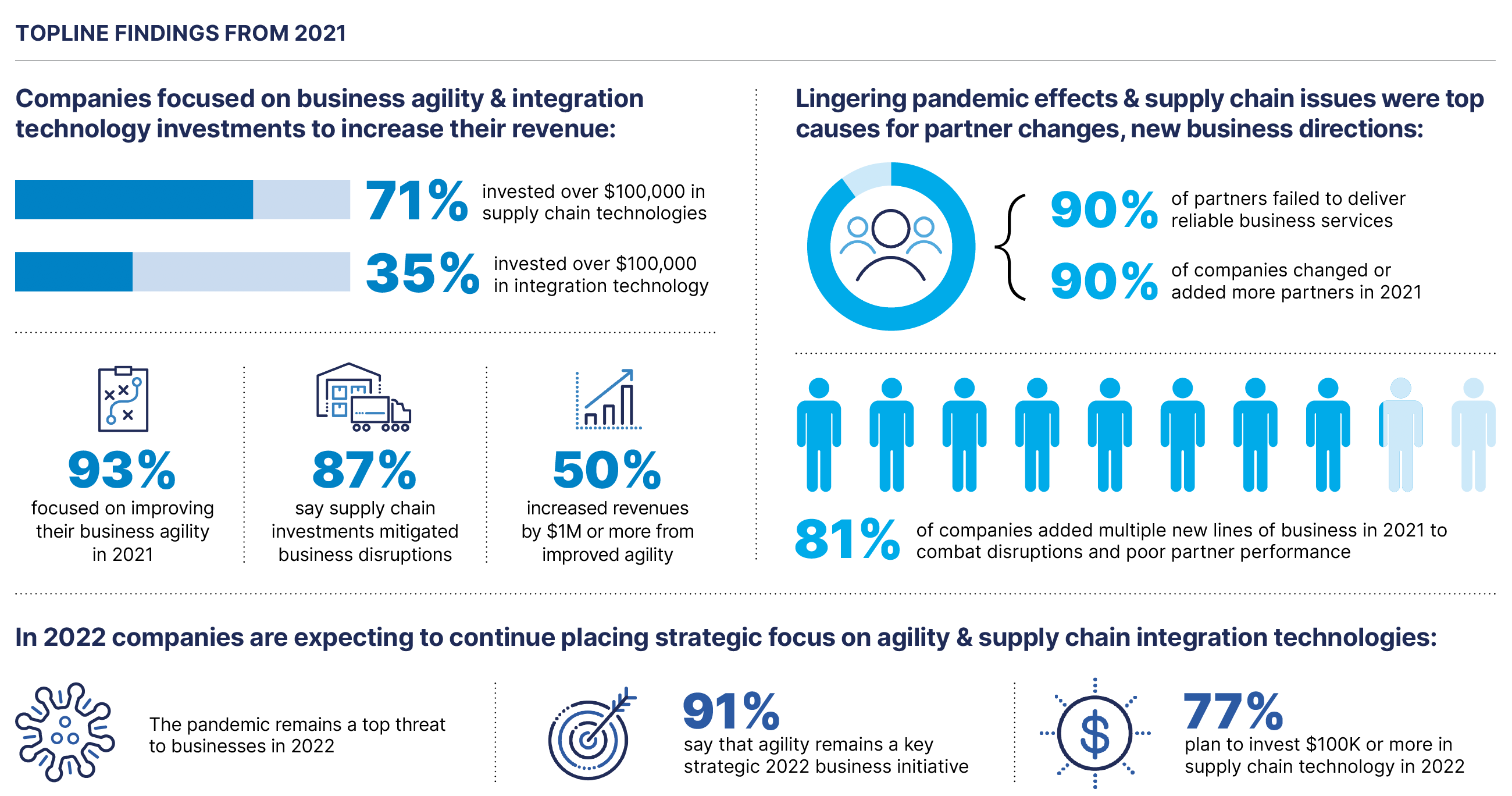 So it's interesting right? Integration technology – that often overlooked, taken-for-granted, all-too-familiar and downright geeky arena of software tech – is a two-sided coin.  It can either cause a company to lose money, as is the case with poor integration solutions, or be strategically leveraged as a route to help companies make money, when business process agility is top of mind.
In fact, for executives in the know about that, integration tech is their top tech investment choice. Six in ten executives (59% of those surveyed) invested in integration technology as their primary method to respond to disruptions threatening their business. This was followed by 53% who invested in back-office applications (e.g., ERP, CRM, WMS, TMS solutions) and 45% who found new trading partners (suppliers, customers, shippers).  
"Data is already incredibly valuable to enterprises seeking to optimize operations internally, and data very well could be just as valuable to external organizations. The exchange of data is already monetized by media companies and websites like Facebook. Why can't businesses in other industries do the same? Improved integrations that connect on-premise legacy systems to cloud-based applications can provide manufacturers, retailers, logistics companies and wholesalers the marketable data they need to maintain revenue in times of uncertainty. By connecting legacy systems to the cloud, supply chain organizations can quickly leverage cloud technology to gather external information and existing internal data. This could be the business-saving capability."
John Thielens, CTO of Cleo as quoted in Inside Big Data
Companies' proactive investment strategies benefited their organizations in two interrelated ways. First was a focus on enabling partner changes in both new and existing lines of business. The second was having the business agility to implement those new lines of business and handle any related supply chain issues. 
Both approaches were adopted to mitigate continued pandemic effects and supply/demand issues, and 99% of those surveyed concluded that their business revenue increased as a result of the added agility stemming from these investments, reporting they saw improvements in customer satisfaction, company growth, profits, and business resilience.     
Given that disruptive threats look to continue into 2022 and beyond, 77% of companies plan to invest $100,000 or more in supply chain technology in 2022. And 91% say agility remains a key initiative for their company going forward.  
All told, it would appear that at many, many companies integration strategies are either behind the times or broken altogether.  In either case, you have to ask the burning question: Why? 
To answer this, let's take a quick look at how EDI B2B integration has evolved, and where it looks to be going in the years ahead.   
Why So Many Companies' Integration Strategies are Broken
The biggest reason so many integration strategies are broken is that the world has changed beneath companies' feet. And these changes have come about quite rapidly.
The "old school," traditional B2B business has (like it or not) evolved into a multi-faceted ecosystem of partners, suppliers, systems, marketplaces, applications and much more. Yet for many companies, their IT approach to integrating with this ecosystem is outdated and hasn't evolved to keep up with ever-changing market demands.
It's quite the predicament. So how did we get here? Here's one explanation.
Every company has core revenue-producing business processes such as Order-to-Cash and Procure-to-Pay that govern how business gets done with customers, logistics firms and financial institutions. These processes stipulate how a company receives orders, buys supplies, manages goods in its supply chain, issues invoices, and receives payments.
In the 1960s, enterprises adopted a standard called Electronic Data Interchange (EDI). This allowed companies to electronically exchange information based on predefined syntaxes and formats. In the 1970s, companies adopted Value Added Networks (VANs) to exchange EDI documents. The EDI translator market spawned as a response to the growing complexity of custom-coded, homegrown applications that enabled EDI translation.  
Soon, VANs began offering their services for a fee. The internet and applicability standards such as AS2 (Applicability Statement 2) further accelerated EDI adoption by drastically reducing the need for VANs. To lower costs and leverage their buying power, retailers like Walmart mandated AS2, eliminating their reliance on VANs. To stay relevant, VANs started offering integration services for then-modern standards and formats — e.g., adapters for common ERP applications and a new thing called "web services." VANs soon morphed into Integration Brokerages as more B2B integration projects, say for supply chain or cloud data integration services, got outsourced.
Simultaneously, EDI translator software got packaged with AS2, rudimentary process management, and basic monitoring capabilities. These packages were sold as "B2B Gateways," a centralized entry-exit point for all B2B communications.
Then can the rise of eCommerce.  While eCommerce has existed in some form since the dawn of the internet, in the late 2000s Amazon Marketplace irreversibly shifted the paradigm of some B2B interactions to APIs. Customers and partners changed how they ordered goods and services, preferring the more real-time interactivity of APIs. 
This fundamentally changed the concept of a purchase order and how it should be processed. B2B Gateways and Integration Brokerages, optimized for "batch" processing, lacked the architectural and technical requirements for this new, real-time activity.
Integration Brokerages are "one size fits all," and only make sense when their existing library of processes and transformations reach economies of scale. If you depend on even the smallest amount of customization, their entire business model is thrown off; the only valid use case is when there is absolutely no differentiation on how you manage your digital relationship with your partner – which is rare.  There are essentially two fundamental flaws with Integration Brokerages, which limit agility and growth.  
First, outsourcing causes loss of control and visibility of core revenue-producing processes. Every inquiry, change order, or support request is by phone call or email, which is cumbersome and time-consuming.
Second, they provide little help supporting integrations between cloud applications and services that power eCommerce and marketplaces, ERP, TMS or WMS systems, forcing reversion to manual execution or worse -- custom code and scripting. 
Widespread adoption of eCommerce ushered in cloud software like Shopify and Magento / Adobe, which automate the "order capture" portion of an Order-to-Cash process. The so-called "Amazon Experience" has set expectations with buyers around speed, accuracy, and instant responses. 
But it's what happens after the order is placed – i.e., order is captured, inventory is checked, accounts are debited, items are pulled, packed, and shipped, shipping notices are issued, logistics gets involved, etc. -- that has caused companies to rearchitect data flows and modernize their integration technology with the best data integration tools they can find. All these new points of interaction require new points of integration. 
Additionally, while digital sales channels generally require a new fulfillment process, inventory systems may stay the same -- requiring integration between modern and legacy systems.
To meet these challenges, Ecosystem Integration platforms deliver API-based integration capabilities along with traditional EDI to deliver robust orchestration and governance to business processes. Consumed via the cloud, these "as a service" platforms represent the most viable opportunity to ensure compliance, agility, and revenue expansion.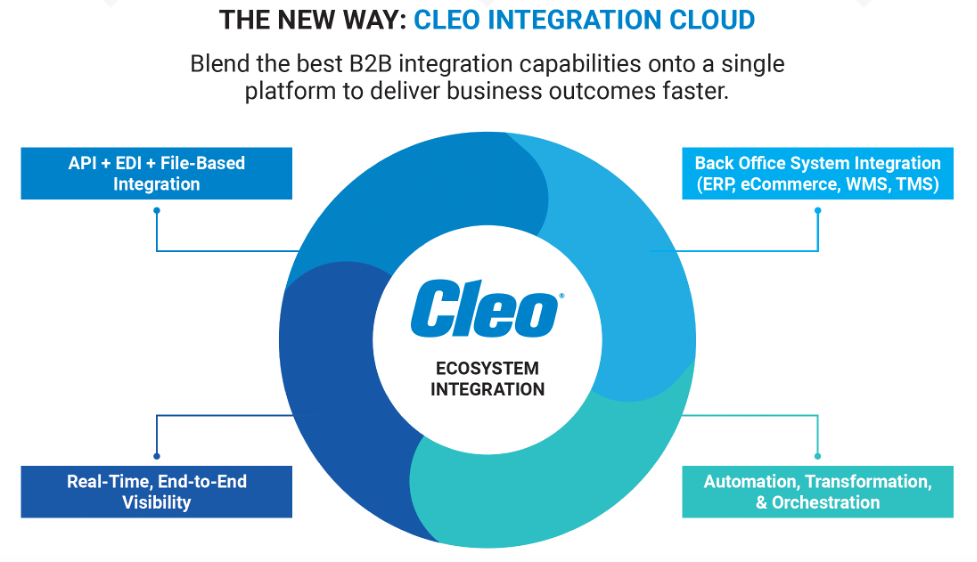 We would be remiss if at this point we didn't address the perception issues revolving around EDI versus API.  Because one prevailing misconception is that EDI and API are an "either-or" proposition, when actually today they are necessarily complementary. Companies need both integration capabilities, preferably on the same platform.  
An EDI-based process is a bilateral relationship where suppliers work with an implementation guide to connect to a retailer. It's optimal for maintaining and scaling existing relationships that are large or seasonal, such as grocery stores, food and beverage, consumer durables and automotive parts, which involve predictable, large-scale demand.  
API-based processes are more unilateral, i.e., both parties have more agility. For example, a supplier can get into the Amazon platform by leveraging APIs while following clear specification guidelines from Amazon. The rules of engagement are clear, providing more agility to both parties. As consumers today demand increasingly personalized experiences, the value of APIs becomes apparent.  
Well, what do EDI and API do?  They basically connect business processes.  And this gets us to the crux of the reason why so many EDI B2B integration strategies are broken.  
Historically, at most companies anyway, supply chain planning processes have continually evolved. Supply chain integration processes however – which are vital for integrating information and data across extended business ecosystems – have not kept up. Improving supply chain integration processes is essential for modern digital transformation.
While in the past you could get away with layering one solution on top of another, or adding tool after tool, what results is a "spaghetti bowl" of disconnected business processes that yield weak visibility, low agility, more compliance violations, lost revenue, and poor customer experiences. 
Simply put, poor integration hinders successful supply chain operations whereas superior supply chain integration can enhance business performance.
Today's digital ecosystems need to be connected – suppliers, customers, logistics providers, as well as people, applications, and data. 
Given the opportunity frontier that a connected ecosystem presents, supply chain integration processes are arguably more important than traditional supply chain planning and optimization strategies.
From a business process perspective, integration gives companies the flexibility and agility to turn on a dime, quickly respond to shifts in customer demand, and deliver the type of experience customers expect. Plus, richer visibility into your data gives you absolute control over your integration solutions so your company can make faster, better, more insightful business decisions. 
To get such visibility, companies are exploring a variety of "modern" approaches.
Comparing Alternatives
For instance, there's the iPaaS approach (Integration Platform as a Service).  Here's a snapshot of what's appealing to some companies about iPaaS technology:   
Purpose: Enable integration via "developing" interfaces for all applications 
Experience: Self-service and self-support
Typical User: Developer
Complexity: Simple to Try, Complex to Use
Connector Profile: Library of General, Basic Connectors
Ecosystem Style: Internal Integration Focused
Deployment: Non embeddable cloud, no white label options 
Integration Scope: Internal application integration with support for standard cloud applications
External Entity Management: Minimal onboarding and change management support
Then there's what's called the EDI Managed Services approach, which might be described or summarized this way: 
Experience: Blackbox, 100% hands off
Typical User: Vendor Partner Manager
Complexity: Outsourced
Connector Profile: All customized
Ecosystem Style: Partner/ EDI B2B integrations
Deployment: Limited white label options 
And further, there's the good old, EDI-focused "tool kit" approach which boasts a third different method 
Experience: Self-managed and self-support
Typical User: Developer & Administrator
Complexity: Easy but limited
Connector Profile: Single ERP
Ecosystem Style: One off Integration
Deployment: On premise/ private cloud 
The fundamental purpose of EDI Tool Kits and Managed Services offerings is to enable partner integration via messages and secure communications. 
Integration Scope: External partner's file systems and EDI gateways. 
External Entity Management: Outsourced and partner management portals.
Typical User: IT Admin, EDI Analyst
Connector Strategy: Custom scripts. 
Deployment: On premise for tool kit / Outsourced for services
There are business-impacting shortcomings to each of these approaches, however.  For instance, iPaaS models tend to be best suited for application-to-application (A2A) integration. 
Vidya Chadaga, Vice President, Products with Cleo, said of iPaas:
"IPaaS means 'Integration platform as a service.' And 'integration platform' literally means a platform that can connect to various applications. While certain vendors to have integration platforms, they are primarily meant for A2A integration within the four walls of an organization. When it comes to Cleo, we have extended iPaaS to B2B."
As for Integration Brokerages (IBs) or Managed Service Provider (MSPs) offerings, they are beholden to kilo-character changes.  And "legacy" EDI software, not surprisingly, are increasingly subject to punishing EOL problems (End of Life) as more and more of them reach the stage where it is uneconomical for their original providers to support them (e.g., just follow what's happened to IBM Gentran over the years).  
Rethinking It All: Ecosystem Integration as a New Software Category
Ecosystem Integration platforms choreograph B2B processes and integrations with full data orchestration and are rapidly becoming core to managing entire ecosystems and accelerating commerce in the era of the cloud and digital business. 
Ecosystem Integration was born through a "best of breeds" approach to create a modern integration platform that provides real-time visibility across a fully end-to-end business processes. This new approach to integration not only empowers business and technical users on your team, but also future-proofs your organization against new requirements that are yet to be determined. Whether you need to support eCommerce or direct-to-consumer revenue, a new ERP, marketplaces or unforeseen changes from trading partners – Ecosystem Integration has the capabilities to ensure agility and control.
So how would business leaders know if an ecosystem integration approach is right for them, and what implementation challenges might they encounter?  Let's take the comparative aspects of integration approaches that we discussed earlier, and look at them in a slightly different way – with cloud data integration in mind – where ecosystem integration is included alongside:
| CAPABILITY | ECOSYSTEM INTEGRATION PLATFORM | LEGACY EDI SOFTWARE | INTEGRATION BROKERAGES (IB) | iPaaS |
| --- | --- | --- | --- | --- |
INTEGRATION DESIGN TIME & DEPLOYMENT

Endpoints & Access Points

Industry certified support for any and all communications standards and protocols

Often requires 3rd-party technology or solutions

Industry certified support for any and all communications standards and protocols

Uncertified or basic support for limited protocols

Onboarding (Maps)

Based on existing standards and templates; scalable with multiple re-uses

Based on custom scripting and code

Outsourced to IB with minimal input from customers and partners

Minimal support with basic templates

EDI Integration

Dynamic and adaptive EDI and non-EDI capabilities with any-to-any transformation and integration

Rigid and non-adaptive EDI transformation and integration capability based on custom scripting and code

Black box as a fully-managed service

Minimal support or requires 3rd-party technology or service

Application Integration

Library of application, infrastructure, protocol connectors, template integrations and robust API framework

Based on custom scripting and code

Based on custom scripting and code

Library of application connectors and robust API framework

Business Process Design & Automation

Intuitive wizard-driven end-to-end process creation, testing and execution

Out of scope

Out of scope or black box as a fully-managed value added service

Intuitive wizard-driven end-to-end process creation, testing and execution

OPERATIONAL GOVERNANCE & RUNTIME

Management & Control

Self-service exception monitoring, interactive and transparent support with automated alert notifications

Out of scope

Black box as a fully-managed value added service

Out of scope or requires 3rd-party technologies or service

Visibility & Analytics

Self-service, real-time operational dashboards, analytics, and auditable reporting

Requires 3rd party technologies or domain expertise

Bolt on or as ad hoc value added service

Out of the box general reporting tool available for visibility

Persona-Based Experiences

Configurable operational dashboards and controls for business, operational, and technical users

Out of scope

Out of scope

Out of scope
From this you can readily see that ecosystem integration constitutes a far more holistic solution.  What is it about ecosystem integration that makes it so stand-alone different? 
What is Ecosystem Integration?
Ecosystem Integration is a modern, business-process-driven approach to connect and integrate the core revenue producing business processes between a company and its ecosystem entities.
It's the modern response to two inevitable changes affecting businesses today:
The critical need for supply chain agility and responsiveness. 
The irreversible shift to eCommerce that is now happening at an accelerated pace.
Ecosystem Integration is the digital fabric that helps companies in a digital ecosystem tie together all the business processes and systems at play, so they can respond swiftly to supply chain disturbances -- be they pandemics, hurricanes, or geopolitical events -- as well as to market opportunities such as increased eCommerce buying and fulfillment. 
Because Ecosystem Integration software enables end-to-end multi-enterprise EDI B2B integration (i.e., this is not just about internal application integration or front-end integration solutions for eCommerce), it opens seamless integration pathways for connecting trading partners, applications, systems, and marketplaces, ultimately delivering real-time visibility and far greater control.
What's different about It? Ecosystem Integration is different from traditional "internal" integration approaches because it brings an "outside-in" approach to integration. Traditional integration was always enterprise-centric, concerned primarily with connecting a company to a standard set of business partners and internal applications through common technologies such as EDI, and usually in a batch (i.e., not real-time) manner.
It's maybe easiest to understand in terms of replacing the "old way" of implementing B2B integration solutions with a "new way" that's more in step with the rapidly transforming digital world. This video should help explain.
Blueprint for Ecosystem Integration
Given all the foregoing you may be wondering where's the best place to start as your business incorporates an Ecosystem Integration approach. The best answer is to start from wherever you are. Every company evolves in its own way, but there are generally five sequential stages of digital transformation businesses go through to add value to their organization's supply chain.
This graphic depicts the key stages of integration maturity that a company goes through, from Level 1, the most basic, to Level 5, which is highly intelligent and automated.  
Each higher stage reflects improving business processes through the adoption of real-time integration capabilities and technologies -- driving toward a more ecosystem-driven business model.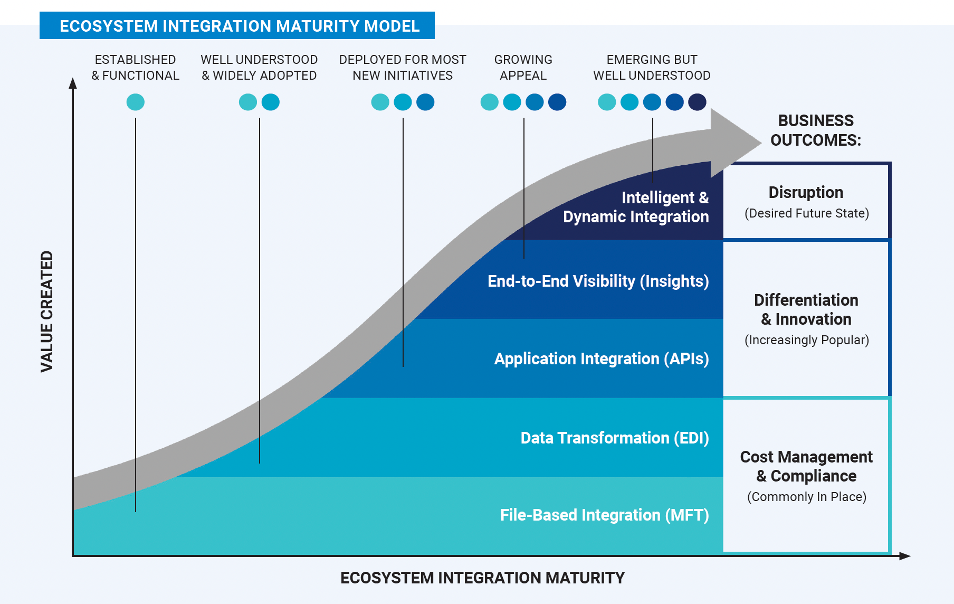 At the most fundamental, or first stage of maturity, is file-based integration, through Managed File Transfer (MFT) solutions, which are commonly in place. The second stage consists of EDI which adds data transformation and real-time integration with APIs rounds out the third stage. These are common investments and becoming increasingly popular. You're now entering the realm of ecosystem enablement because the third stage is about gaining end-to-end integration visibility, principally through APIs into back-end systems. 
At the next, or fourth stage you're able to leverage your newfound end-to-end visibility to glean real-time data insights that help inform important business decisions. Automation scales up (Stages 1-4) as companies adopt more cloud capabilities to open their systems to greater end-to-end process visibility and control. Stages 3 and 4 are critical because everything a company does to become more digitalized necessarily involves APIs.
Then the fifth or final stage is true ecosystem enablement, where you've achieved dynamic and intelligent integration capabilities. This is where a company's ability to dynamically sense and intelligently respond to situational change via integration technology becomes a reality.
What to Expect Out of a Modern Platform: Confidence & Swagger
The main thing we believe companies should seek in upgrading their integration strategy is to regain the organizational confidence, i.e., the swagger they've been missing as rapid change driven by digital transformation has been running rampant throughout their industry.  
Simply put, integration confidence is the comfort organizations feel when they have the right combination of modern software and a capable managed service provider (MSP) to support critical integration flows. Call it swagger or even "peace of mind" if you'd like, but by whatever name this type of comfort comes when an organization can support any B2B integration solution requirements from any of the myriad stakeholders and trading partners that comprise their business ecosystem.
Does your organization have the supply chain visibility to anticipate and quickly respond to unexpected changes in the marketplace, such as COVID-19? Does your organization have the necessary control to meet stringent service-level agreements (SLAs) from partners and customers, especially when external factors impact them? If not, it's probably time to upgrade your integration capabilities to support EDI and API-based integrations with your external and internal ecosystems.
In other words, integration confidence is an organization's knowledge that it can leverage its existing ecosystem (or create new ones) to deliver outcomes that are critical to its business.
Six Pillars Of Integration Confidence
Modern, capable integration protocols are required for any organization that hopes to remain competitive in today's multi-channel marketplace where diverse companies like Amazon, Uber, and their like are dominating market shares and attention. However, attaining integration confidence takes time and strategy. As with all great philosophies and structures, it is built on a series of foundations or tenets. We see six pillars of integration confidence.
#1 – Flexibility of Choice
A flexible organization should have the choices of designing and implementing B2B integration solutions
 on their own, outsourcing those integrations to an Industry 4.0-enabling MSP, or a combination of both strategies that are tailored to their needs given the current situation.
In the case of COVID-19, this flexibility, or agility, means an organization never has to modify its business strategy to accommodate its integration approach.  Instead, companies can modify that integration approach as needed to respond to market or ecosystem circumstances, for example, the availability of its workforce to execute critical business operations. Flexibility of choice directly impacts a business's time-to-market and total cost of ownership (TCO) in times of crisis.
#2 – The Ability to Control
Control over integrations isn't easily achievable for many organizations, but not for lack of trying. If it were, would you be reading this article?
It's a legacy challenge that a large portion of organizations have been struggling to master for years – leading to pent-up frustrations and year-over-year struggles in the face of market upsets like COVID-19. However, to achieve integration confidence organizations must have a certain level of control over daily execution of operational tasks; user access to critical integration information; and resourcing strategies.
How does an organization recognize when it has adequate control over these operations? Controlling daily execution of operational tasks is as simple as identifying and assigning exactly who does what when it comes to integration protocols, and how those actions are carried out. Also, make sure each necessary team member and partner has access to the critical integration information to continue business operations. Finally, an organization has achieved control of resourcing strategies when it can grow and shrink teams as needed based on demand and the task at hand. An organization should strive to have as much control as it needs to continue its business operations.
#3 – The Power of Credibility
Credibility and trust are the foundation of any relationship – be it a personal or business related. Building a durable relationship with external partners and internal stakeholders requires credibility and trust.
Credibility allows your organization and partners to trust you when it comes to expanding market opportunities, increasing customer retention, accelerating time-to-value of integrations, and therefore time-to-market. This credibility takes time and experience to build. Having a capable integration MSP along for the ride can help provide your organization with a mix of cloud data integration services and technology to support the integration strategy that best aligns with your business.
#4 – The Impact of Real-Time Insights
In the digital, multi-channel world of today's global trade, many organizations harness the power of real-time operational insights to power their decision-making processes. Consolidating integrations to a single platform that provides those real-time insights into integration flows helps to drive decision-making confidence.
#5 – The Efficiency of A Complete Technology Platform
Consolidating the design, build, analysis, and optimization of workflows of all B2B integration transactions into a single integration platform will allow the organization to see a rise in efficiency, which means reporting will become easier, resolving issues will be simpler and faster, and assessing the health of your business and ecosystem partners becomes more intuitive.
When teams are efficient, they can deliver more value and expertise to their business, all while mitigating business risk. This only serves to increase an organization's level of integration confidence.
#6 – The Visibility of End-To-End Integration Workflows
The ability to gather insights into end-to-end integration workflows – that is, workflows that stretch beyond the edge of your organization – is crucial to building integration confidence. This end-to-end visibility is typically lost when a transaction spans across multiple cloud and on-premise systems. The workflow information is, at best, piecemeal and users are left to puzzle the pieces together and decipher the full path of the transaction. This leaves organizations blind to certain parts of the transaction that can cause missed SLAs or increased resolution times.
Investing in a modern integration platform eliminates integration blind spots by connecting cloud environments with legacy, on-premise systems to provide true end-to-end visibility across business processes regardless of where the systems are hosted.
These six pillars are the necessary foundation on which to build confidence in a robust ecosystem integration strategy. Market disruption is not going to stop; if the past few years have been any indication of things to come, disruption is a constant for which businesses need to be prepared. 
Organizations that rely on legacy integration technologies and strategies cannot expect to remain competitive in a digitally-driven world where the Amazons and Ubers are constantly investing in new and experimental technologies to improve business operations. But every organization would be advised to explore ecosystem integration technology to solidify confidence in their ability to continue driving business and profit in the years ahead.
"The Cleo Integration Cloud platform is secure, easy to use, and highly flexible to meet our business requirements. Today, more than 98% of our B2B transactions are running through CIC, and we can see everything that's going on. Cleo's ecosystem integration platform and their unique blend of self-service and managed services, plus their team's drive, commitment, and attention to detail all made our migration easy and successful -- we experienced zero problems or issues even though we implemented their solution during our peak business time," Duraflame's Director of IT John Hwee said.
Read the Case Study
With Cleo Integration Cloud, Duraflame now has a modern, trusted cloud-based platform that is secure, always on, and highly scalable, enabling the company to manage their higher transaction volumes and seasonally changing order throughput at far less overall cost. CIC is also now supporting the company's strategic expansion into the charcoal business. Duraflame recently acquired B&B Charcoal and consolidated that business ecosystem onto CIC – bringing two separate business streams together into a single system.
Today, Hwee and his team enjoy a high level of confidence that all EDI transactions are being processed timely and accurately. "We've greatly reduced our time spent resolving issues and it's comforting to know our systems are being looked after 24 X 7, so that if something does come up, we know about it immediately, and can usually take care of that customer's issue in less than 24 hours."
Evaluating Your Current Solution
Now that you know the right questions to ask when comparing integration platforms, here's a tool we've developed to help you compare one solution to the next.
This tool will guide you and your team through evaluating and comparing B2B integration solution platforms. The right platform will empower internal teams with the greater visibility, flexibility and faster onboarding that will also in turn create a better customer experience for the businesses you regularly exchange data with. 
But understanding the value of a sales enablement platform is only half the battle. The next question is, how will you find the best sales enablement platform to increase sales efficiency, performance and knowledge? Here are a few things to consider as you evaluate features.
Scaling - While you may have an idea of how you want to use a platform initially, it's important your chosen vendor will continue to meet your needs as your business scales and changes. Is the technology flexible? Can the platform handle the additional growth as your business expands?
Ease of use - You need teams such as IT, Customer Success, Operations and others to use the technology in which you've invested, so keep the user experience top of mind. Is the platform designed to make make things such as error resolution easier on the user? Is it intuitive and easy to navigate, without too many unnecessary clicks or distractions?
Forward-Thinking - Think big picture. What other requirements will your B2B Integration solution strategy require in the future? Will you potentially be adding any new applications or platforms that will require you to integrate into? A comprehensive platform safeguards against piecing together various point solutions.
Once you access the tool, here's all you need to do: 
1. Identify the importance of each capability (low/medium/high)
2. Rate how strong each vendor's capabilities perform (0-4)
3. Calculate the final score of each vendor, combing your assessment plus the weight of importance of each capability
As you dig into the vendor comparisons, you will cover a lot of important topics for consideration, such as 
Data transformation and mapping
Communications and connectivity
Monitoring and alerting
Visibility and analytics
 Integration
Security
Deployment 
Compliance
Architecture
Support
Backup & Recovery
… and more
It can be overwhelming, to say the least.  Which is another reason why solutions that combine and consolidate much of these aspects are gaining in popularity.  It's also why many companies are turning to a new category of solutions called "Ecosystem Integration" software, an entirely new approach to B2B integration, one that is rapidly replacing the old ways of doing things.
"With Cleo Integration Cloud we have one cloud-based platform that offers every type of transaction processing that we would need, whatever our customers are asking for."
Building a Business Case
While many companies are taking advantage of modern integration technology, the reality is that there are still too many that have yet to do so. Putting it nicely, those companies are using business processes and legacy systems that should have been put out to pasture years ago. 
Now ask yourself this question – 'How are those companies supposed to evolve, stay ahead of their competitors, and deliver value to customers?' The answer, as you're already aware is ... they can't. Enterprises that fail to evolve and embrace a modern and centralized platform are going to find themselves playing catchup for a long time to come. 
We are in such a critical time that when these companies do recognize their mistake, it'll already be too late. If your competitors are ditching their legacy and homegrown systems, it's time for your enterprise to do the same. The current business landscape is one that companies can't pigeonhole themselves into and decide only to handle a certain type of customer or trading partner. Flexibility is everything, and without the right technology established, those companies aren't going to be able to keep up with customer demand. 
Instead of viewing issues within your ecosystem as being an integration problem, think about them as a modern business process obstacle that with the right technology partner by your side, can be solved in an instant. Once you've made that mindset change, the possibilities are endless.
So how would business leaders know if an ecosystem integration approach is right for them, and what implementation challenges might they encounter?  The simplest tell-tale signs are around revenue, efficiency, and relationships.
"For Century, Cleo's ecosystem integration solutions play a critical role in our overall strategy, in two ways," CIO Jim McCullen explained. "One is around onboarding new customers to our systems quickly, which is critical to revenue and margins, and the second is about empowering our people with the real-time data they need to not just solve problems but anticipate them. Cleo Integration Cloud's highly visual CIC Cockpit gives our people the hands-on control and integration visibility to make the best decisions possible so we can keep a step ahead of changing situations and adjust integrations as warranted."
If revenue velocity is being impeded due to inefficient integration processes, or there's a lack of end-to-end visibility across your supply chain, and if these shortcomings are negatively impacting valuable business relationships, then an ecosystem integration solution could help. 
As for implementing such a platform, think of it as a technology maturation process that builds on what you already have; there's no need to throw the baby out with the bathwater just to open your business to the cloud, because ecosystem integration platforms leverage your already-in-place technology infrastructure investment.
So, rest assured that if you use an on-premise file-based integration solution today (MFT), you can steadily progress to add EDI, APIs, and gain better governance and visibility, until you achieve a completely dynamic and intelligent integration solution.
Your Next Steps to Integration Visibility, Agility, & Control 
Ecosystem integration today is a software technology whose time has come. 
Ecosystem integration is different from traditional "internal" integration approaches because it brings an "outside-in" approach to integration.
Traditional integration was always enterprise-centric, concerned primarily with connecting a company to a standard set of business partners and internal applications through common technologies such as EDI, and usually in a batch (i.e., not real-time) manner.
All the thinking was inside-out, not outside-in. In the age of the cloud, that's been reversed.
As a technology paradigm, digital Ecosystem Integration is about opening up a company to as many suppliers, customers, marketplaces, service providers, and SaaS applications as necessary so that it can conduct frictionless business -- in real-time.
Imagine how fluid your business would be if all the revenue-producing processes that emanate outside your four walls were connected to your mission-critical internal applications through an agile technology platform that can seamlessly respond to changes in market conditions and business mandates from the ecosystem partners.
That's what Ecosystem Integration does.
How?
By blending traditional batch-based EDI with real-time API capabilities, to provide seamless orchestration across core business processes such as Order to Cash and Procure to Pay.
Well, how can ecosystem integration get you the EDI visibility and order processing control that's right for you?
No company today can overlook what makes their ecosystem tick. And because Ecosystem integration enables end-to-end visibility across the extended ecosystem of a company's business partners, it provides the confidence and trust today's digital-dependent businesses need to foster enduring business relationships.
Right now, we're witnessing an acceleration in digital transformation, spurred by world's emergency from the global pandemic and evidenced by the explosion in eCommerce, increase in automation, and rapid adoption of cloud-based SaaS applications. 
According to Cleo's Director of Market Strategy Frank Kenney, a focus on flexibility is critical. 
"Given the pendulum effect of inflation and market dynamics, business leaders need to stop spending time and resources on worrying about what is going to happen next, and focus on building systems that can quickly react and adapt to the evolving state of the supply chain." Kenney wrote in Supply Chain Brain, a technology publication.
As a new category of software, Ecosystem Integration has arrived at just the right time, providing critical digital business-process integration to help companies become digital enterprises. 
Now, organizations are able to provide the exceptional customer experiences required to achieve growth and profitability.
Get to Know Cleo Integration Cloud
Cleo Integration Cloud (CIC) is a cloud-based integration platform, purpose-built to design, build, operate and optimize critical ecosystem integration processes.
The CIC platform brings end-to-end integration visibility across API, EDI, and non-EDI integrations that give technical and business users the confidence to rapidly onboard trading partners, enable integration between applications, and accelerate revenue-generating business processes.
On the platform, businesses have the choice of self-service, managed services, or a blended approach – ensuring complete flexibility and control over their EDI B2B integration strategy.
When it comes to EDI visibility, Cleo Integration Cloud doesn't just support the technical integration, it gives you visibility into the underlying business processes.
You get actionable insights into the business value that each EDI document represents presented in the context of its impact on the broader business. 
This illustration will give you the sense of what ecosystem integration, as delivered by Cleo Integration Cloud platform, can do for your business.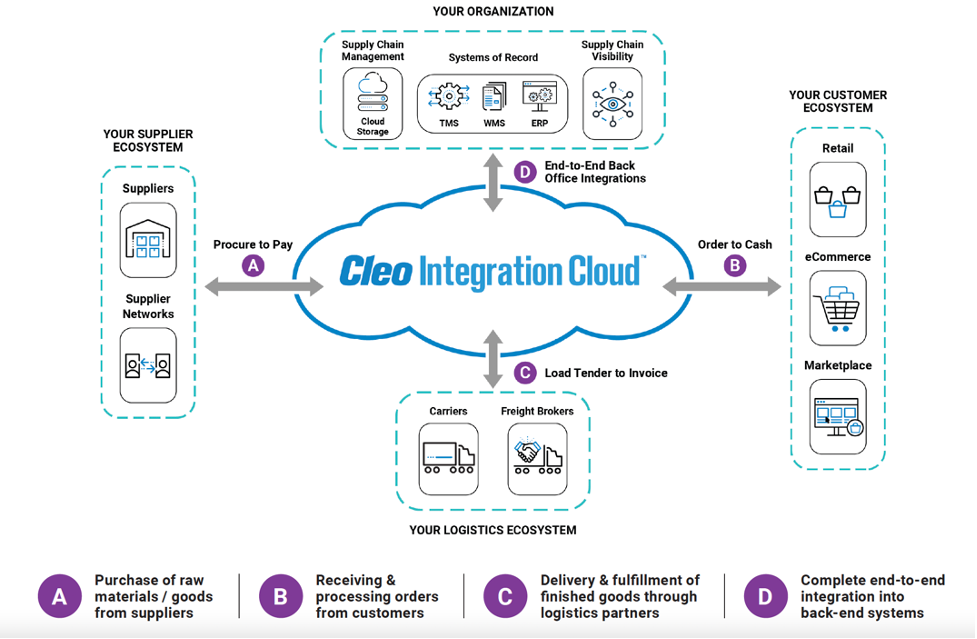 If you've read this far, by now your long-held fears about integration software have diminished if not disappeared.
That should be the case, because with today's innovative ecosystem integration software platforms are easy to understand, cost-effective, and reliable, and, at long last, they put you in control of this critical area of IT once and for all.
If you're not quite yet a believer, here are several additional options for you to learn more.