Electronic data interchange is a critical component of today's manufacturing business process. EDI can accelerate production, reduce high labor and storage costs, and bring efficiency to all manufacturing business processes.
---
EDI (Electronic Data Interchange) remains instrumental for exchanging documents within the manufacturing industry. Across a company's digital ecosystem, from trading partners to customers, EDI is the de facto standard when it comes to purchase orders, invoices, shipment notices, and other common documents.
While manufacturers are far from the only industry to rely on EDI systems, it is fundamental for the manufacturing industry when communicating with trading partners. EDI software can enhance and streamline effective communication through automation, which frees up manufacturers to focus on more important tasks like product innovation, quality control, and customer service.
Here is everything you need to know about EDI in Manufacturing:
How EDI Helps Manufacturers
Simply put, EDI (Electronic Data Interchange) is a proven method that increases a manufacturer's supply chain productivity; strengthening the speed, accuracy, and visibility of every relevant transaction. For instance, an EDI 850 Purchase Order, which is typically the first step in a supply chain process.
Because EDI transactions drive the supply chain forward across countless industries, EDI for manufacturing is an essential tool for interacting with a moving, complex ecosystem. Manufacturing companies must have the ability to perform modern EDI in order to effectively work with various trading partners, including suppliers and vendors, customers, distributors, fulfillment organizations, and retailers.
Benefits of EDI for Manufacturers
EDI provides the reliable communications that manufacturers require. In fact, there are numerous benefits the manufacturing industry can gain from embracing and optimizing their EDI order processing. These include:
Additionally, legacy EDI systems and services, including EDI through a VAN, can get expensive due to transaction fees and leave numerous. Taking control of your EDI directly – and even outsourcing EDI as a managed service with a trusted vendor – allows manufacturing companies to regain control of their critical data exchanges, gain visibility into the processes, and stop worrying about the cost of fluctuating transaction volumes.
Four EDI Documents Typically Used in Manufacturing
So, what are some of the most common EDI transactions used within the manufacturing industry? Obviously, each company is going to have its own set of needs based on its ecosystem, but there are some recurring documents that will likely be used by most manufacturers. Here are four.
A purchase order (PO) is the most common EDI transaction set because it's used when a customer buys something from a manufacturing company. Within the EDI purchase order, it contains information including which specific items were ordered as well as the quantity of the item to be manufactured. It also includes pricing information as well as shipping details.
2. EDI 997 - Functional Acknowledgment
An EDI functional acknowledgment (FA) is the document used when a vendor notifies a customer acknowledging that it successfully received a purchase order. It is a receipt that the EDI document was either received or rejected. This allows for customers to resubmit the document quickly if it was rejected, and it helps avoids any potential costly delay in processing.
3. EDI 855 - Purchase Order Acknowledgment
The Purchase Order Acknowledgement (POA) is an outbound EDI document that essentially confirms what was included within the purchase order. The manufacturing company is telling the customer that they received the PO, and they will in fact take the job. The POA confirms the order electronically and indicates whether it was rejected. Customers also can update their systems in order to make any changes to the document as needed.
4. EDI 856 - Advanced Shipping Notice
An EDI advanced shipping notice (ASN) alerts a customer when a manufacturer is shipping an order. Inside the advanced shipping, notice are details of the contents and packaging of a shipment, which includes carrier elements, quantity and item information, and tracking numbers for the package. This allows customers to more easily schedule inbound deliveries and reduce the time to receive shipments into inventory.
In the diagram below, you can see how Cleo Integration Cloud works in sending, receiving and transforming EDI documents for both front-end and back-end processes: 
From left to right, comprehensive and automated EDI order processing should look something like this: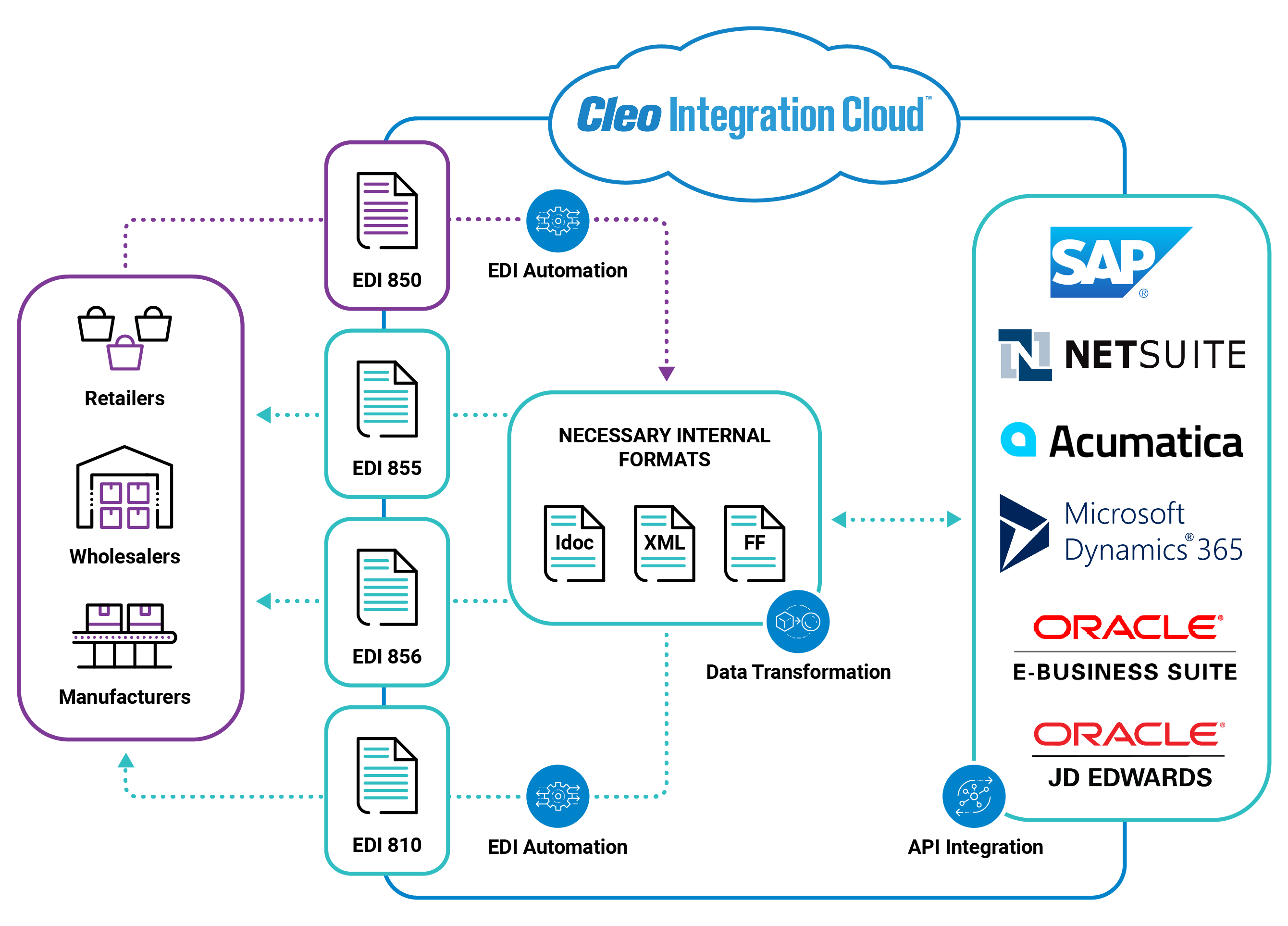 The Fresh Approach to EDI Manufacturing
Modern EDI, however, is more than a document standard or format; it's a B2B data exchange mechanism that also includes the processes surrounding:
EDI integration, then, is essential for manufacturing companies looking to streamline how they communicate with customers, trading partners, and other members of their digital ecosystem. The ability to submit and receive purchase orders, invoices, and other EDI transaction sets aren't enough. Companies stand out when they bring on new business faster, embrace responsiveness and agility, and proactively troubleshoot errors.
Maintaining Manufacturing Business Continuity
As enterprises grow and expand their customer base, while that is certainly encouraging, the reality is you must now handle all this added stress on existing systems and processes. Organizations can have an endless amount of customers, but if they are unequipped to deliver the experience those customers expect, quite frankly, they won't be customers for very long.
Companies that maintain a legacy environment will soon find that the rapid growth that they've been waiting for has actually put a strain on their business processes and systems. Legacy EDI tools simply cannot scale to onboard new trading partners and accommodate new data loads. This can increasingly lead to outages and downtime. When competitors are offering 99.99%, being able to offer 100% business continuity builds much more trust with your customers and trading partners.
Additionally, legacy EDI tools just do not allow you to do business as quickly as you need. In fact, 64% of supply chain organizations say that it typically takes two to four weeks to onboard just one new trading partner. Imagine if you continue to rely on those legacy EDI tools instead of modernizing your EDI solution, and all of a sudden tomorrow you've got to sign 100 new customers?
Why Manufacturers Should Think API + EDI
Alongside EDI, there is another integration approach that manufacturers can greatly benefit from; API integration. API integration utilizes APIs to digitize orders, procurement processes, etc., to replace batch transactions (EDI). This way, manufacturers can obtain real-time API-enabled data flows that enhance and extend interactions between their ecosystem of suppliers, carriers, retailers, and applications through integration.
A common misconception about API-based integration though is that it should replace EDI. However, this is not entirely true. Rather, API and EDI complement each other, operating best when working in tandem. The reason is that they each have their pros and cons.
Pros and Cons of API + EDI
API integration provides organizations with greater visibility, real-time processing, and live updates. These benefits are extremely beneficial for updating customers on where their order is in the supply chain, as well as helping manufacturers make more strategic decisions since they have access to more accurate data. However, API integrations require more resources to get up and running, they do not have industry-agreed-upon standards like EDI does, and each integration needs to be custom-built.
On the other hand, EDI integration is widely utilized by most larger organizations and trading partners, can process many files at once without experiencing system downtime, and is secure due to decades of use and advancements. However, EDI integration does not perform real-time processing, which means that real-time data and updates cannot be provided.
Consider an API + EDI Approach
Knowing what we discussed above, manufacturers may want to consider implementing an API + EDI approach. This way they can access the real-time data and updates that API integration supplies, while simultaneously achieving the security, stability, and greater processing power that EDI provides. Furthermore, an API + EDI approach gives manufacturers greater integration compatibility with trading partners since they are supporting more integration methods. 
API Use Cases for Manufacturers 
When it comes to specific API integration use cases for manufacturers, some of the most popular and useful ones include: 
1. Warehouse Management 
APIs are being used to integrate WMSs with manufacturing systems and ERPs. This allows manufacturers to optimize and monitor inventory levels and helps them pick and ship goods.
2. Real-Time Inventory Tracking
Manufacturers use API integration to monitor inventory levels in real time. Having accurate inventory levels is vital because it ensures that a manufacturer only accepts and processes orders that it can fulfill based on its available inventory.
3. eCommerce and Marketplace Integration
Further, APIs are being used to integrate eCommerce stores with WMS and manufacturing systems. This enables omnichannel shopping and ensures eCommerce purchases/ orders can only be placed if there is sufficient inventory.
APIs are also being used to integrate digital marketplaces with manufacturers' ERPs to manage orders, fulfillment, inventory, and logistics feeds. Marketplaces tend to have stringent guidelines since they deal with third-party sellers, so using API-based integration provides greater customization so companies can meet evolving marketplace requirements. 
4. In-Depth Analytics
By using APIs, manufacturers can integrate their digital ecosystems with data lakes. Data lakes help manufacturers conduct and implement business intelligence, big data analysis, data archiving, machine learning, and data science. Companies can take their findings to optimize processes, create strategies, and plan for the future.
5. Logistics Provider Integration
APIs are being used to integrate manufacturers with logistics providers to streamline communication and provide enhanced updating. Using APIs, manufacturers can receive real-time updates from logistics companies, such as the location of a truck that's on route to deliver a shipment, or when a shipment is expected to be delivered to a grocery store.
6. ERP to WMS Integration
Integrating an ERP and WMS using APIs connects the multi-step business process of order management and fulfillment. Order management is aided by an ERP, while fulfillment utilizes a WMS. By connecting the two platforms, the order-to-cash process becomes seamless and can continue flowing from one step to the next without delays or disruptions.
Why Modern EDI Manufacturing Software Is Critical for Business Success
Manufacturers often have two primary parts to their EDI business – direct transactions with wholesalers, which often integrate with their ERP system, as well as an e-commerce platform for end consumers. But those companies often rely on their tired (very tired) and true legacy EDI gateway and translator, but those have become cumbersome and do not offer the flexibility for integration with other systems and applications that are required today.
A modern EDI solution offers manufacturers the EDI, flat file, protocol, and information integration support that it needs. Additionally, modern EDI offers manufacturers the ability to reduce the time it takes to connect to customers, reduces chargebacks for EDI errors, and increases monitoring and visibility throughout its global ecosystem.
How to Get Started
Modern EDI is core to a successful digital transformation strategy, one that gives companies the flexibility to reshape how they use technology to interact with customers, trading partners, suppliers, and applications. A modern integration platform, then, supports the manufacturing industry through a combination of elegant B2B integration capabilities, including data transformation and data movement solutions that support formats beyond EDI as well, including XML, flat file, and JSON, and all the secure protocols and communication channels – AS2, SFTP, HTTPS, and APIs – that drive today's EDI manufacturing processes.
Cleo Integration Cloud enhances end-to-end manufacturing processes, including order-to-cash, procure-to-pay, and load-tender-to-invoice, by creating one-to-many ecosystem data exchanges between any internal system, cloud, and trading partner application.
Cleo has helped thousands of companies around the world optimize their digital ecosystems by improving processes and operations regarding integrations, data collection, error resolution, onboarding, API + EDI support, and more. Check out what real manufacturing Cleo customers have to say about our products and services.
Listed below are two examples of manufacturers that saw tremendous success after partnering with Cleo and using our innovative technologies. 
Cleo Customer Success Story: Duraflame
IT Challenges
Inventor of the manufactured wood-wax firelog, Duraflame, Inc. experiences seasonally driven demand spikes where key retail partners like Walmart, Costco, and others significantly increased the number of orders placed. 
For years, Duraflame had been using four different integration solutions that were all managed by an in-house team that was supported by external EDI consultants. The mix of technologies yielded limited visibility and no proactive control, added unnecessary hardware, software, maintenance, and staffing costs, but mostly was simply too rigid to accommodate trading partner updates or unforeseen demand spikes. 
The company also struggled with the timely and accurate processing of purchase orders and resolving issues within their desired 24-hour internal SLA. This directly impacted inventory accuracy, which led to delayed shipments of customer orders and potential losses in revenue. 
The Solution
With the help of Cleo, Duraflame migrated their various integration solutions to one solution—Cleo Integration Cloud (CIC). CIC offers API and EDI cloud integration, flexible blended service offerings (a hybrid of self-service and managed services), and end-to-end business process visibility across any transaction. Now more than 98% of Duraflame's B2B transactions run through CIC. 
Additionally, during their peak 2020 selling season in fall 2020, Duraflame experienced a 40% increase in B2B transactions from big box stores and thousands of other, smaller retailers alike. During this time, they were able to handle this demand spike thanks to Cleo's scalable platform and integration support team. 
John Hwee, Director of IT at Duraflame says, "The Cleo Integration Cloud platform is secure, easy to use, and highly flexible to meet our business requirements ... We experienced zero problems or issues even though we implemented CIC during our peak business time, not to mention a pandemic."
Cleo Customer Success Story: Brother International
With more than 100 years of business and 37,000+ employees, Brother manufactures a variety of home office and business products, appliances, industrial machines, and more. As a large manufacturer, Brother processes well over 25,000 per day or 600,000 EDI transactions per month, with more than 85% of the company's total sales volume relying on EDI.
To get more control over its EDI integration, Brother came to Cleo in 2014 and opted for an on-premise integration solution that provided the manufacturer with a more standard, secure, and stable platform, as well as a reduction in errors. 
Impressed with the results and seeking to further advance its operations, Brother decided in 2019  to migrate to our flagship product, Cleo Integration Cloud. Additionally, Brother opted to utilize Cleo's managed services to handle partner onboarding and map creation.
Since converting to CIC and using Cleo's managed services, Brother now experiences:
Faster trading partner onboarding and map creation
More predictable onboarding timelines
Minimal SLA violations
Fewer chargebacks
Scalable operations and integration infrastructure
eCommerce integration
"We wanted to focus on core competencies of expanding our trading partnerships and growing the business through automation and modern ERP integration rather than spend time on the day-to-day management of EDI maintenance and monitoring. But we needed a proven, reliable partner to do it with," McNaught explained. "Cleo's team helped us move all this complex integration work out of our in-house data center in favor of a Managed Services approach where we entrust Cleo to do the onboarding, the map creation – everything."
Modern EDI for manufacturing doesn't have to be a pipedream. Learn how to leverage hybrid cloud integration to speedily onboard new partners and applications, reduce integration bottlenecks, and strengthen connections with suppliers, logistics partners, and retailers.
Want to learn more?