Tracking and managing critical business functions like purchasing, inventory, and customer relationships are so important to modern organizations that many are willing to pay millions of dollars for enterprise resource planning (ERP) technologies like Acumatica to do it. But integrating the Acumatica Cloud ERP into the rest of your business functions, including B2B data exchanges and customer relationship management (CRM) processes, is just as critical and supports key revenue-driving functions, like Acumatica EDI workflows.
Organizations with a modern ERP solution like Acumatica leverage a centralized system of record and a streamlined order-to-cash flow for better accuracy and faster response time. That's because Acumatica improves the processes around fulfilling customer demand, but such processes often require seamless communication with additional e-commerce and CRM applications, EDI solutions, or other B2B technologies.
When a company decides to invest in the Acumatica ERP system, it must ensure that it is able to integrate efficiently with the rest of its environment and fully automate its order-to-cash business processes. Here's how to integrate Acumatica using a smart connector and get the most out of your ERP investment.
What is Acumatica?
Acumatica is a complete ERP solution that can be delivered either on-premise or in the cloud. It is designed for mid-sized enterprises and helps organizations run their key back-office operations and financial business processes through a combination of business applications for finance, distribution, and accounting. The Acumatica ERP provides scalability, flexibility, and a flexible pricing model that many enterprises utilize for general accounting, order management, and inventory management.
How Acumatica Works
Often, companies will make direct transactions with wholesalers that are then integrated into their ERP system. The internal ERP solution works as the company's backbone to ensure the data flowing in and out of the ERP is efficient. Whether it's your trading partners or customers, you must be able to communicate with the members of your digital ecosystem.
While NetSuite was the first cloud-based ERP, Acumatica boasts several features that customers choose it instead. Acumatica has unlimited users, rather than the need to buy a license for each person who uses the software. It also includes full relational database export, a high-level of customization, and a low TCO. 
Who Uses Acumatica?
Acumatica is one of the fast-growing cloud ERPs and is used by many different companies across multiple industries. Some of these companies include KFC Singapore, ProPharma Distribution, MiiR, OneMed Health Care, OFS International, Firewire Surfboards, and Boulder Creek Stone.
What is an Acumatica Application Connector?
Cleo's Acumatica integration connector connects to the Acumatica API to pull data from the Acumatica database. Users can create and templatize business processes, such as procure-to-pay and order-to-cash, to quickly add new integrations to Acumatica. Cleo's Acumatica connector also supports ERP to EDI and EDI to ERP integration for 850, 856, and 810 documents. Additionally, users can automate status change notifications, retrieve objects from Acumatica, and query Acumatica to initiate integration or other transformation responses. Essentially, Cleo's Acumatica integration connects you in a way that is robust, secure, and flexible.
Why Use an Acumatica Connector?
An Acumatica connector from Cleo provides frictionless integration into the ERP application, but it also supports the traditionally complex EDI and B2B data exchange processes that Acumatica has trouble executing. When companies attempt EDI directly through Acumatica, the process can be quite cumbersome. Using Cleo's Acumatica connector, companies combine the power of the Acumatica API with leading B2B integration technology for a comprehensive, integrated business solution. Such a connector provides the B2B processing power that eliminates manual manipulation of orders coming in from customers who use EDI and provides elegant EDI for Acumatica. Users also can leverage the same data transformation capabilities that enable application-to-application connectivity, such as:
ERP-CRM integration, like Acumatica-Salesforce
ERP-SCM integration, like Acumatica-Epicor
ERP-e-commerce integration, like Acumatica-Magento
Benefits of Acumatica ERP Integration
When a business prioritizes ERP integration by using the Acumatica integration connector from Cleo, the benefits include:
Quick integration into Acumatica via an intuitive experience that defines and configures process, and design-time and runtime resources
Streamlined order-to-cash business processes, reduced errors, and enhanced reliability and integrity
Seamless EDI to ERP integration and automated inbound and outbound business processes
Data syncing among other cloud and on-premise applications, databases, and files to Acumatica
Automated ordering and invoicing processes based on predefined business rules
Seamless EDI to ERP Integration:
Achieve seamless integration between your Electronic Data Interchange (EDI) systems and Acumatica ERP. Our solution automates inbound and outbound business processes, ensuring that your EDI transactions flow smoothly into Acumatica without manual intervention, minimizing errors and delays.
Quick Integration with an Intuitive Experience:
Our integration solution provides a swift and intuitive experience for connecting your systems with Acumatica. You can easily define and configure your processes, design-time resources, and runtime resources, allowing you to streamline integration efforts and reduce setup time.
Streamlined Order-to-Cash Processes:
Experience a significant improvement in your order-to-cash business processes. Our integration solution helps reduce errors, enhance reliability, and maintain data integrity throughout the entire order-to-cash cycle. Say goodbye to manual data entry errors and process bottlenecks.
Data Syncing Across Cloud and On-Premise Applications:
Effortlessly synchronize data across various cloud and on-premise applications, databases, and files with Acumatica. Our integration solution ensures that your data remains consistent and up-to-date across your entire IT landscape, fostering better decision-making and data-driven operations.
Automated Ordering and Invoicing Based on Business Rules:
Boost efficiency with automated ordering and invoicing processes driven by predefined business rules. Our solution enables you to set up rules that trigger automatic actions, reducing manual intervention and ensuring that orders are processed and invoices generated accurately and on time.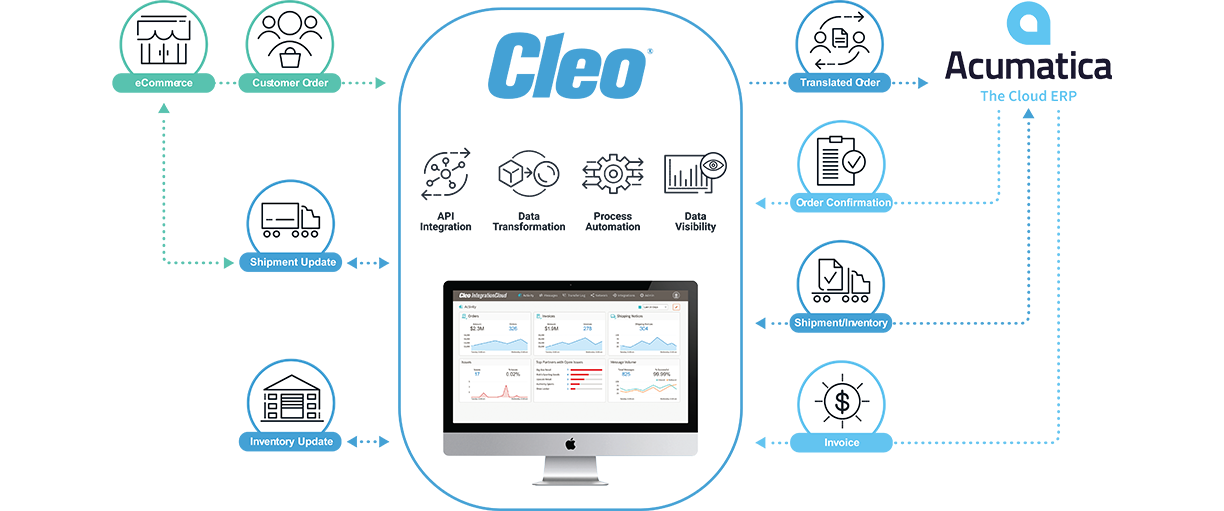 Integrate Acumatica Cloud ERP Today
Companies investing in a business ERP system are investing a lot of time and effort into it, and that's why they must ensure the investment pay dividends years down the line. To do that, companies should integrate Acumatica order processes into the rest of its business workflows for end-to-end processing and unparalleled business visibility and agility. An Acumatica connector from Cleo Integration Cloud will automate that process for you and provide full transparency into the critical data flowing throughout your ecosystem.
Using Cleo's Acumatica connector, you can integrate your ERP, CRM, EDI, and fulfillment systems, while securing data handoff to other enterprise applications and systems for storage and analysis. This ensures you:
Let Cleo help optimize the integration of your Acumatica EDI workflows as well as integration with your other critical SaaS, on-premise, and B2B applications and ensure the data flows powering your business do just that.
***
Does your business require an Acumatica connector?
Looking to create an Acumatica-Salesforce integration?