Order-to-Cash Process
The Order-to-Cash (O2C) process is when suppliers process, fulfill, and invoice customer orders. The Order-to-Cash process starts with a supplier receiving an order from a customer and ends when the supplier receives payment from the customer for the order. 
An efficient Order-to-Cash process ensures a good customer experience so customers will use the supplier again in the future, thus improving retention rate and growth. However, traditional methods rely on humans to facilitate communication between the supplier and customer, as well as to carry out each step of the Order-to-Cash process. Human intervention often delays the process since humans take breaks, make errors, and work slower compared to newer technology solutions that are available. 
Something to note is that the traditional Order-to-Cash cycle is highly relevant to the sales department. This is because for a customer to place an order, they have to engage with someone from the supplier's sales team. However, with modern EDI Order-to-Cash cycles, customers can circumnavigate this human intervention which we'll get into in later sections.
Comparison With Purchase-to-Pay Process
The Order-to-Cash process is very similar to the purchase-to-pay process, which is also called the procure-to-pay process. The difference is that Order-to-Cash is from the supplier's side, while purchase-to-pay is from the buyer's side. Therefore, the purchase-to-pay process starts with a customer placing an order with a supplier and ends with the customer paying for the order after it's been fulfilled.
Common Issues With Legacy Order-to-Cash Processes
Legacy Order-to-Cash processes remain largely unchanged. While once the gold standard of order fulfillment, advancements in the fulfillment space now highlight the shortcomings of legacy Order-to-Cash processes. 
Common issues include:
Human intervention that results in errors and delays, leaving customers dissatisfied 
Slower overall processing times
Siloed systems and applications with poor visibility
Complex, custom-coded solutions that require consistent maintenance 
Inability to quickly scale based on market demand
Different document and protocol requirements for each customer
Relying on separate backend systems including ERP, CRM, and TMS to get an order fulfilled
Different systems need certain document types and formats such as iDOC, EDI, EDIFACT,  and pdf

Order-to-Cash Process Modernization
Modern Order-to-Cash procedures rely on the use of electronic data interchange (EDI) transactions. In this context, electronic documents are exchanged among participating businesses, eliminating the necessity for manual human involvement in the process.. EDI is the digital transfer of business documents between trading partners in a standard electronic format. This process allows suppliers and buyers to send and receive information about orders, transactions, and messages, in a standardized, digital format.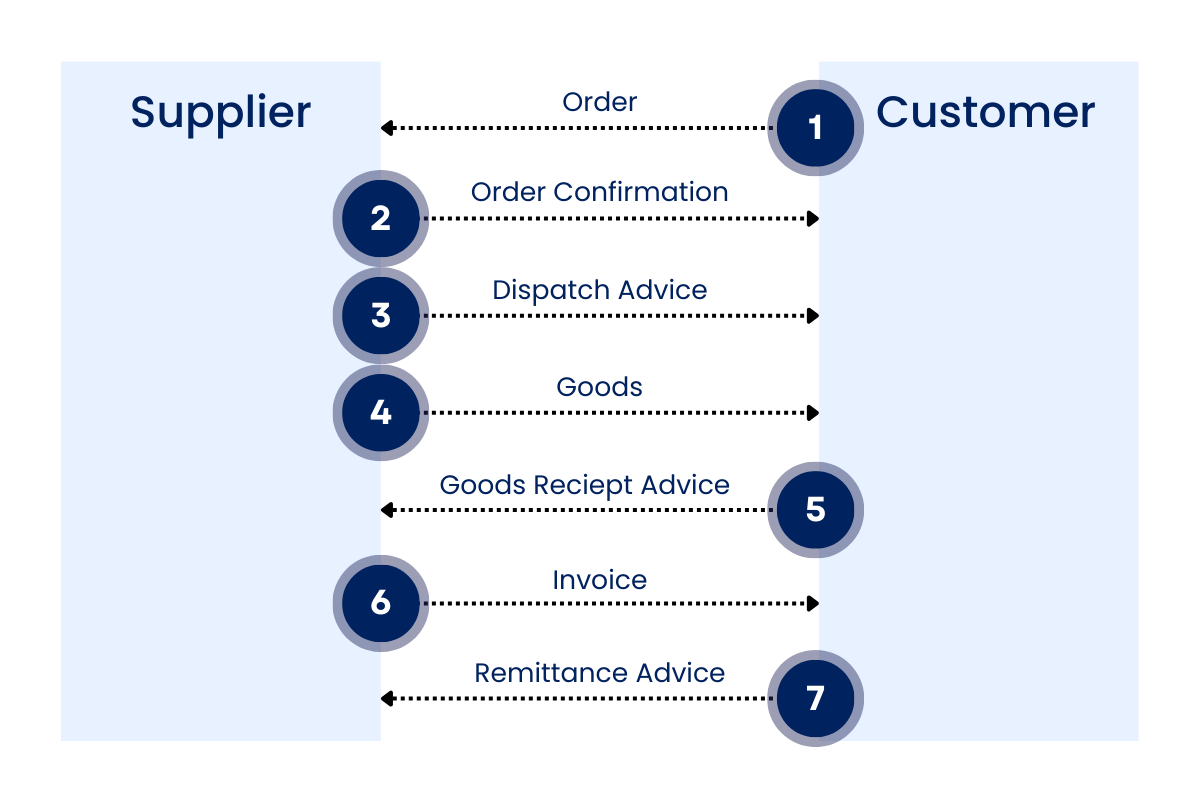 Most importantly, this entire Order-to-Cash process and other EDI purchase order processes can be fully automated for both suppliers and buyers. So from receiving an order to collecting payment, no human intervention is required, removing the need for faxing, emails, and phone calls.
Benefits of a top-tier modern EDI solution include:
Improved efficiency and processing times
Minimal manual tasks due to automation technology
Fewer errors and missed SLAs
Increase in customer satisfaction and retention rates
Real-time data collection across integrated system
Scalability
Widespread integration and protocol support
EDI Document and Transaction Flow
A typical EDI Order-to-Cash process involves the following automated EDI transactions:
The customer's system sends the supplier an EDI 850 Purchase Order to request a purchase. This is typically the first step in the ordering process, as it contains vital details about the requested purchase, including purchase order number and date, seller contact information, item details, delivery information, payment terms, etc. 
The supplier sends the customer an EDI 855 Purchase Order Acknowledgement to notify the customer that an order has been both received and processed. It also informs the customer if the purchase order was accepted, rejected, or if alterations to the purchase order are required. The EDI 855 contains information such as the date of the order, product information, delivery information, and any discrepancies that must be corrected. 
The supplier sends the customer an EDI 856 Advanced Shipping Notice before the shipment arrives at the customer's facility. This document provides shipment details such as shipping and delivery date, delivery location details, shipment tracking information, and item description. 
The supplier sends the customer an EDI 810 Invoice as a request for payment once the order has been shipped and delivered. The EDI 810 includes information including invoice number and date, details about the order, acceptable methods of payment, and the total amount due. 
The customer sends the supplier an EDI 820 Payment Order to confirm payment details, inform the supplier of any changes to the payment amount, and serve as a payment intent statement. The EDI 820 is typically sent concurrently with the actual payment via an electronic funds transfer.
The supplier sends the customer an EDI 977 Functional Acknowledgement to inform the customer that the supplier received the EDI 820 and payment. 
Order-to-Cash Process in Your ERP System
ERPs are a central point where businesses can manage, integrate, and collect data from multiple systems within their digital ecosystems. ERPs improve the EDI Order-to-Cash process because they house information from disparate systems, such as stock levels, warehouse space, and shipment location.
By integrating EDI with an ERP system, companies will have access to up-to-date and accurate information that can be shared with customers. Thus, ERP integration enhancing the overall Order-to-Cash experience and process. Two common ERPs are the SAP and NetSuite ERPs. They are especially helpful as they pertain to sales and distribution, as well as finance models.
For example, a supplier can integrate their ERP with its warehouse management system (WMS). By doing so, the WMS will share real-time data with the ERP, such as inventory levels across the supplier's various warehouses. The ERP will use this real-time inventory data to either accept, reject, or alter a customer's EDI 850 Purchase Order. This response will be communicated automatically to the customer via an EDI 855 Purchase Order Acknowledgement.
Additionally, a supplier can integrate their ERP with its financial system. By doing so, the financial system will share real-time updates with the ERP, such as when a payment is received from a customer. The ERP will use this real-time update to automatically send the customer an EDI 997 to confirm receipt of the EDI 820 and payment.
Questions?
Cleo offers innovative EDI Order-to-Cash solutions that constantly adapt to the evolving needs of our customers. Built to drive efficiency and streamline communication between organizations, Cleo is focused on improving and optimizing your critical revenue-generating business processes.
If you have questions about what was covered in this blog, whether it's about Order-to-Cash, ERPs like SAP or NetSuite, EDI, or Cleo's products and services, contact us at sales@cleo.com or +1.815.282.7695. Lastly, you can explore additional educational resources through our resource library.