What is EDI and How it Works in Freight

EDI, or electronic data interchange, makes it possible to quickly and efficiently move goods worldwide. Without EDI freight, the logistics industry would still use antiquated or paper-based processes to manage operations, from product warehousing and distribution to billing. 
We're going to explore the role of EDI in freight and why a modern EDI solution is crucial for success in logistics. 
But before we do that, let's do a quick review:

What is EDI?
EDI is a protocol that enables two systems to interact electronically, supporting the paperless and rapid exchange of information between trading partners. Virtually every industry uses EDI standards to govern the format and transfer of business documents like purchase orders, EDI freight invoices, shipping statuses, payment confirmations, and more. 
EDI freight dates back to the early '60s when DuPont and Chemical Leaman Tank Lines first used it to exchange cargo information. Since then, between 59 and 85% of logistic companies have adopted the technology, cementing EDI's crucial role in the supply chain.
Here's a high-level example of EDI today. 
Say a hotel chain wants to purchase 1000 new mattresses for one of their properties. Here are some of the steps (potential steps, too) involved in switching out the hotel's old mattresses.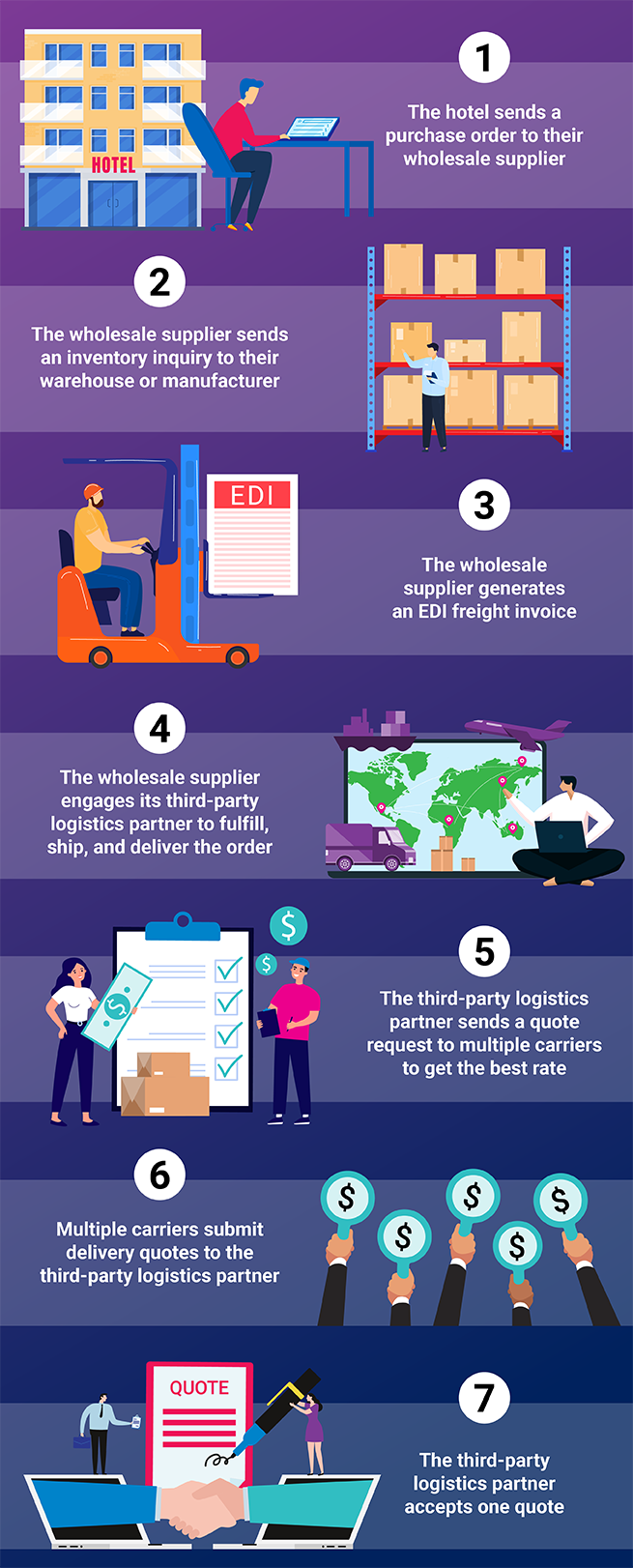 In summary:
The hotel sends a purchase order to their wholesale supplier. 
The wholesale supplier sends an inventory inquiry to their warehouse or manufacturer.
The wholesale supplier generates an EDI freight invoice.
The wholesale supplier engages its third-party logistics partner to fulfill, ship, and deliver the order.
The third-party logistics partner sends a quote request to multiple carriers to get the best rate.
Multiple carriers submit delivery quotes to the third-party logistics partner.
The third-party logistics partner accepts one quote.
Unfortunately, there's a complication. There isn't enough product on hand at the US warehouse. And since the manufacturer is overseas, there are additional steps related to customs and international shipping (i.e., EDI freight forwarding) to facilitate the order.  
Without EDI, each step of this process would be manual, complicated, slow, and susceptible to errors. With EDI, these steps occur automatically, often simultaneously, enabling the smooth, swift transfer of goods through the supply chain. It's even simpler if you insist your trading partners adhere to EDI certification guidelines. 

How Does EDI Work?
Instead of printing business documents and then mailing, emailing, or faxing them to trading partners, you'll create and send this information via EDI. Generally speaking, sending EDI documents involves three steps: document preparation, document translation, and document transmission. 
Step 1: Document preparation
First, you'll collect and organize the data you want to send to your trading partner. Since you're EDI capable, your system will create a file containing the necessary information for each EDI document. Here are some typical data sources for those business documents:
Data exported from databases and spreadsheets
Data inputted by users via screens
Data from existing applications reformatted into output files 
Step 2: Document translation
Next, you must translate the documents into the EDI standard format using translator software. While you can purchase and manage the software, you'll need specialized mapping expertise to define how your internal data should correlate to the EDI data. Alternatively, you can outsource the translation process to an EDI service provider. 
Step 3: Document transmission
Lastly, you'll connect with your partner's system and transmit your properly formatted and translated EDI documents. There are multiple ways you can connect with your partners. These are the most common:
A direct connection using AS2 (applicability statement 2) or other secure internet protocol
A connection through a VAN (value-added network)
A combination of the above, depending on the particular partner or the transaction volume
Here are some common EDI freight order codes that keep supply chains operating smoothly:
Explore more EDI freight order codes.
What is EDI in Freight?
Freight plays a crucial role in the supply chain, ensuring goods get from point A to point B intact and as quickly as possible. EDI allows freight businesses to easily manage all aspects of the warehousing, distribution, and billing processes while avoiding the pitfalls of manual processes and human error.
How it Works
Here are a couple of examples demonstrating how EDI has transformed freight.
In the past, a warehouse manager would have to review a printed bill of lading containing information that may have been entered manually. Any number of things could happen, data was inaccurate.
Using EDI, a warehouse manager can scan a single bar code to generate the necessary shipping requirements for 50 pallets of frozen vegetables as well as information for invoicing the recipient. This automatic, electronic process streamlines communication, conserves employee resources, protects the goods being shipped, and speeds delivery.  
Another example involves the scheduling of pickups. Before EDI, shippers exchanged pertinent information with a carrier over the phone, email, or fax, which could lead to mistakes. For instance, the shipper could make a transposition error when relaying the pickup address (i.e., 2455 Main St. instead of 4255 Main St.). While the delivery driver could resolve the issue by calling their dispatcher, they may have to reschedule the pickup, costing both parties time, money, and reputational damage. 
An EDI 317 Delivery/Pickup Order eliminates the potential for these mistakes, providing pickup information automatically in a standardized format. 
Explore more ways EDI supports Logistics.
The Downfalls of Inefficient EDI Solutions (Common Challenges of Using EDI in Freight)
Efficient supply chains depend on EDI solutions to streamline complicated processes and make it easier to manage voluminous transactions within the trading partner ecosystem.  
However, implementing and getting the most out of freight EDI can be challenging, especially if you're  increasing your capabilities or going through a period of fast growth. 
Here are five challenges you'll have to overcome for success.


1. Scalability

Your trading partners may have different EDI transaction sets despite sharing a standard protocol. For instance, an EDI purchase order will vary by industry and trading partner. You'll need to be able to accommodate these variations when you add new partners to your ecosystem. Here's how to ensure you're prepared to scale:
Implement EDI software that supports unlimited business rules and document types
Use a modern EDI integration software that integrates EDI transactions with your ERP system


2. B2B network complexity

As businesses grow, so does the number of supply chain participants. That means more stakeholders, more data, more formats and standards to consider, and a greater need for security. 
Automated EDI solutions can manage this complexity by connecting seamlessly with new partners, fostering strong relationships, limiting errors, and speeding the delivery of goods and services.


3. Transparency

It's important to keep your finger on the operational pulse of the supply chain to succeed in modern logistics. But systems are becoming increasingly complex, making it difficult to achieve total visibility, thereby threatening efficiency, productivity, cost containment, and partner satisfaction.
A modern EDI monitoring platform can provide end-to-end integration, business process automation, and real-time operational transparency, allowing you to drive impactful outcomes and respond quickly to challenges across the trading ecosystem.


4. Bad data

Inaccurate, non-conforming, and duplicative data costs the average organization $15 million per year, wreaking havoc on every aspect of a business. Those who make enterprise data management a strategic priority can make business decisions confidently.    
Still, bad data can sneak its way into the supply chain and cause erroneous transactions. While earlier EDI formats such as IMP and EDIFACT couldn't proactively identify bad data, modern EDI solutions can. As the first line of defense, they provide an encrypted environment with restricted access to support the secure data exchange between partners. In addition, their audit trail capabilities inform stakeholders and partners about faulty data before it impacts the ERP system or supply chain.


5. Rising costs

Conventional EDI implementations have high upfront and ongoing maintenance costs. In addition, special IT expertise is needed to handle business transactions, which increases the load on teams that are already notoriously spread thin. 
Modern EDI solutions require less overhead because supply chain ecosystem transactions are processed in the cloud. And because they streamline the documentation process, it's easier for partners to comply with EDI standards and avoid fines due to SLA violations and other performance gaps. 
Overall Advantages of an Efficient EDI Solutions (How EDI Can Be Useful in Freight)
Freight EDI has transformed the logistics industry, slashing communication time between partners down to minutes vs. the days or weeks it took to push paper back and forth. But modern EDI freight tracking solutions deliver more than fast processing times. 
Here is what else they do.


1. Ensure Accuracy
Relying on paper or manually entering data into an online ordering system or ERP software is risky and can result in costly errors. EDI ensures accuracy by removing the human element. In addition, EDI standards ensure information is correctly formatted before it's transferred. 


2. Automate processes
EDI freight management solutions use EDI mapping to automate the transfer of EDI data (i.e., names, addresses, part numbers, and quantities) into backend applications, saving time and further safeguarding against errors. Every step of the process, from data validation to receipt verification, is handled automatically. 


3. Provide real-time information
Delays associated with sending and receiving business documents can cause problems for logistics, where time is of the essence. EDI provides real-time information so you can meet EDI SLAs and pinpoint and address issues the moment they arise.  


4. Support an integrated communication system
EDI supports a single integrated communication flow accessible to all players, ensuring end-to-end traceability and visibility into every transaction.  


5. Save resources
EDI eliminates the need for paper and associated costs like document storage, postal and courier fees. In addition, EDI automation alleviates the burden on IT resources to manage complex processes and security, allowing them to focus on other mission-critical tasks. 


6. Enhance relationships with trading partners
EDI solutions support your efforts to be a reliable, preferred trading partner who executes transactions quickly and resolves issues promptly. EDI solutions also support rapid client onboarding and enable self-service so your partners can proactively monitor their transactions themselves.


Automate Any EDI Type
Your trading partners use different chain visibility software platforms and have unique format requirements for EDI documents like the EDI 210 freight invoice. That's not a problem for modern automated EDI solutions.


Seal All Your EDI Gaps with a Fully Integrated EDI Service Suite
The graphic below demonstrates how the Cleo Integration Cloud blends disparate systems and requirements, seamlessly blending into your environment. 
Your EDI freight management software directs a JSON file of real-time shipment updates to Cleo, which transforms the file into your required format. Cleo then directs that data to your backend application (TMS, ERP, etc.), where necessary data gets added to the file. Finally, Cleo will automatically convert that internal file into the relevant EDI file to send to the shipper, in this case, an EDI 214 Transportation Carrier Shipment Status Message.



Choosing the Right EDI Platform
Seamless integration with your trading partners is a key component of being an agile organization. Read more about how to choose the right edi platform.
If your current EDI software doesn't provide fluid integration with your trading partners, we'd like to introduce you to the Cleo Integration Cloud interface for Logistics.
        
Too Good To Be True?
Don't take our word for it; check out what a few transportation and logistics customers have achieved since partnering with Cleo. 
See How World-Class Logistics Company Allen Lund Scored a 20X Connection Increase in 5 Years.