If we were to look under the hood to see how integration technology, a fundamental requirement for supply chain agility and wholesale distribution software, works like an engine to drive growth in the warehouse industry, what would we find?
I'd wager we'd find several missing parts.  Because today the standard technology for wholesale integration with customers, suppliers, and transportation companies is done via EDI technology, which is commonly used, extensively proven, and low cost.
But what's needed is not just EDI, it's also APIs.  For wholesale distribution businesses to transform themselves into digital enterprises, they need to adopt API-based integration.
What's more, to become a digital business that can proactively anticipate and shape demand, deliver e-commerce capabilities, and exceed customer expectations for real-time visibility and inventory management, they need APIs that deliver real-time information, just like a modern dashboard in a powerful Tesla.
Below are the top five areas where API integration can create economic value for wholesale distributors.
1. Rapid Onboarding
Sales and IT teams need an integrated strategy for seamless onboarding of business customers as well as their end users.
In today's competitive world it takes a lot of effort and time for sales and marketing to land a new customer, and there is a finite window when there is an opportunity to onboard the new customer and scale volume business. Yet, many operations and IT teams miss that window due to slow and archaic onboarding processes with rigid (often manual) technologies.  As a result, newfound relationships can get off on the wrong foot.
An API integration platform with seamless integration capability to back-office applications plus the ability to consume orders from customer systems (as well as EDI orders when that is the mandated approach from the customer; EDI is really a subset of API management these days) can enable onboarding in hours or days instead of several weeks.
2. Order-to-Cash Enablement
The entire EDI processes for receiving purchase orders (EDI 850's), providing advance ship notices (EDI 856's), invoices (EDI 810's), and all the associated acknowledgements can be replaced by two-way direct communication with APIs from modern ERP systems that can be integrated via an ecosystem integration platform.
APIs can also enable real-time inventory status information which is becoming increasingly valuable for B2B customers.
3. End-to-End Visibility
APIs can provide 100% real-time transactional visibility for all orders, invoices, and inventory statuses for customers. Further, APIs can integrate with visibility platforms such as project44 and FourKites, and provide real-time update on location and route tracking information.
4. E-Commerce API and Omnichannel Enablement
APIs are central to delivering the complete digital experience necessary for e-commerce and omnichannel enablement.
From ecommerce API integrations to product catalogs, ERP, warehouse management, and inventory management systems, customers can get complete access to product information, order tracking, inventory status, location updates, and ability to buy anywhere (online or store) and fulfilled anywhere (store or direct to consumer).
5. Back-End Application Integration
APIs are invaluable when companies have back-end applications (SaaS and legacy) that need to be seamlessly integrated into a digital order-to-cash and/or procure-to-pay process as well as the ability to extract in real-time up-to-date product pricing, product details, order tracking, and real-time inventory information to enable digitalization of supply chain processes.
An API SaaS platform also allow a new level of customizability. As an example, a SaaS application may not have the exact interface needed for a given wholesale distribution business case, but, by leveraging API based integration capabilities, a customized extension to support the required business case can be efficiently developed and deployed.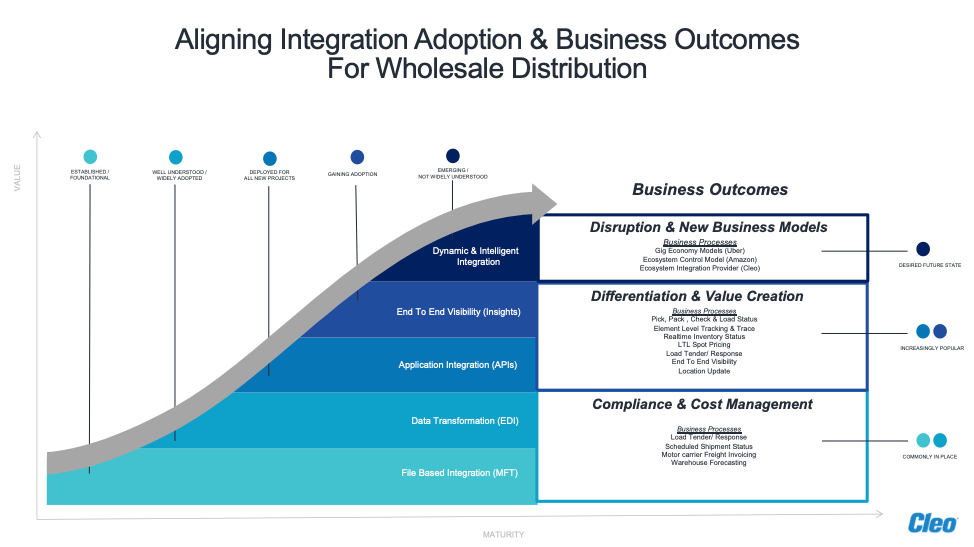 Fig. 1 - Cleo's Maturity Model for aligning integration adoption and business outcomes for wholesale distribution companies
From this it should clear that for companies in the wholesale distribution to truly jump in the driver's seat they need an ecosystem integration vision, strategy and plan. No matter where you begin (i.e., no matter what integration solution is "under the hood" at your company the moment), an API-first strategy will best help you cruise into the future, and maneuver around bumps in the road.