Enterprise resource planning (ERP) systems have been growing in popularity for decades, and are now a vital aspect of most organizations. As ERPs have become more integral to a company's daily operations, businesses want to ensure they pick the best ERP solution for their needs.
There are certain features and capabilities to look for, as an ERP can tackle multiple responsibilities and challenges. A solid ERP solution can:
Remove data silos and increase cross-department collaboration
Improve decision-making with access to real-time data
Automate processes like inventory tracking or invoice generation
Simplify supply chain integration and management
To achieve the above outcomes, however, companies actually need more than an ERP alone.  They must have an integration solution in place to connect their ERPs to the other systems, platforms, trading partners, etc., in their digital ecosystems. While some ERPs have built-in integration capabilities, they likely are not the most advanced solutions. Therefore, challenges with ERP and application integrations arise and companies often are left searching for ERP integration solutions.
Which ERP integration solutions are worth researching and considering for your business enterprise?
There are many integration solutions on the market, which can make it complicated to determine which options are the best fit for your business. With this in mind, we compiled a list of 15 top ERP integration tools & platforms (ourselves included) that we identified for 2024.
Before we dive into each ERP integration solution below, let's acknowledge some basics.
What is an ERP integration tool?
An ERP integration tool is a software solution that helps businesses connect their ERP system with other software applications, databases, and external systems. This integration allows data to be shared and synchronized across different systems, creating a unified ecosystem for businesses to operate more efficiently and effectively.
ERP integration tools can be used to connect a wide variety of systems, including:
CRM systems
eCommerce platforms
Supply chain management (SCM) systems
Warehouse management systems (WMS)
Transportation management systems (TMS)
Financial systems
Human capital management (HCM) systems
Marketing automation platforms
There are many benefits to using an ERP integration tool, including:
Improved data accuracy and consistency
Reduced manual data entry and errors
Increased visibility and insights into business operations
Automated workflows and processes
Improved customer service
Increased agility and responsiveness
Like many integration tools, ERP integration tools can be deployed on-premise or in the cloud. They can also be customized to meet the specific needs of a business.
1) Cleo Integration Cloud (CIC)
Cleo Integration Cloud is a cloud-based ecosystem integration platform, purpose-built to design, build, operate, and optimize critical B2B business processes. The CIC platform brings end-to-end integration visibility across key connecting points comprising your supply chain and provides ERP integration capabilities that enable seamless data sharing between all connected systems in a digital ecosystem.
With CIC, companies can connect their ERP systems with CRMs, TMSs, WMSs, eCommerce stores, financial platforms, trading partners, visibility platforms like Project44 and FourKites, and more. CIC's open nature ensures all pertinent information is collected from each system and is then presented to users in a single location—customizable dashboards that highlight the data that's most important to each user. Additionally, from the customizable dashboards, users can also manage their integrations and supply chain. This is further aided by an easy-to-use UX/UI that users in most any role can easily navigate.
Since CIC utilizes cloud technology, maintenance, updates, and error resolution are all performed remotely, thus reducing time spent, cost, and reliance on physical hardware.
Features and Benefits
Pre-built connectors for common ERP systems, including NetSuite, Microsoft Dynamics 365, SAP, and Oracle, Acumatica among many others
Supports 20+ secure data exchange protocols, including AS2, HTTP/S, SFTP, etc. 
Offers various integration methods, such as API integration and EDI, and non-EDI
Customizable templates and prebuilt schemas, rulesets, and business processes to easily build common integrations and connections and expedite onboarding times
Choice of self-service, managed services, or a blended approach – ensuring customers have complete flexibility and control over integration strategy
Customizable dashboards for each user
Cloud-based product allows for effortless scaling
Offers a variety of integration options 
Provides one, centralized location to manage all integrations in your digital ecosystem
Business process automation which improves efficiency while reducing errors and delays (Order-to-Cash, Load-Tender-to-Invoice, Procure-to-Pay)
Unparalleled transparency that lets users dig into each integration in their digital supply chain
Error notifications that tell users when and where an error is occurring
Drawbacks
May be too much horsepower for small businesses that do not need a comprehensive solution
There may be a learning curve for users who are new to ERP integration—Cleo provides certification programs and continuing educational resources such as live webinars, training videos, written guides, blogs, etc.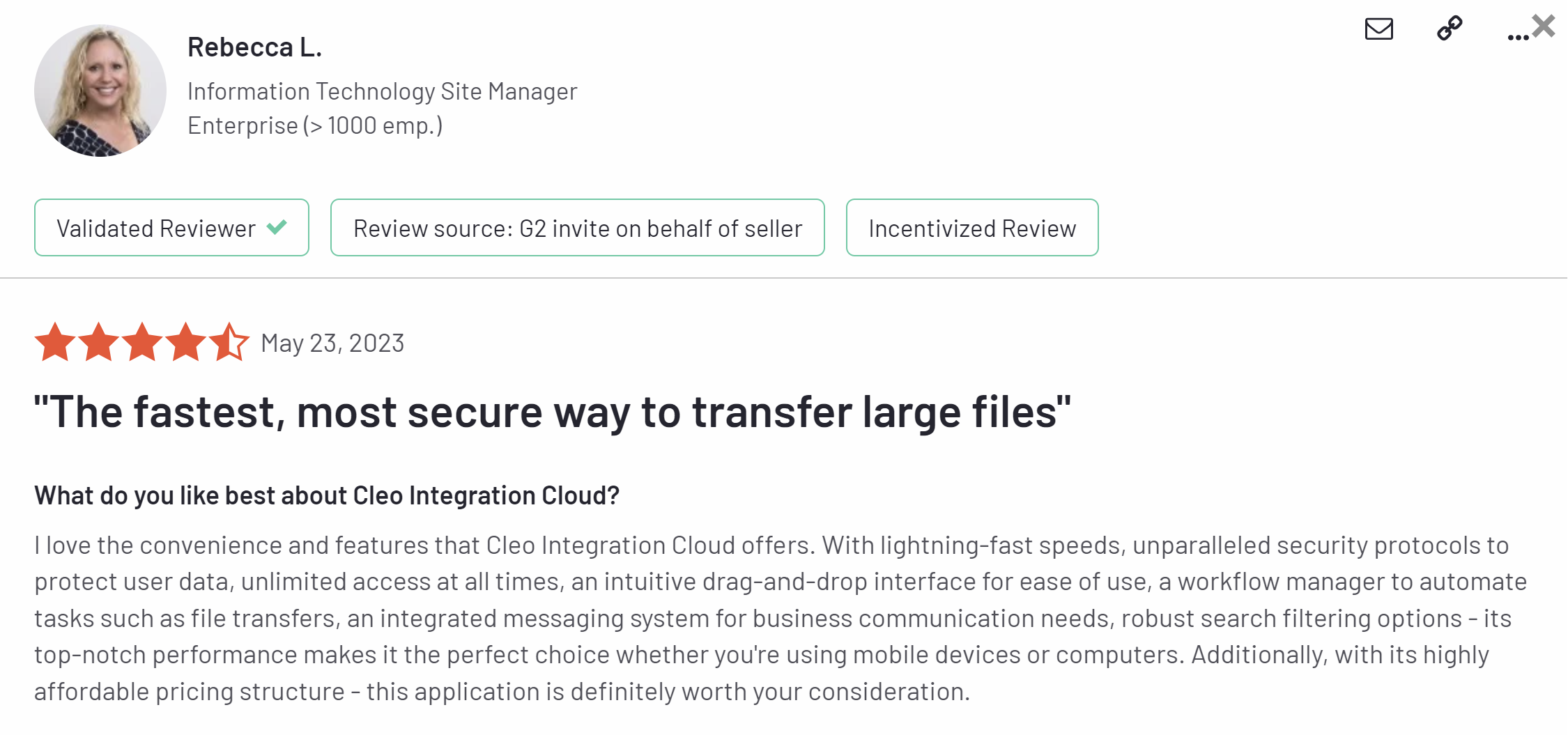 2) Celigo
Celigo is an integration platform-as-a-service (iPaaS). The platform allows companies to connect their ERP to various apps, sync data between connected systems, automate business processes, and scale. Celigo's integration solutions are known for their flexibility, scalability, and ease of use. They offer pre-built connectors and templates for popular ERP systems like SAP, Oracle, and Microsoft Dynamics, and provide users with a visual designer for creating custom integrations. 
Celigo's software includes features such as data mapping, transformation, data quality assurance, and real-time monitoring.
Features and Benefits
Integration templates that can be installed, configured, modified, duplicated, or deleted
API assistants help to create integrations for popular cloud applications
Data loader tool for ad-hoc import and mapping of a data file into NetSuite, Salesforce, or other REST/JSON applications
Built-in AI features include error handling, design support, and OpenAI connectors
Develop, document, secure, and socialize your APIs using Celigo's API management
Reuse integration assets to easily develop new integrations
Drawbacks
Several pricing tiers, but the lowest tier may still be too costly for small businesses
Understanding error messaging can be confusing 
Visibility-level is lacking compared to other solutions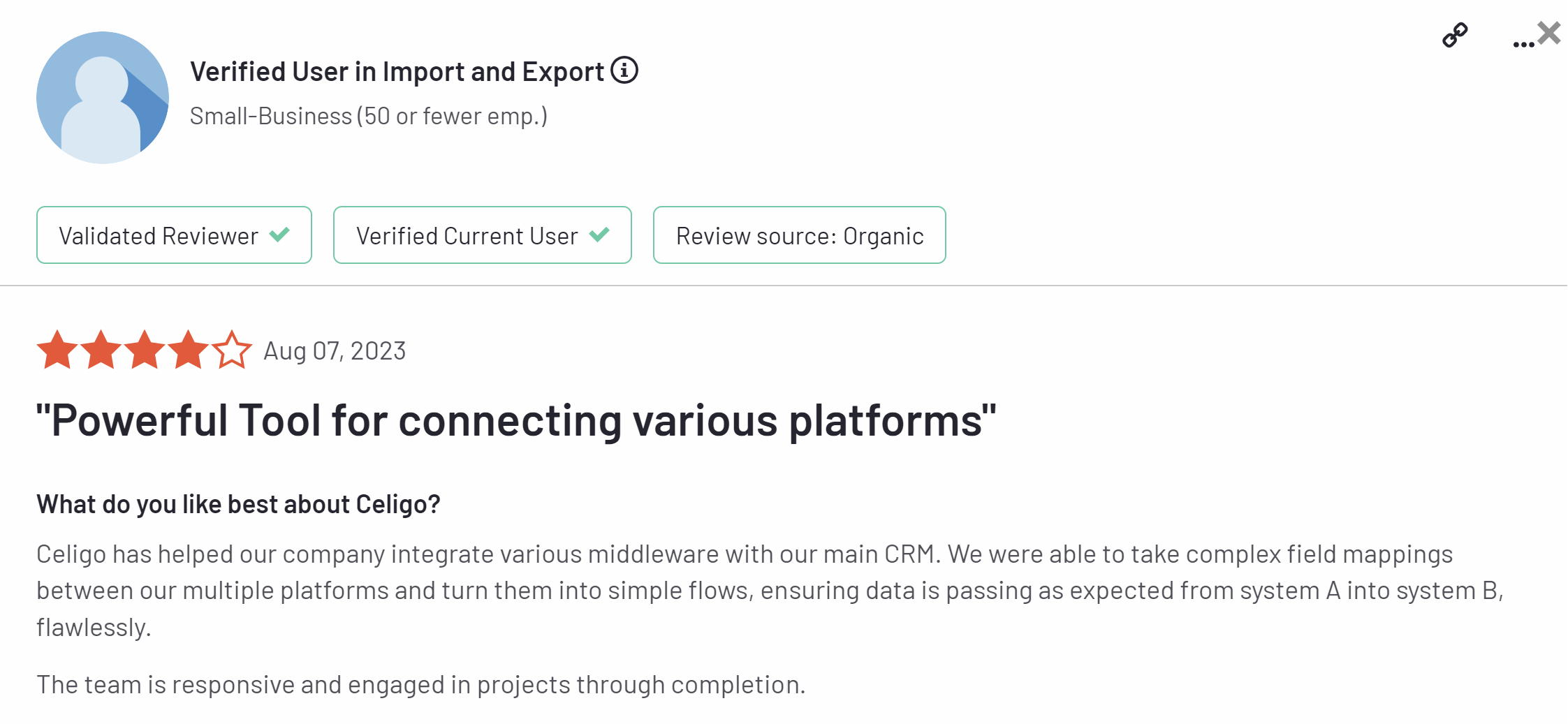 SnapLogic's ERP integration software connects various business applications. This cloud-based platform simplifies the integration process, facilitates the smooth exchange of data, and enables automated workflow solutions across the various departments of an organization. 
The bread and butter of SnapLogic are what they refer to as "Snaps," which are pre-built connections that enable code-free integration. Snaps support a wide range of ERP systems, including SAP, Oracle, and Microsoft Dynamics. Snaps also support other standard and popular integrations including connecting to Slack, Box, and HubSpot. 
SnapLogic's visual designer empowers users to create tailored integration solutions. Additionally, SnapLogic provides advanced features like data mapping, transformation, data quality checks, validation, and real-time monitoring.
Features and Benefits
Pre-built connectors and templates for popular integrations
Scalability with the cloud-based platform 
Low-code/no-code methodology to automate application and data integrations
Business process automation across human resources, sales, IT, marketing, and finance and accounting
API-support
Drawbacks
Difficulty running Python scripts natively
Limited customization ability compared to other integration tools
Challenging for everyday users to navigate the platform as it's more developer-friendly
Fewer features and capabilities overall compared to similar solutions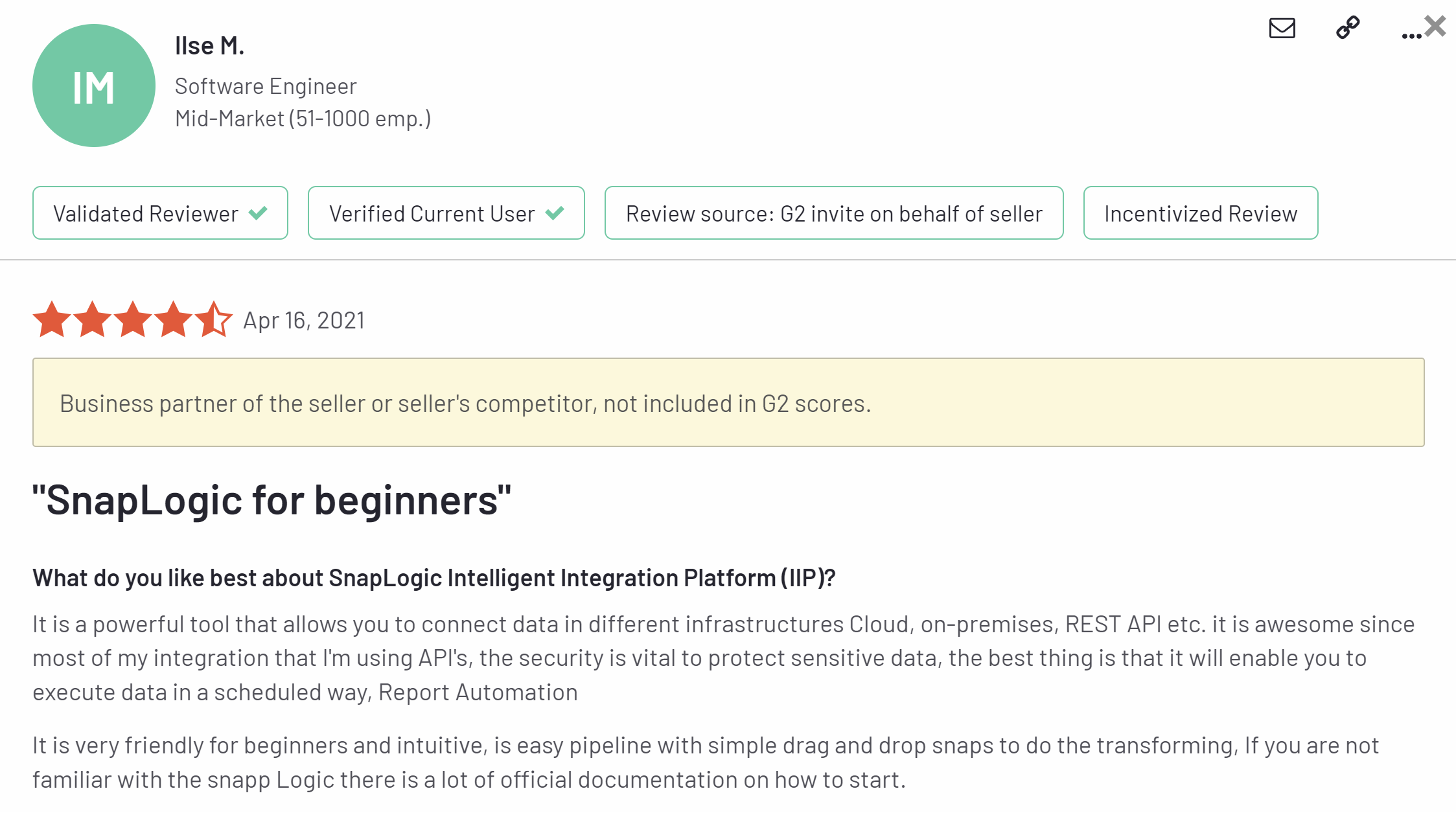 4) Talend
Talend makes real-time data integration and management software. Its products are designed to help organizations address the complex and evolving challenges of handling data in the modern business landscape. This is done by offering a unified solution for data integration, data quality, data governance, data transformation, and more.
With pre-built connectors to popular data sources and destinations, including common ERPs, integration is also simplified. Furthermore, by providing self-service tools, Talend aims to deliver a platform that users of various levels can navigate with relative ease. Users can unify data across any cloud, hybrid, or multi-cloud environment. 
Features and Benefits
Multi-/hybrid-cloud and on-premises integration flexibility
Real-time data integration 
Ability to design, test, and create APIs for data sharing
Specialized connectors with popular big data technologies (i.e., Hadoop and Spark) for moving massive amounts of data
Self-service interface and capabilities for preparing data
Drawbacks
Licensing model can be costly if multiple licenses are required
Bulky and occasionally slow loading speeds
Limited educational resources can make it difficult to understand the platform and its features, as well as how to troubleshoot the system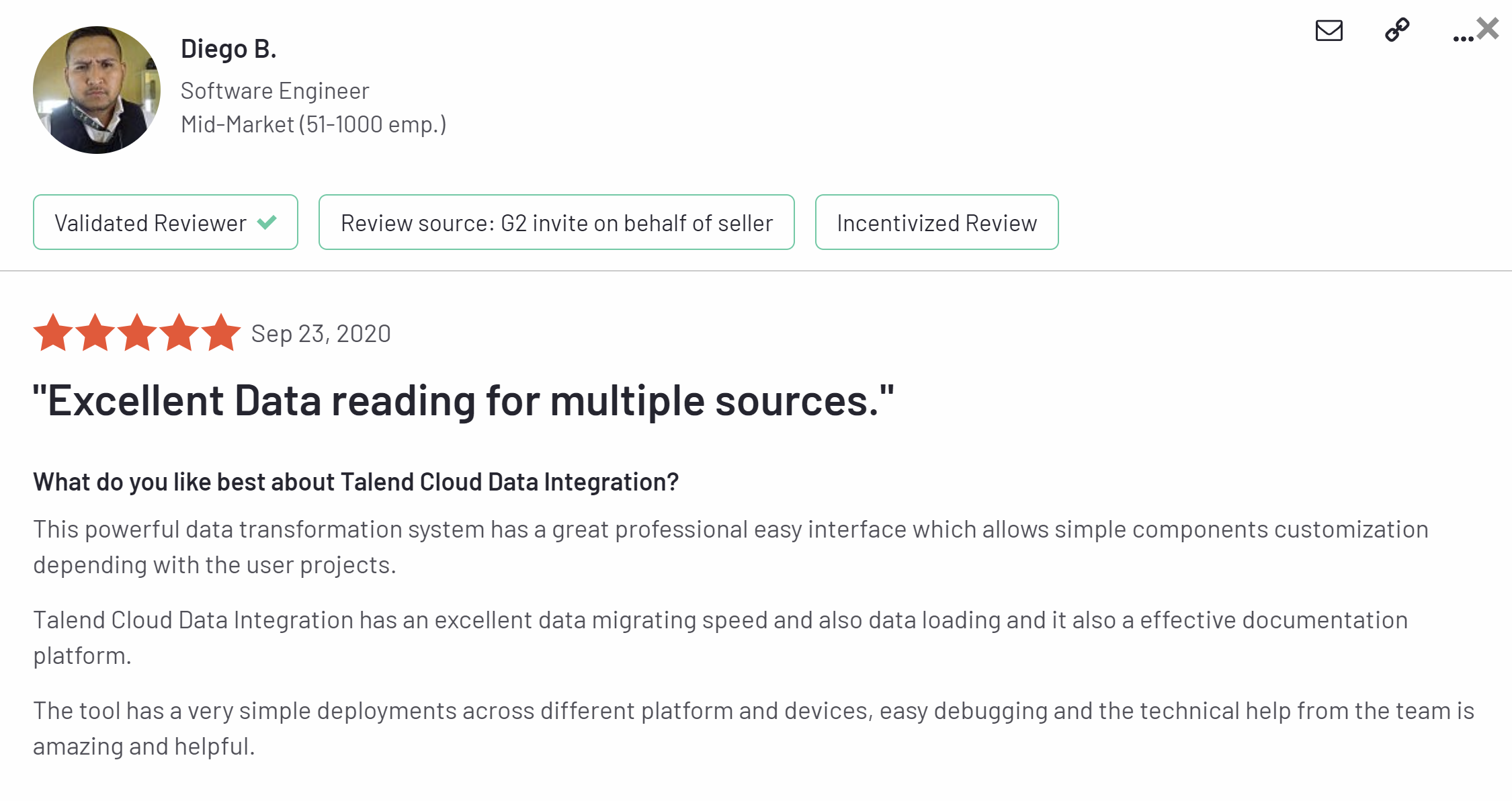 5) DCKAP Integrator
The DCKAP Integrator is used to establish connections, automate business processes, and synchronize data across a business's CRM, eCommerce platforms, and ERP (e.g., Epicor Prophet 21, Oracle NetSuite, Microsoft Dynamics 365). This allows companies to eliminate manual data entry and centralize their data in one location. Users can assess and manage this real-time data, as well as integrations, from a single dashboard.
The DCKAP Integrator and its accompanying ERP integration tools are largely aimed towards distributors (which is one reason why your company, if it's in manufacturing, logistics, retail for instance, may never have heard of DCKAP Integrator). 
Features and Benefits
Easy-to-navigate integration dashboards
Widespread integration support for eCommerce applications and ERPs
Scalable platform for companies of all sizes 
Automate data collection and remove manual data entry
Synchronize data from interconnected systems using a set schedule that users determine
Record and save all data that passes through an ERP for secure documentation
Drawbacks
Learning curve for individuals setting up their first integrations
Some integrations may be batch-based, not real-time
Instances of code repetition due to some functional limitations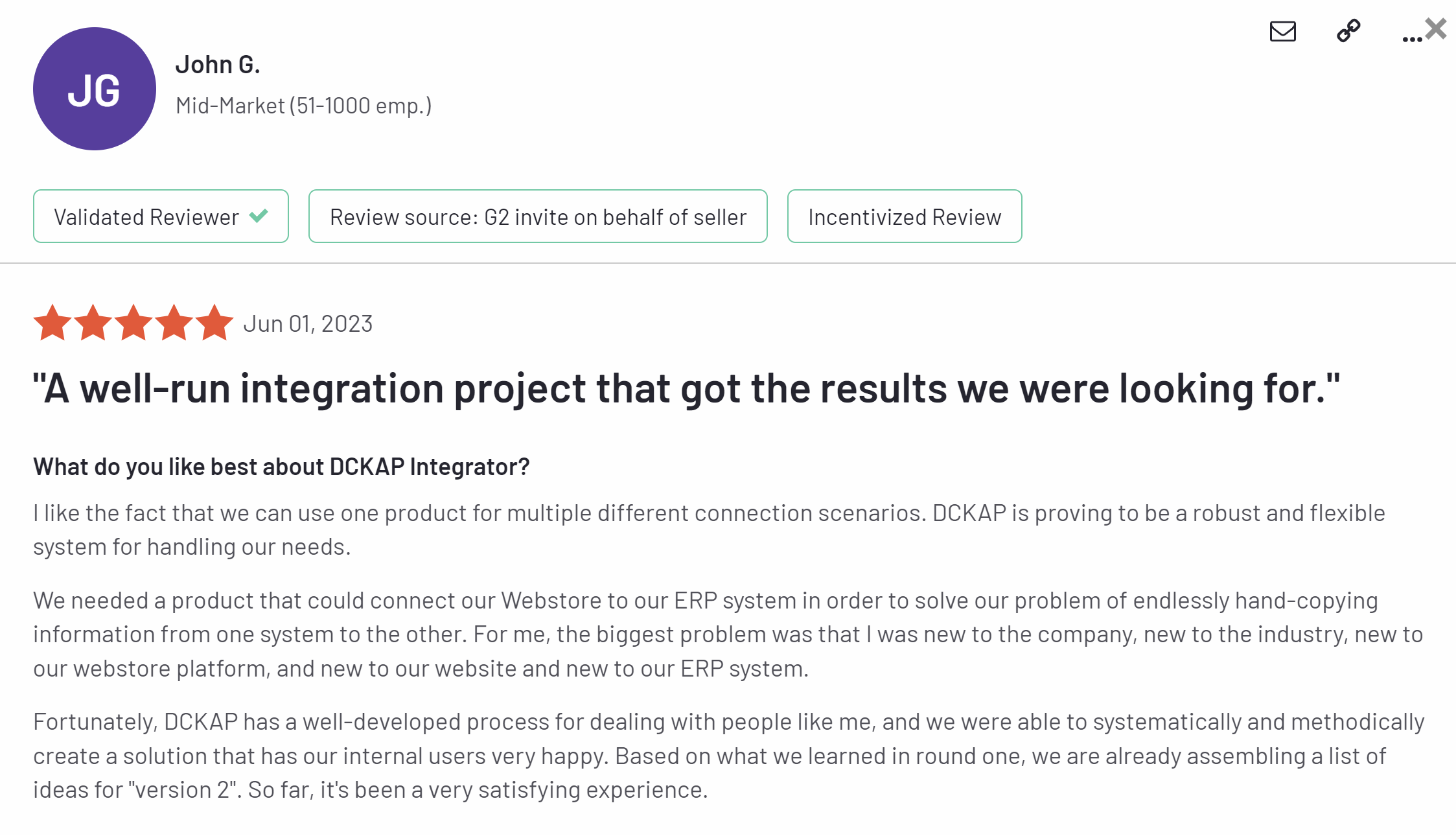 6) Workato
Workato touts itself as a low-code/no-code, enterprise-level iPaaS that can automate end-to-end business processes, create and manage integrations, and share data between various connected sources—ERPs included. 
Workato utilizes drag-and-drop technology, giving non-technical users the ability to build APIs, integrations, and automated processes. Workato also offers ready-to-use connectors, workflows, and architectures, which helps reduce the time spent on integration projects and onboarding.
Features and Benefits
Low-code/no-code with drag-and-drop interface 
Process automation that reduces dependencies on humans
Ready-to-use connectors, workflows, and architectures 
Supports both batch and real-time processing
Import data in warehouses 
Shines when used for simple use cases
Drawbacks
Since the platform is low-code, complex flows and integrations may not be entirely feasible using the solution, so you may need to build cumbersome workarounds
Documentation to help users overcome obstacles could be improved, as some is missing or there is limited documentation regarding certain topics

7) Tray.io
The Tray Universal Automation Cloud platform is an iPaaS designed to speed time-to-integration. Users of Universal Automation Cloud can simplify their tech stacks and remove data silos across departments and teams by integrating the various systems in their digital ecosystems. This is achieved through a low-code, AI-assisted builder that helps users create integrations faster. Tray's platform can also connect to most software that has an API—including REST and SOAP-based APIs.
Features and Benefits
Supports on-premise and cloud integrations
Out-of-the-box "service connectors" that are used to integrate and share data with other applications, platforms, trading partners, etc.
Pre-built workflows to automate business processes
Supports secure network protocols such as SFTP
Drawbacks
Weak history/version control can create complications
Lack of detailed and current documentation for some pre-built connectors can lead to errors and confusion
Difficulties interpreting failed steps in a workflow and finding the best fix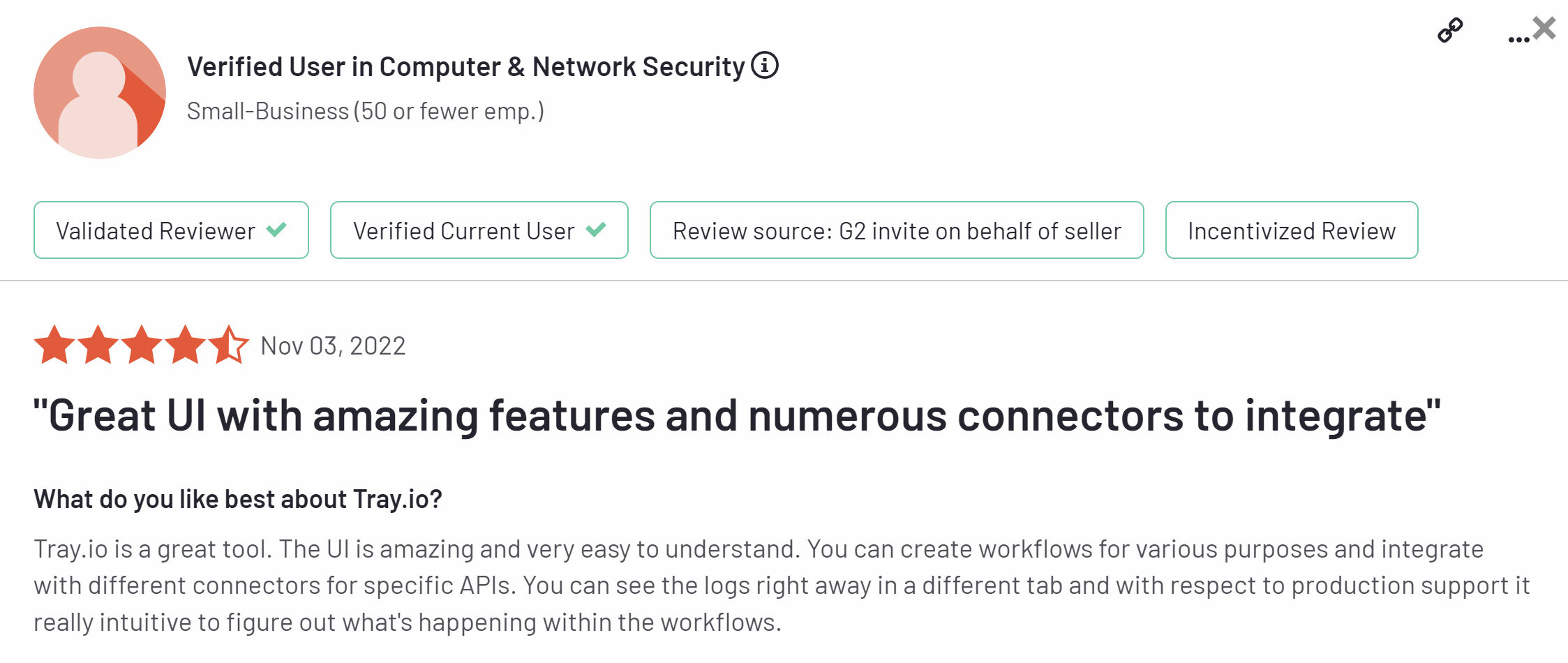 8) IBM App Connect
IBM App Connect is an iPaaS (integration platform as a service) designed for business technologists and integration specialists. App Connect lets businesses connect applications and create integrations without needing to code, by using pre-built connectors and templates. It also uses AI with suggestive data mapping and transformation to speed the development and testing of integrations.
Features and Benefits
AI-powered mapping assistance 
No-code interface
Pre-built connectors for common ERPs and customizable templates
Deploy on-premise, in the cloud, or in hybrid environments
Transform and move data including from different data formats such as JSON, XML, CSV, XLS, and Binary
Offers multiple types of data integration, including event-based, API, services, sync/async, transactional batch processing, etc.
Drawbacks
Technical expertise is beneficial as there is a learning curve when first using the product 
The application can be slow and cumbersome at times
Documentation lacks details which can lead to errors during implementation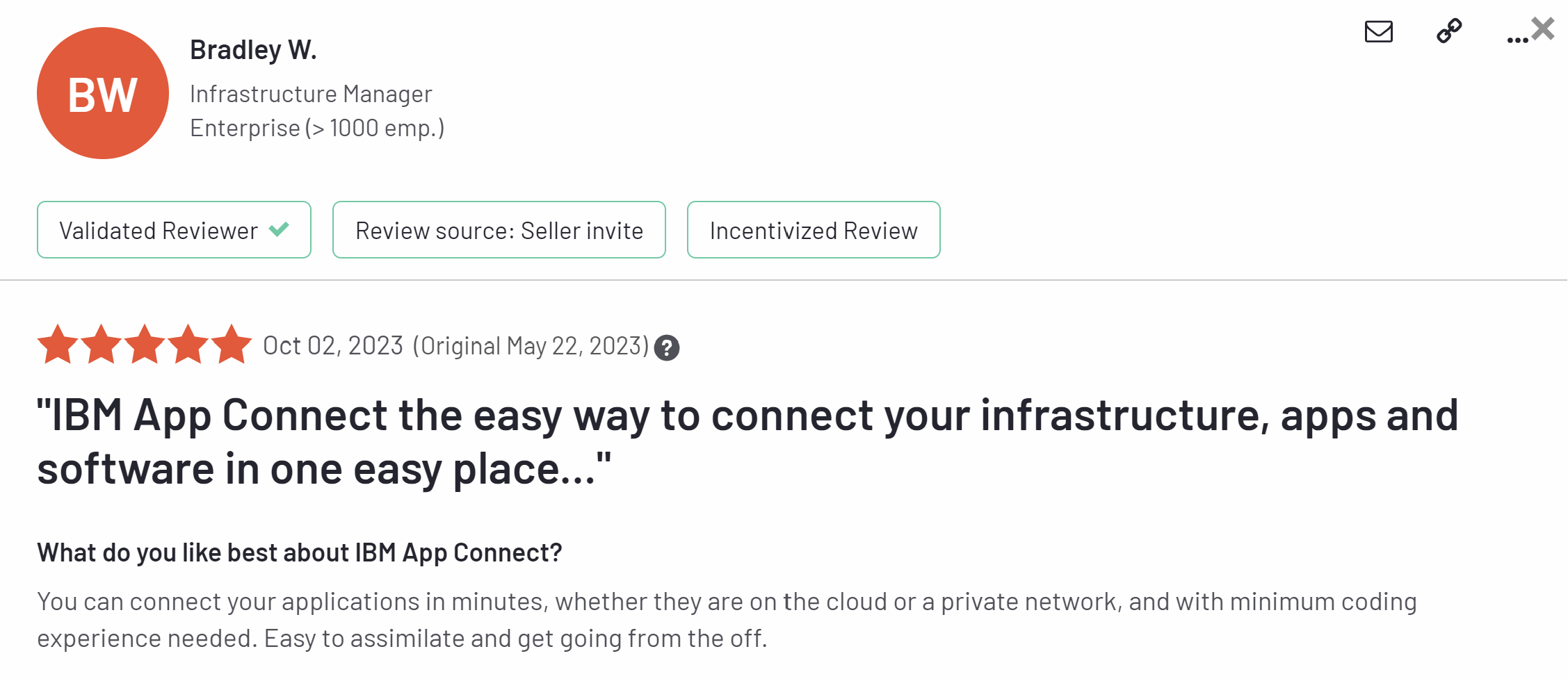 9)    Zapier
Zapier aims to give businesses the power to integrate their different applications in their digital ecosystems, and then program and automate workflows to complete certain tasks. This is all done without having to write any code as Zapier can integrate with thousands of the top web tools. 
Features and Benefits
No-code automation for 6,000+ applications
Build custom workflows and integration in minutes with apps that handle data management, internal processing, trading partner communication, etc. 
Create custom AI chatbots
Zapier conducts annual, third-party SOC 2 audits to address security matters
Set custom rules for error notifications
Drawbacks
Costly pricing structure, especially for smaller companies and those that are growing—the more you use the product, the more you pay
Pricing tiers dictate the speed at which tasks are executed—so users on the lower tiers are more likely to experience delays compared to premium users
Can sometimes be tricky to build and set up "zaps" (aka connections) so they execute steps in the correct order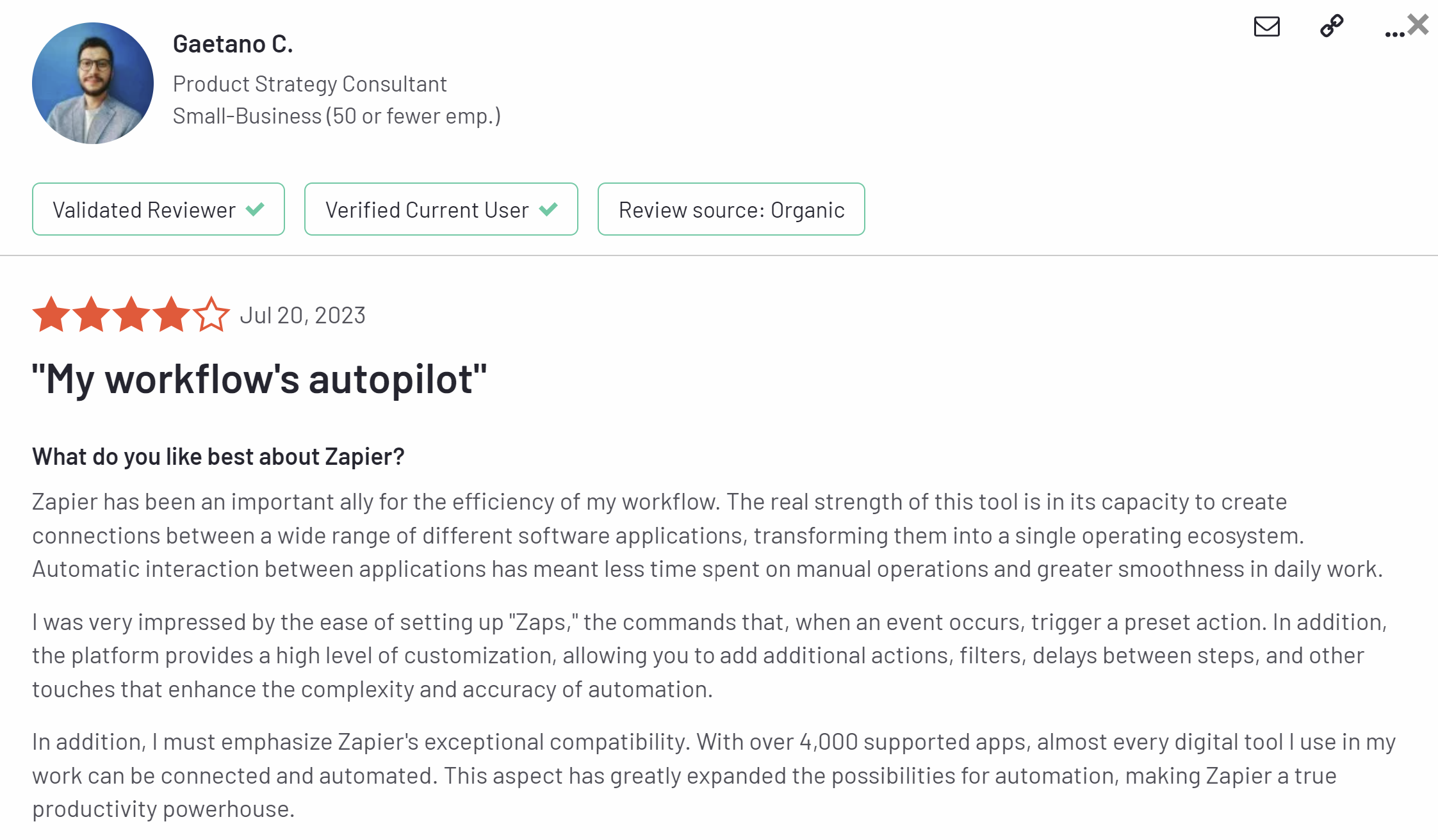 10) Jitterbit
Jitterbit integrates critical business processes and enables innovative application development for enterprises of all sizes. Using Jitterbit, customers can quickly connect their SaaS, on-premise, and cloud applications in order to sync data. Users can automate processes across IT, HR, finance, marketing, and more, using Jitterbit low-code tools.
Features and Benefits
Cloud Studio lets users create automated workflows with a low-code interface
API Manager gives customers the ability to create and publish developer-friendly APIs
Management Console allows users to control and monitor workflow integrations and processes in real-time at a centralized location
400+ pre-built integrations accelerate the automation of common business processes 
Error notifications and alerts to notify users when issues arise
Drawbacks
Low-code solution is suitable for many use cases, but creating complex integrations can be difficult
Software and workflow speed lags when handling large documents and files
Occasional system bugs appear that impact the system's processing speed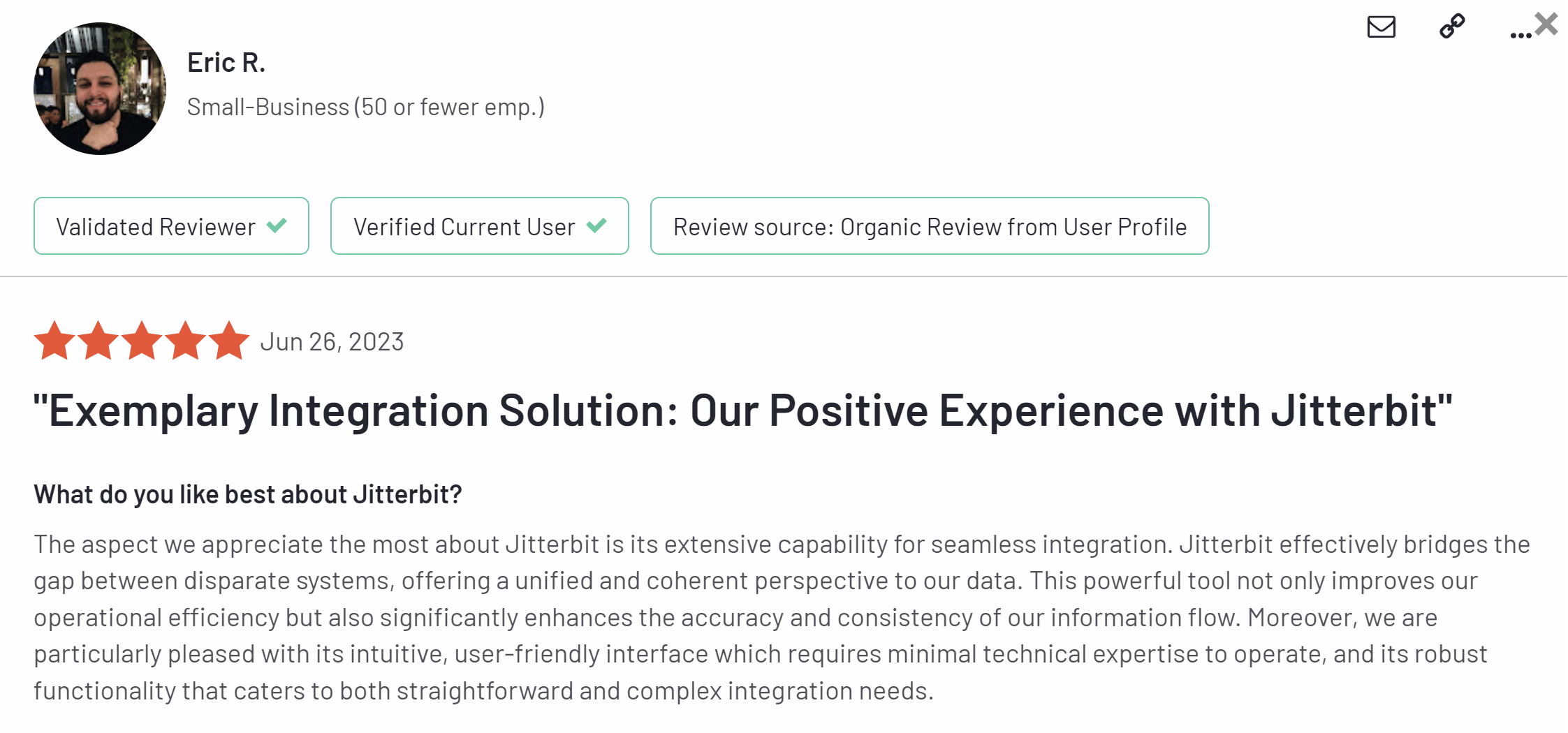 11) Informatica
Informatica is a cloud data management and integration platform. Informatica's AI "co-pilot," CLAIRE, can help users automate processes, analyze data, create data pipelines, and more. When it comes to integration, customers have access to plenty of pre-built connectors, allowing them to integrate with ERPs including NetSuite, SAP, and MD365.
Features and Benefits
Pre-built connectors eliminate the need for complex coding
Drag-and-drop functionality for integration, API creation, event generation, and more
Improve data quality with data cleansing and standardization, as well as address verification
Business process automation
Ingest data with ETL, data replication, or change data capture
Collaborate on data intelligence with teammates by sharing data knowledge with certifications, as well as adding ratings, reviews, Q&As, and notifications
Drawbacks
User interface can make navigation confusing 
Cost can be expensive compared to other solutions on the market
Lack of visibility and ability to drill down into metadata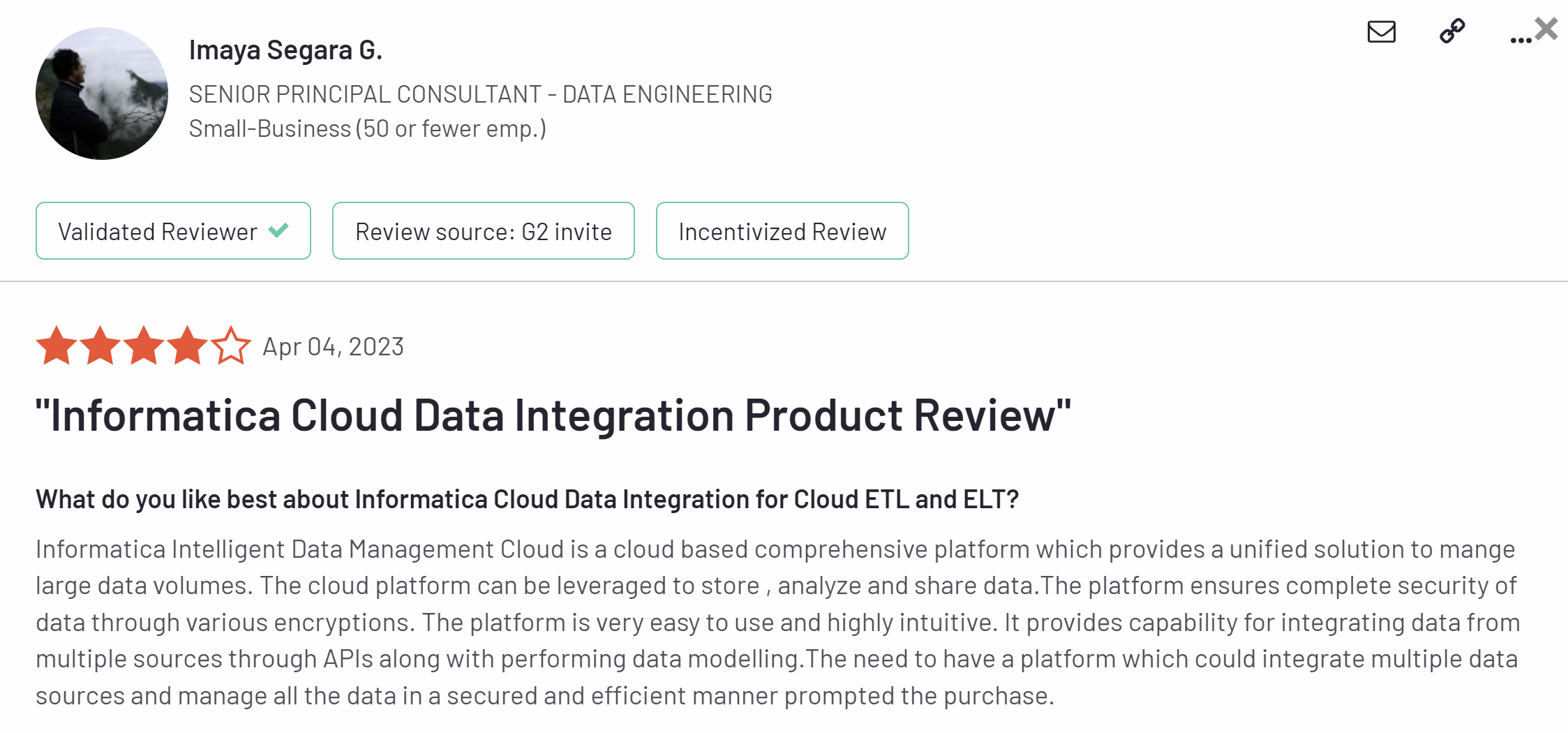 12) MuleSoft
Owned now by Salesforce, Mulesoft's Anypoint Platform is an integration and API platform for connecting data from virtually any system to create a connected experience. Customers can also automate processes across both modern cloud apps and legacy on-prem apps, as well as unstructured data like documents and images.
Features and Benefits
Pre-built connectors for applications, databases, protocols, and industry standards eliminate the need for complex coding
Utilize integration patterns, templates, and examples and configure, personalize, and extend them to align with your requirements 
Use a central configuration for all system connections with built-in support for common integration requirements such as pagination, batch processing, and data transformation.
Implement REST, SOAP, and event-driven API designs for any architectural styles in your API ecosystem.
Normalize, join, filter, or map any data format—including XML, CSV, JSON, pojos (plain old Java objects), EDI, and flat files
Drawbacks
The price structure may not be appearling for small business
Overwhelming UI, especially to those new to building integrations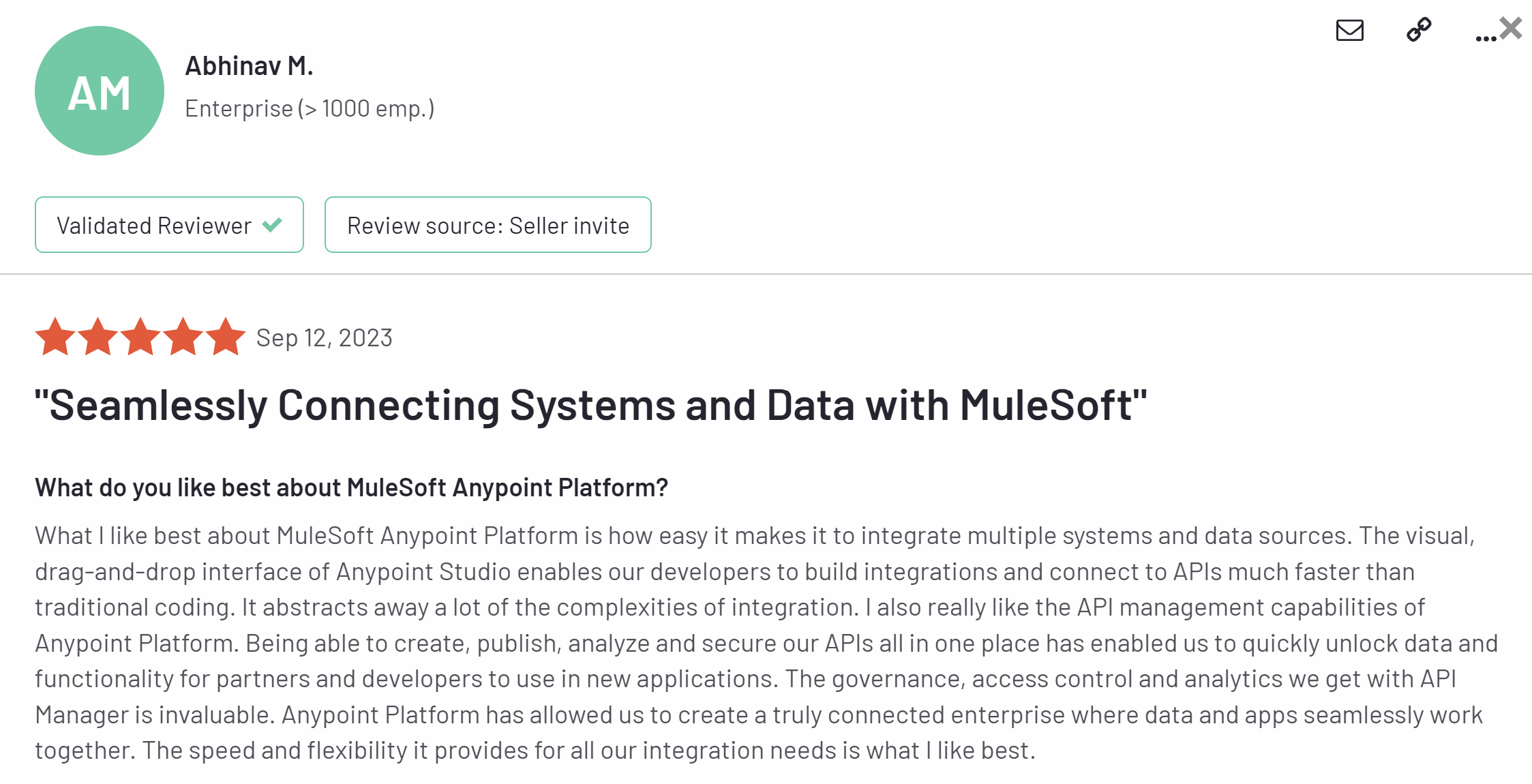 13) Boomi
Boomi is a cloud-based integration and automation solution that gives users the ability to organize and synchronize the data between their ERP ecosystem and third-party applications. With Boomi's, customers can utilize low-code features and pre-built connectors to shorten onboarding times and build new integrations faster. 
Features and Benefits
Create a single source of truth with secure data management capabilities
Select from a large library of pre-built application connectors and integration recipes to jumpstart integrations
Reusable frameworks simplify and speed up future integrations and process automation
Available add-on platform services such as EDI and API management 
Replace custom-coded integration by building modern APIs on top of legacy systems
Drawbacks
Non-technical people may struggle to navigate the platform
Having to buy specific connectors for each process can be expensive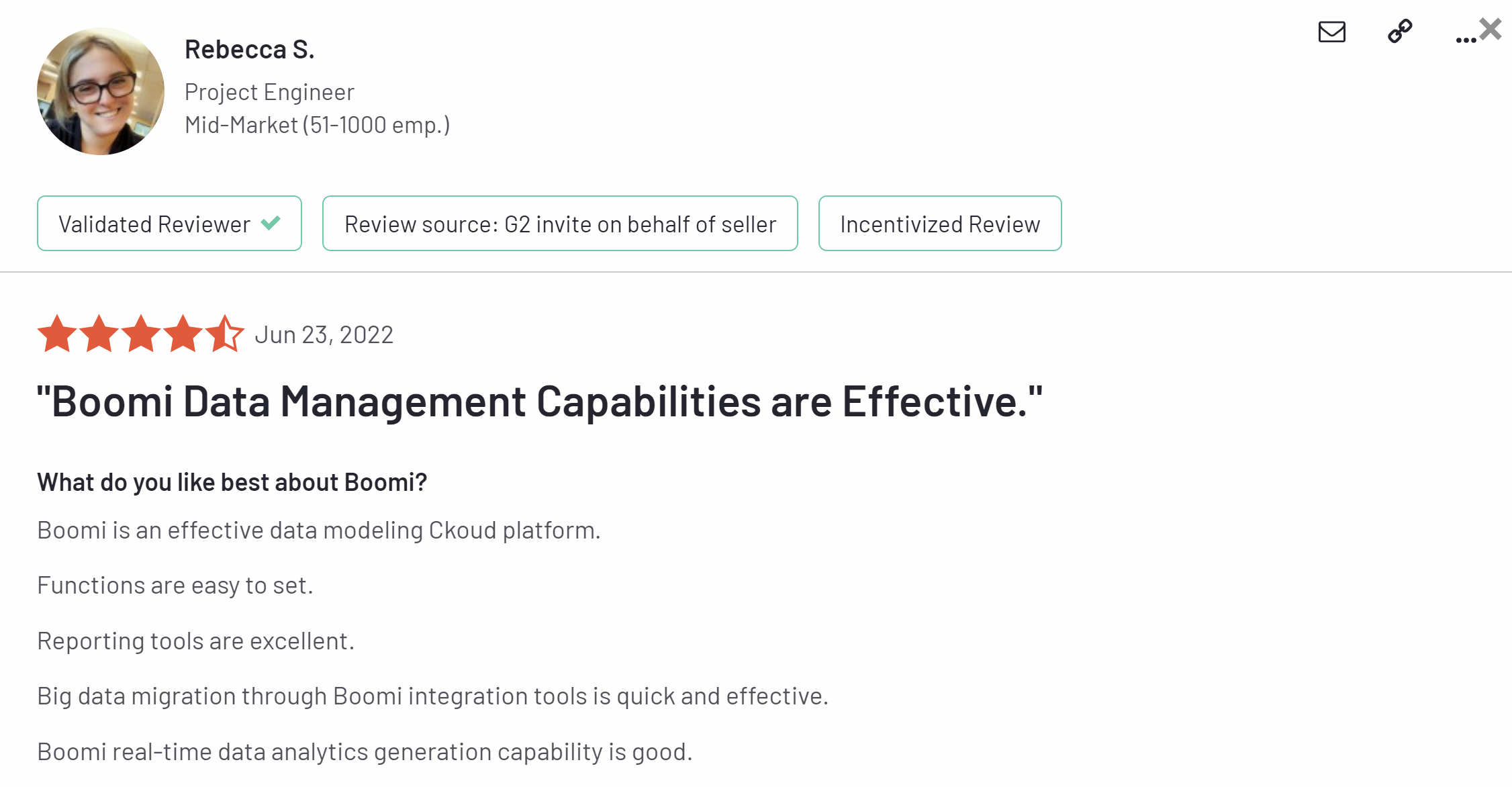 14) SAP Integration Suite
SAP Integration Suite is an iPaaS that ostensibly allows users to integrate with the ERP of their choice, using low-code and drag-and-drop functionality. Integration Suite simplifies business process integration across distributed landscapes and consolidates integration management onto a single solution. 
Features and Benefits
Integrate across SAP, third-party landscapes, on-premise, and the cloud platforms
AI-assist helps users create integrations, discover process inefficiencies, and automate processes
Large inventory of pre-built integrations, APIs, and connectors
Drag and drop functionality
Maintain data privacy with APIs that support secure authentication and authorization  
Event-driven architectures that deliver real-time information to keep everyone up to date
Drawbacks
Platform can be costly, especially for smaller companies
User interface and features can be difficult to understand and navigate
Requires high-speed internet as the platform sometimes slows or gets "stuck"


15) OpenText
OpenText's Integration solutions allow businesses to share data among their key systems, platforms, and trading partners. Leveraging advanced technologies like AI and cloud-based platforms, OpenText facilitates collaboration across supply chains in today's business landscape.
Features and Benefits
Large B2B eCommerce trading partner network
Native app integration for SAP and Oracle ERPs and QuickBooks, MS Dynamics, and NetSuite FMS
AI assistant, Magellan, helps with process orchestration and automation
Library of canonical maps that simply integrations and help businesses scale
Users can access and manage integration processes through mobile devices
Real-time monitoring and analytics to track the performance, identify bottlenecks, and optimize operations
Drawbacks
Limited self-service capabilities
Customers are locked into OpenText's timelines for setting up map changes, operational issues, etc. 
Customer support can be slow to respond to service requests, including error resolution 
Performance decreases when handling large volumes of data and transactions

How to Choose the Right ERP Integration Tool & Platform?
With so many options on the market and all of them promising they are the best, choosing the right ERP integration vendor can be a daunting task. To ensure you make the best choice for your business's needs, it is helpful to first identify:
The goals you wish to achieve with the solution
Which features are must-haves and which are nice-to-haves
A budget
A list of questions to ask each vendor
Your team can then research different solutions and identify the top contenders by:
Analyzing vendor websites
Checking and participating in community discussion boards
Next, your company can set up discovery and informational calls with the top contenders you identified. During these discovery calls, make sure you get answers to the list of questions you created earlier. 
After completing the discovery calls, your company should have the information it needs to fairly compare the available solutions, their features and capabilities, service options, etc. From here, your company can confidently select the best ERP integration vendor for your business needs.
▶ Watch a 3-Minute Integration Demo Video
What is the Difference Between ERP vs ERP Integration
ERPs and ERP integration go hand-in-hand but it's important to tackle the integration side first. An enterprise resource planning (ERP) system is the software that helps organizations manage and integrate their digital ecosystem, both internally and externally, across trading partners, procurement, manufacturing, sales, customer service, finance, human resources, and more. ERPs centralize data from various integrated platforms and systems, streamline workflows, automate tasks and business processes, improve efficiency, and foster collaboration. ERP systems consist of various modules tailored to specific functions, offering real-time insights, reporting, and scalability.
Migration & Moderization: What Comes First — ERP or Integration?
On the other hand, ERP integration refers to the process of actually connecting an ERP system with other software applications or systems within an organization, such as eCommerce marketplaces, a WMS, a TMW, or project visibility platforms like Project44 or FourKites. This integration allows for seamless data exchange and real-time communication between different departments and functions, eliminating data silos and improving overall operational efficiency. It ensures that information flows smoothly across the organization, enabling accurate reporting, enhanced decision-making, and a more holistic view of business processes. ERP integration can also extend to external systems, facilitating interactions with trading partners such as customers, suppliers, manufacturers, and shippers, creating a more interconnected and responsive business ecosystem.
Common FAQs: ERP Integration Platform
1) What are the main components of an ERP system?
ERP systems typically consist of modules for various functions such as finance, human resources, supply chain management, customer relationship management (CRM), and manufacturing.
2) Why do organizations implement ERP systems?
Organizations implement ERP systems to improve efficiency, streamline processes, reduce operational costs, enhance data accuracy, and facilitate better decision-making.
3) What are the benefits of using an ERP system?
Some common benefits of implementing an ERP include:
Increased productivity
Improved data visibility
Enhanced collaboration
Better compliance
Greater agility to meet changing business needs
    
4) How do ERP systems handle data integration?
ERP systems integrate data from various departments and functions into a centralized database, ensuring consistency and real-time access to information across the organization.
5) What are the different deployment options for ERP systems?
ERP systems can be deployed on-premises, in the cloud, or as a hybrid solution, depending on the organization's needs and preferences.
6) What is the typical implementation timeline for an ERP system?
The implementation timeline varies depending on the complexity of the ERP system and the organization's size. 
7) How much does an ERP system cost?
ERP costs vary widely based on factors like the size of the organization, the complexity of the system, the number of users, and the deployment model. Costs often include licensing, implementation, customization, and ongoing maintenance.
8) Can ERP systems be customized to fit specific business needs?
Yes, ERP systems can often be customized to meet the unique requirements of an organization. However, extensive customization can increase costs and complexity.
9) What are some popular ERP software vendors?
Some well-known ERP vendors include SAP, Oracle, Microsoft Dynamics, NetSuite, Infor, and Epicor, among others.
10) Are there industry-specific ERP solutions available?
Yes, many ERP vendors offer industry-specific solutions tailored to the needs of particular sectors, such as manufacturing, healthcare, retail, and hospitality.
11) How can organizations ensure a successful ERP implementation?
Success factors include strong executive sponsorship, thorough planning, effective change management, user training, and ongoing support and maintenance.
12) What trends are shaping the future of ERP systems?
Trends in ERP include increased adoption of cloud-based solutions, the use of artificial intelligence (AI)  and machine learning for predictive analytics, and a focus on user experience and mobile accessibility.
13) Is It necessary for small businesses to implement an ERP system?
While smaller businesses may not require as complex an ERP system as larger enterprises, they can still benefit from ERP solutions tailored to their needs for improved efficiency and data management.
If you have questions about what was covered in this blog, Cleo, or our products and services, contact us at sales@cleo.com or +1.815.282.7695. Lastly, explore some of our educational resources through our resource library.
▶ Watch a 3-Minute Integration Demo Video