Cleo Integration Cloud Powers Integration at Scale to Enable Growth of "Always-On" Supply Chains
With market calling for hyper-scalability as eCommerce and digital sales skyrocket, Cleo's ecosystem integration platform delivers
ROCKFORD, Illinois – March 30, 2021 – As the world enters the post-COVID era, the pace of digital transformation is accelerating faster than ever. Most companies are searching for a proven and secure B2B integration platform that ensures they can accommodate rapid, multi-channel revenue growth, and stay competitive in today's "always on" business environment. 
To help, Cleo, the global leader in ecosystem integration solutions and provider of the Cleo Integration Cloud (CIC) platform, has aggressively tuned its CIC Engine to ensure supply chain customers have the  omni-channel and eCommerce agility to do precisely that. 
CIC Engine, the core of Cleo's cloud-based ecosystem integration platform, serves as the technology foundation on which customers can dramatically scale their operations. Whether organizations are looking to continually accommodate ever increasing growth from eCommerce sales, omnichannel fulfillment, API-based integrations, or EDI transactions, CIC Engine is designed to provide the communications, connectivity and transformation foundation for customers to seamlessly scale their business. By providing intelligent orchestration and runtime automation of critical end-to-end integration processes (such as Order-to-Cash, Procure-to-Pay, or Load Tender-to-Invoice), CIC Engine boosts integrations across a company's entire ecosystem, spanning trading partners, cloud or on-premise applications, legacy business systems, and more. 
"Global eCommerce and omnichannel fulfillment are accelerating exponentially, but making it actually work for your business is a real integration technology challenge," says Mahesh Rajasekharan, president and CEO of Cleo. "Meeting your customers' increasingly high expectations requires a scalable and seamless integration engine to connect and transact with your entire ecosystem – something traditional technology providers struggle to provide. If your integration technology crashes, lacks scale, or doesn't support API, EDI, and non-EDI transactions, this market explosion and growth opportunity will pass you by." 
One Cleo customer who's definitely making it work is CTSI-Global, a leading provider of business intelligence, transportation management system (TMS), and supply chain consulting services. Chief Technology Officer, Trey Willis said, "We are perpetually focused on the enhancement and maturation of our ecosystem platform, to make it as responsive as possible to our clients' ever-changing needs. To that end, Cleo Integration Cloud and the underlying CIC Engine has allowed us to process more than five million inbound and outbound business transactions per day. The robustness of the platform is helping us digitally scale our environment and customer experience." 
Delivering an "always-on" business calls for robust, reliable runtime integration. Cleo's CIC Engine is purpose-built to support connectivity and transformation at scale, thanks to two unique components: 
• Protocol Engine – Enables dynamic end-to-end B2B and application dataflows for seamless business interactions. Businesses can leverage a rich library of B2B communications and application standards for seamless trading partner and system connectivity, including: 
o AS2, SFTP, FTP/S, SOAP, REST, email, partner mailbox, and portals 
• Integration Engine – Orchestrate any-to-any data transformations, enabling both batch and real-time multichannel business processes on a single platform. Support the industry's most common data syntaxes, including: 
o EDI: ANSI X12, EDIFACT, and Tradacoms
o Non-EDI: JSON, XML / cXML, Flat File, Spreadsheet, and Database
Companies like CTSI-Global and others who've adopted Cleo Integration Cloud and CIC Engine are gaining multiple business benefits: 
• Deliver Business Continuity
o Meet elevated customer demands and support business 24/7 with enterprise-grade service level commitment of 99.95% uptime
• Meet Trading Partner Demands
o Rapidly roll out requirements from new or existing trading partners to support continuous delivery to your business teams 
• Eliminate Integration Complexity
o Take advantage of a single integration engine that is specifically designed to support API, EDI, or non-EDI based B2B transactions 
• Scale Faster Than Ever
o Hyper-scalable integration that helps drive multichannel growth, expand operational capacity, and capture increasing demands stemming from eCommerce or other digital revenue streams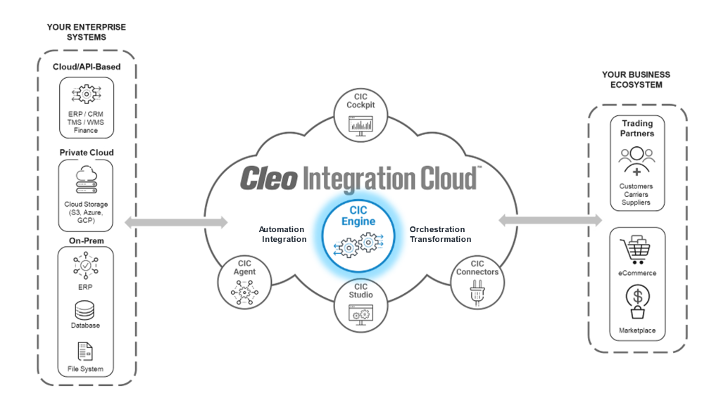 CIC Engine provides powerful routing, orchestration, and runtime automation for frictionless business processes at the heart of revenue-driving operations.  
For more details on CIC Engine, visit our website. 
About Cleo Integration Cloud
Cleo Integration Cloud (CIC) is a cloud-based integration platform, purpose-built to design, build, operate and optimize critical ecosystem integration processes.  The CIC platform brings end-to-end integration visibility across API, EDI and non-EDI integrations that gives technical and business users the confidence to rapidly onboard trading partners, enable integration between applications, and accelerate revenue-generating business processes.  On the platform, businesses have the choice of self-service, managed services, or a blended approach – ensuring complete flexibility and control over their B2B integration strategy.
About Cleo
Cleo is an ecosystem integration software company focused on business outcomes, ensuring each customer's potential is realized by delivering solutions that make it easy to discover and create value through the movement and integration of B2B enterprise data.  Cleo gives customers strategic, "outside-in" visibility into the critical end-to-end business flows happening across their ecosystems of partners and customers, marketplaces, and internal cloud and on-premise applications.  Our solutions empower teams to drive business agility, accelerate onboarding, facilitate modernization of key business processes, and capture new revenue streams by reimagining and remastering their digital ecosystem through robust application, B2B, and data integration technologies. For more information, visit www.cleo.com or call +1.815.282.7695.
# # #
Media Contact
Laura Asendio 
10Fold Communications on behalf of Cleo