As a business expands and delivers more services and products in new markets to more customers, there comes a time when it must determine whether to outsource its shipping and fulfillment operations.
To meet customer demand, many of these businesses turn to a third-party logistics (3PL) provider to do just that.
But not all 3PLs offer the same services and capabilities. Read on to learn everything you need to know about using third-party logistics providers and the critical business functions they support. 
What is 3PL?
Third-party logistics companies offer logistics services and support some or all aspects of a business's shipping operations, managing all aspects of moving goods from manufacturers and distributors to the end customer. A 3PL is commonly used in outsourced logistics and supply-chain management to outsource a company's shipping and fulfillment services, which can include:
Transportation
Warehousing
Materials procurement
Inventory management
Customs brokerage
Freight audit
Payment
Shipment tracking
For these reasons, a 3PL is usually integrated within a company's warehouse management and transportation operations for a comprehensive delivery workflow.
Third-Party Logistics (3PL) Essentials
Third-party logistics providers (3PLs) are expertly equipped to handle all aspects of inbound and outbound transportation, as well as warehousing for their esteemed clients. They possess extensive warehouse space to store merchandise, efficiently pick orders, and ensure timely shipping. While most 3PLs do not own delivery trucks, it's important to note that exceptional providers like Amazon offer comprehensive last-mile transportation services as part of their end-to-end logistics solutions.
When you opt for third-party logistics, you outsource your order fulfillment operations, freeing yourself from the complexities of warehouse ownership, staffing, and management. Instead, you gain access to secure storage facilities within large warehouses that serve multiple companies. Experienced warehouse employees receive and organize your products, picking items from shelves, and packing them securely for shipping. Working with various carriers, the 3PL ensures prompt delivery to your clients.
One of the key advantages of using a 3PL is its ability to maximize speed and efficiency. As your business grows, a 3PL can handle increased order volume without the need for additional staff. They also leverage their network to negotiate lower shipping rates and expedite delivery times. By partnering with a reputable 3PL, you benefit from the expertise and dedicated focus of supply chain professionals.
Let's now dive into the general 3PL process.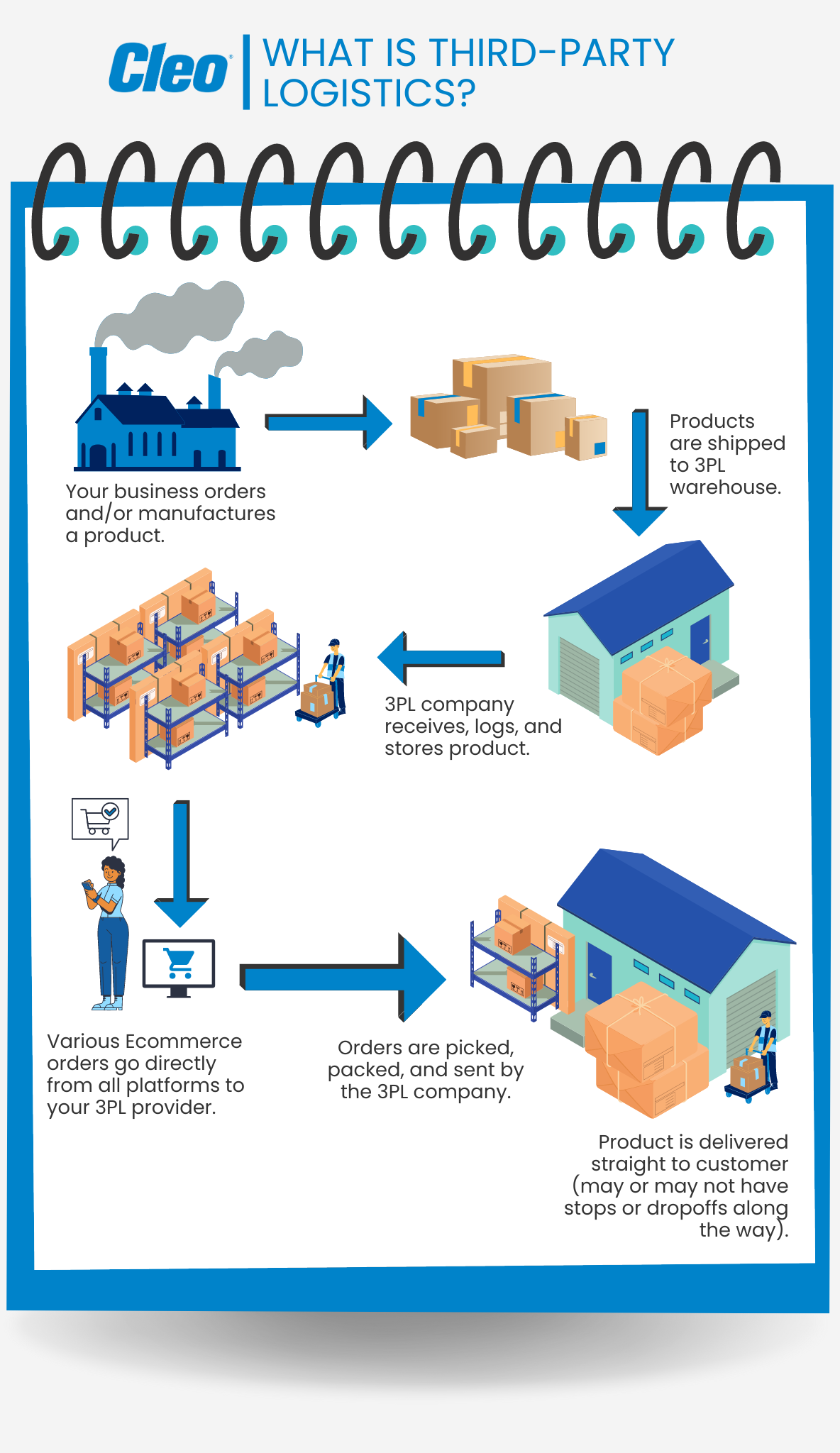 Some 3PLs offer customs brokerage, domestic and international transportation, and trade compliance, while others design and deliver omnichannel logistics solutions for manufacturers, retailers, and e-commerce companies.
Four Functions of 3PL Providers
1. Shipping and Receiving
Shipping and receiving 3PL providers are focused on the management of the shipping process from start to finish. Often, these companies feature technology, usually a transportation management system (TMS), or integrated freight management services. These technologies were designed to streamline efficiency and automate routine, but also time-consuming tasks, such as freight payment and accounting. These 3PL providers also include management of carrier relations, and freight data, and matrix reports for real-time visibility and increased transparency throughout the shipping process.
2. Transportation
Transportation 3PL providers are responsible for the actual transport of goods or services between locations. A common example is when a 3PL provider manages an inventory shipment between a company and the buyer. Many transportation 3PL providers often will leverage other transportation firms to complete the duties for their partner.
3. Warehousing
Warehousing 3PL providers are one of the most common types of third-party logistics providers. A warehouse 3PL is integrated into a company's warehousing and transportation procedures and specializes in the storing and distribution of goods and/or services. Many warehouse 3PL providers offer customizable ways to handle storage, distribution, and product transportation.
4. Distribution
Many 3PL organizations also provide a wide variety of distribution and wholesale services, including outbound order fulfillment, picking and packing, custom labeling, and manufacturing. The efficient distribution of large product quantities can be a tough thing for a small company to manage; by outsourcing distribution to a third-party logistics provider, its employees can focus on other core competence business tasks.
3PL vs. 4PL
A fourth-party logistics (4PL) organization provides many of the same services as a 3PL, but there are some important differences.
For starters, 4PLs have a much more broadly defined role compared with a 3PL. According to the Council of Supply Chain Management Professionals (CSCMP), a 4PL is defined as "often a separate entity established as a joint venture or long-term contract between a primary client and one or more partners."
In a nutshell, a 4PL is responsible for a supply chain's planning, management, and designing, from start to end, rather than standard delivery, distribution, and transportation functions.
Advantages of 3PL
As outlined above, there are many reasons that companies turn to a 3PL for their logistic services. From saving time and money to providing a better and more affordable experience for customers, outsourcing to a third-party logistics provider can make a lot of sense. Here are some of the more common reasons businesses choose to work with a 3PL.
1. Scalability
A 3PL provider can scale a company's space, labor, and transportation depending on exactly what services are required. Manufacturers, suppliers, and other producers can more effectively and uniquely grow in new territories with much less hassle. A 3PL is designed to optimize the logistics functions – something you may have less expertise in – and clear the path for enhanced business growth.
2. Time Savings and Cost Savings
A business recognizes that success relies on a certain level of efficiency, and that's where a 3PL can have a huge effect. Rather than allocate money and resources toward building and maintaining a warehouse, determining how to transport goods and/or services, optimizing services, and keeping up with new technologies through an in-house management model, a 3PL eliminates those costs and frees up your key employees to focus on the manufacturing, strategic planning, and operational processes that better enable business growth.
3. Expansion
3PL services make it easier than ever to expand businesses into emerging markets and new areas, including emerging countries. By working with a 3PL, a business can leverage new supply chains, improve customer service, and access new markets it hasn't been able to access before. Distribution centers and warehouses from third-party logistics providers, who often build the necessary security and compliance procedures into their service offerings and have obtained the proper accreditation to offer global services, make such expansion more accessible than ever.
Disadvantages of 3PL
While there are several reasons for companies to embrace a 3PL, there is also another side to that coin.
Despite the potential rewards, using third-party logistics companies can come with its own set of risks.
1. Loss of Control
When choosing a 3PL provider, an organization is giving up a certain amount of control of the delivery. When a business decides to join forces with a third-party logistics provider, they are entrusting the 3PL to meet the agreed-upon SLAs, and that requires a major leap of faith for functions that can directly impact customer satisfaction. The smooth exchange of critical EDI and non-EDI information can be at risk if one party is using subpar B2B integration software. If your B2B integration software cannot reliably receive and ingest an EDI load tender, that can have a poor effect on trading partner relationships. Additionally, sharing certain proprietary information with a third party (sourcing, order information, etc.) could leave companies feeling vulnerable should there be a data breach.
2. Cost
While a 3PL can save a business lot of time and money, external factors (tariffs, over-regulation, weather, etc.) can lead to escalating costs. A 3PL company might make financial sense upfront, but you're at the mercy of this external trading partner and its own business strategy. Once-standard transaction costs eventually can skyrocket as your business consumes more services and may be more expensive than an in-house logistics operation. Additionally, it's often difficult to establish a cost-effective partnership between a shipper and a 3PL, and it's something you'll have little influence over.
3. Business Understanding
 If you're in a highly regulated industry or have very specific needs (cold storage, temperature-controlled delivery, etc.) a run-of-the-mill 3PL may not suit your business. Additionally, 3PLs often have hundreds or even thousands of customers and may not give you the attention you're seeking. How easy are they to contact for support? How fast can they respond to your requests? It's critical to choose a 3PL that fully understands your business, its goals, and how efficient logistics and distribution can enable those goals.
When Should You Consider a 3PL?
The decision about whether a business should hire a 3PL company is one that can involve numerous variables.
Does it make financial sense?
Do you have the resources internally?
Will it streamline efficiency?
While there isn't some magic potion to reveal whether it's time to employ a 3PL, there are some recurring themes that help make an outsourcing decision.
If a company is growing more aggressively than predicted (a great problem to have, by the way), rising costs – labor, manufacturing, facilities, and staff expenses – can get out of hand in a hurry.
A third-party logistics company could ease some of these growing pains without you sacrificing your precious internal resources. Hiring a 3PL could save you from numerous logistics headaches, not to mention time and money.
3PLs also can take advantage of the latest and most modern technology. By hiring a 3PL, a company can gain those technological benefits without making the financial investment themselves.
Those 3PLs with in-house IT teams that develop and provide their own B2B integration, WMS, TMS, and inventory management software can be a big selling point for a third-party logistics provider.
Many companies choose to work with a 3PL after experiencing perpetual inventory inaccuracies, inefficiencies, and other critical mistakes. Inconsistent inventory capacity and unpredictable costs can cripple a business and its reputation, but a 3PL with reliable inventory solutions can prove beneficial by streamlining the flow of goods for optimized resource consumption and delivery.
But oftentimes, the decision of whether to take on an SPL comes down to asking yourself an honest question – do I really need to be managing these workflows internally?
Top 3PL Providers
The good news is, there are many different 3PL providers to choose from, each with its own specialties and service strengths. Depending on the size of your company, it could make sense to select a 3PL provider that is smaller with a more centralized location in a particular region. Or, if a company is growing faster than you can handle, perhaps one of the global 3PL providers (and its loads of resources) might make sense.
Regardless of your individual business needs, a 3PL provider must have the reliability, flexibility, and agility to live up to the agreed-upon SLA metrics. Here are some of the world's top 3PL providers in 2020:
Burris Logistics
H. Robinson
DB Schenker
DHL Supply Chain North America
Expeditors
FedEx Supply Chain
Hub Group
B. Hunt
Kuehne + Nagel (The Americas)
Penske Logistics
Ryder Supply Chain Solutions
Schneider
ShipBob
UPS Supply Chain Solutions
Whitebox
XPO Logistics
Learn more about Cleo's 3pl integration solutions that help businesses connect and integrate with their chosen 3PL. 
The 3PL Consideration
With the proper infrastructure, transportation, and dedicated expertise and solutions, 3PL providers can be truly beneficial to an enterprise, no matter the industry, the size, or the company location. The question, however, is whether it makes business sense to use a 3PL.
Some companies may have internal resources and expertise, and will never need one. Others are going to find that a 3PL – or a 4PL, for that matter – can greatly ease their logistics and fulfillment worries, and become a partner in improving their brand and market presence in the long run.