Cleo Recognized as the Leader in B2B Integration, Receiving Industry Awards for Digital Innovation, Customer Sentiment, and Overall User Satisfaction
Company recently honored with awards from SoftwareReviews, Intellyx, and G2
ROCKFORD, Ill., November 9, 2021 – Cleo, the pioneer and global leader of the Ecosystem Integration software category and provider of the Cleo Integration Cloud (CIC) platform, today announced three recent honors the Company has received, amplifying its rapidly expanding category leadership in B2B integration solutions. 
Back in early 2018, Cleo set out to disrupt the market with the notion that traditional B2B integration methods, solutions, and technology are "broken." Often, organizations are forced to take subpar technologies and cobble them together to make an end-to-end B2B transaction possible. This creates a "spaghetti bowl" of integrations that are built with siloed solutions and manual processes that lack the visibility and control organizations need for today's supply chains. 
Cleo's modern approach to B2B integration takes a holistic, ecosystem-centric view that blends the best B2B integration capabilities onto a single cloud platform to deliver business outcomes faster – what the market has now recognized as Ecosystem Integration.  
Cleo's focus on execution and customer success has resulted in considerable market recognition.   
First, Cleo has been recognized as a Champion in the 2021 Data Integration Category Emotional Footprint report from SoftwareReviews, a division of IT research and consulting firm Info-Tech Research Group. The award is based on the collective knowledge of real users and placement is based on user sentiment, alongside the 'value index' which captures user satisfaction given the costs they are paying. 
SoftwareReviews named Cleo a leader as it received a 9.0 CX (Customer Experience) score, which represents the complete and aggregated satisfaction score from end users. Cleo also received an Emotional Footprint score of +94, receiving perfect scores around respect, integrity, and trust. Other Emotional Footprint Metrics in which Cleo ranked highly include:
100% Enabling Productivity
100% Performance Enhancing
92% Client's Interest First
More details about Software Reviews' 2021 Data Integration Category honors can be found here.
Second, Cleo was named the winner of the 2021 Intellyx Digital Innovator Award. As an industry analyst firm that focuses on enterprise digital transformation and the disruptive vendors that support it, Intellyx interacts with numerous innovators in the enterprise IT marketplace and bestows this award on a vendor who makes it through Intellyx's rigorous briefing selection process.
Third, Cleo was named a Leader in both the Mid-Market and Enterprise EDI categories in G2's Fall 2021 reports. This marks the 15th consecutive quarter the company has earned this distinction. Cleo enjoys a 4.5+ star rating on G2, and all reviews of Cleo Integration Cloud (CIC) can be viewed here.  Customers give high praise to the consolidated platform, quality of the solution, and its ease of use, specifically the end-to-end integration visibility: 
 "The best part of Cleo Integration Cloud is that it is an all-in-one solution to our integration needs."  
"Cleo has been a tremendous central platform to work with and host our API/EDI connections. With it being cloud-based, I can access real-time status for all of my integrations quickly and easily. It does not take a lot of time or technical know-how."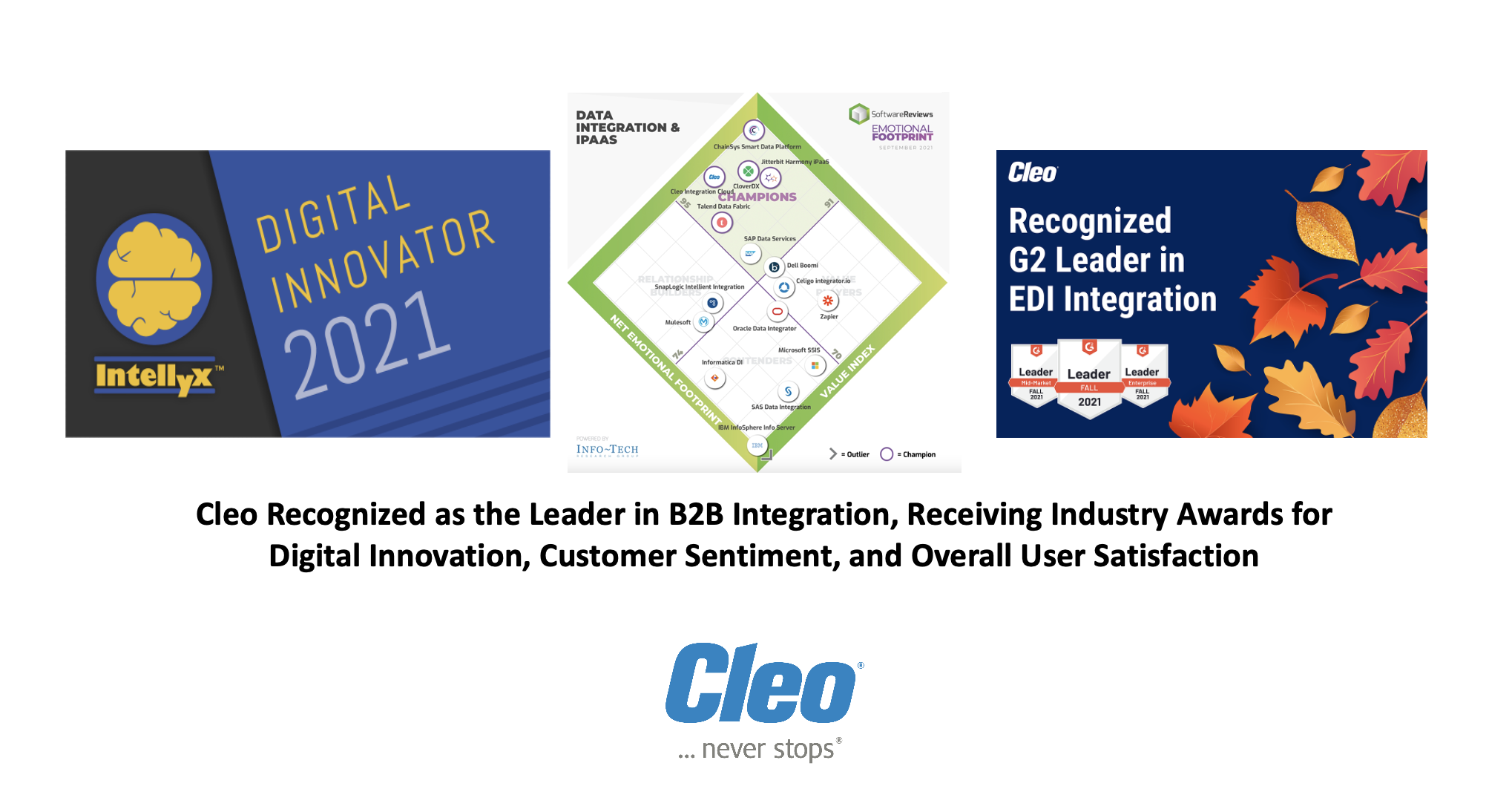 "Team Cleo is extremely honored to be acknowledged by Software Reviews, Intellyx, and again on G2 for our continued leadership in redefining B2B integration and shaping the Ecosystem Integration software category. These awards are as much about our platform innovations as they are about how we do business," said Mahesh Rajasekharan, president and CEO of Cleo. "Such recognition underscores our appreciation and commitment to all our customers and partners who are successfully navigating change and disruption with Cleo Integration Cloud, bringing their companies the organizational agility required to improve supply chain integration -- an absolute necessity in today's world of eCommerce-driven digital transformation.  We'd like to thank our customers for instilling their trust in Cleo and we look forward to continually innovating to make them successful."  
About Cleo Integration Cloud
Cleo Integration Cloud (CIC) is a cloud-based integration platform, purpose-built to design, build, operate, and optimize critical ecosystem integration processes.  The CIC platform brings end-to-end integration visibility across API, EDI and non-EDI integrations that gives technical and business users the confidence to rapidly onboard trading partners, enable integration between applications, and accelerate revenue-generating business processes.  On the platform, businesses have the choice of self-service, managed services, or a blended approach – ensuring complete flexibility and control over their B2B integration strategy.
About Cleo
Cleo is an ecosystem integration software company focused on business outcomes, ensuring each customer's potential is realized by delivering solutions that make it easy to discover and create value through the movement and integration of B2B enterprise data.  Cleo gives customers strategic, "outside-in" visibility into the critical end-to-end business flows happening across their ecosystems of partners and customers, marketplaces, and internal cloud and on-premise applications.  Our solutions empower teams to drive business agility, accelerate onboarding, facilitate modernization of key business processes, and capture new revenue streams by reimagining and remastering their digital ecosystem through robust application, B2B, and data integration technologies. For more information, visit www.cleo.com or call +1.815.282.7695.