One of the most frequently recurring questions the past few years in enterprise technology circles has been – "cloud or on-premise?"
Cleo's answer, when it comes to having the most flexible integration solutions: Why not both?
For integration professionals at businesses across the globe who, for one reason or another, have struggled to embrace the cloud, Cleo's CIC Agent technology resolves the matter once and for all.
CIC Agent gives businesses a hybrid IT landscape that blends SaaS and on-premise applications, providing integration professionals with end-to-end integration visibility between on-premise and newer cloud applications -- without sacrificing their investment in traditional systems.
"Many companies we work with today are challenged with their current on-premise systems. Their traditional or legacy systems are so customized and intricately interwoven into their business that upgrading the back-end application layer is a non-starter," says Charles Abbott, CEO of The Persimmon Group, a systems integrator consulting firm based in Dallas, Texas.
"Cleo's CIC Agent provides a unique way to get the integration and visibility they need, without causing disruption to previous investments. Cleo is pushing the envelope for giving organizations true end-to-end integration capabilities with increased visibility. In today's dynamic business climate, that is crucial to driving revenue and success."
The companies that are succeeding, especially in the face of the current global pandemic, are the forward-looking ones that can maintain complete visibility throughout all of their business processes. It doesn't matter whether those processes run on-premise or in the cloud, or whether the companies are in the manufacturing, logistics, or wholesale industries, visibility is everything.  What matters is being able to securely connect and integrate to on-premise systems, while providing configuration and control in the cloud – even when APIs do not exist.
Result? CIC Agent in effect "lights up" end-to-end integration visibility across companies' most critical business processes, such as order-to-cash, procure-to-pay, and load-tender-to-invoice.  And with this newfound ability to enable seamless and secure dataflows from ground-to-cloud and cloud-to-ground, companies can now also connect their entire ecosystem of trading partners and cloud applications to any on-premise system, ranging from custom applications to file servers.
For so long, companies have struggled to integrate their enterprise workflows with their cloud environments without coming at the expense of divesting traditional on-premise systems. Now, businesses can gain immediate value by leveraging their past infrastructure investments, while being current on technology to ensure they can efficiently respond to the market's evolving demands and competitive pressures.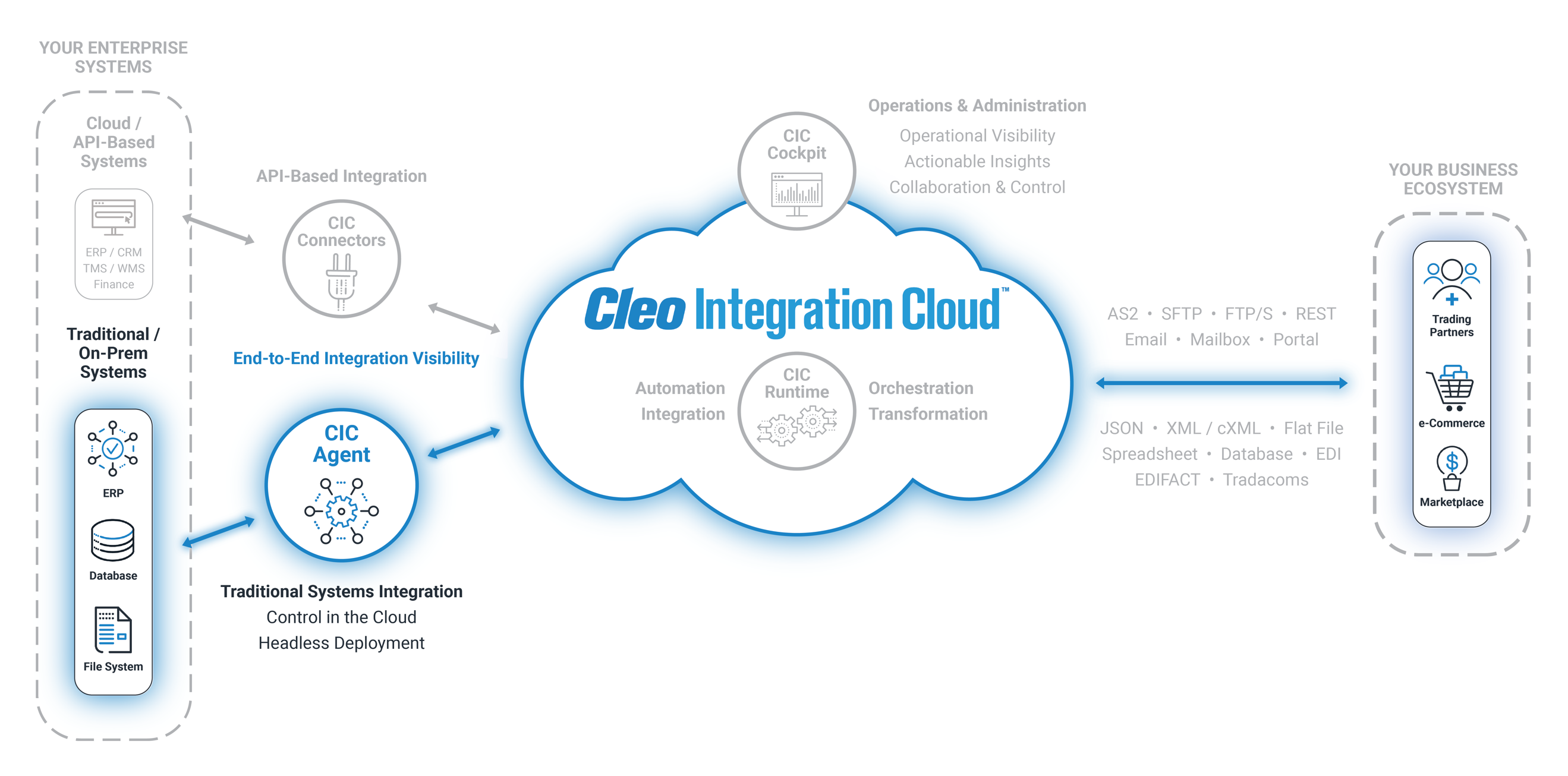 Truly Where No Integration Has Gone Before
It doesn't matter what industry a company is in, whether it's wholesalers, manufacturers, or logistics, businesses require that their strategic, cloud-first, cloud-next, and/or cloud-only initiative will not disrupt the systems that they continue to rely on to conduct business. CIC Agent expands integration with traditional applications pulled directly from the cloud, and eliminates those visibility gaps in business processes that do take place on-premise, whether they are file servers or relational databases.
Whether organizations need to support existing systems through bi-directional integration flows from ground-to-cloud or cloud-to-ground, CIC agent creates value because it preserves those traditional infrastructure investments. Ask any company who has undergone a business-wide upgrade of legacy systems, and odds are they will tell you how slow, expensive, and resource-intensive it was. The savings from CIC Agent in terms of time, money – and headaches -- can be astronomical.