API-Led Ecosystem Integration Enables "Distributor of the Future"
To conquer disintermediation, wholesale distribution companies need to transform themselves into digital enterprises.
But how?
The most efficient way is by investing in a modern integration platform that expands market opportunity, gives wholesale distributors a competitive edge, and enhances customer outcomes.
By increasing business agility, companies can minimize complexity without losing control – thereby expanding their market reach to enable e-commerce and digital marketplace channels.
From the integration mechanics standpoint, they need to leverage API-led ecosystem integration to tie together the five critical end-to-end business processes most wholesale distributors depend on to run their business:
Order to Cash
Procure to Pay
Record to Report
Forecast to Stock
Hire to Retire
Blending APIs and Ecosystem Integration
Embracing an API-led strategy and an ecosystem integration approach allows wholesale distribution companies to do a number of things.
For starters, it connects suppliers, customers, business applications, analytics, and e-commerce platforms. From there, API-led ecosystem integration can seamlessly connect with real-time supply chain, inventory, and order-status information to enable distributors to gain agility and flexibility across their business relationships.
This effectively counters the threat of disintermediation from suppliers and digital marketplaces.
While traditionally wholesale distributors relied on EDI as the mechanism to enable order-to-cash and procure-to-pay processes, EDI alone is insufficient; to enable the e-commerce and omnichannel capabilities, today's ecosystems require APIs are the best way to ensure real-time integrations are performing as expected across an enterprise's value chain.
The five-stage "maturity model" below provides a blueprint for wholesale distribution firms to steadily evolve in their ecosystem integration capabilities. Blending API and EDI integration on a single unified platform for end-to-end visibility (i.e., Levels 3 and 4 in the chart) is the ideal way to position your ecosystem integration capabilities required for the "Distributor of the Future"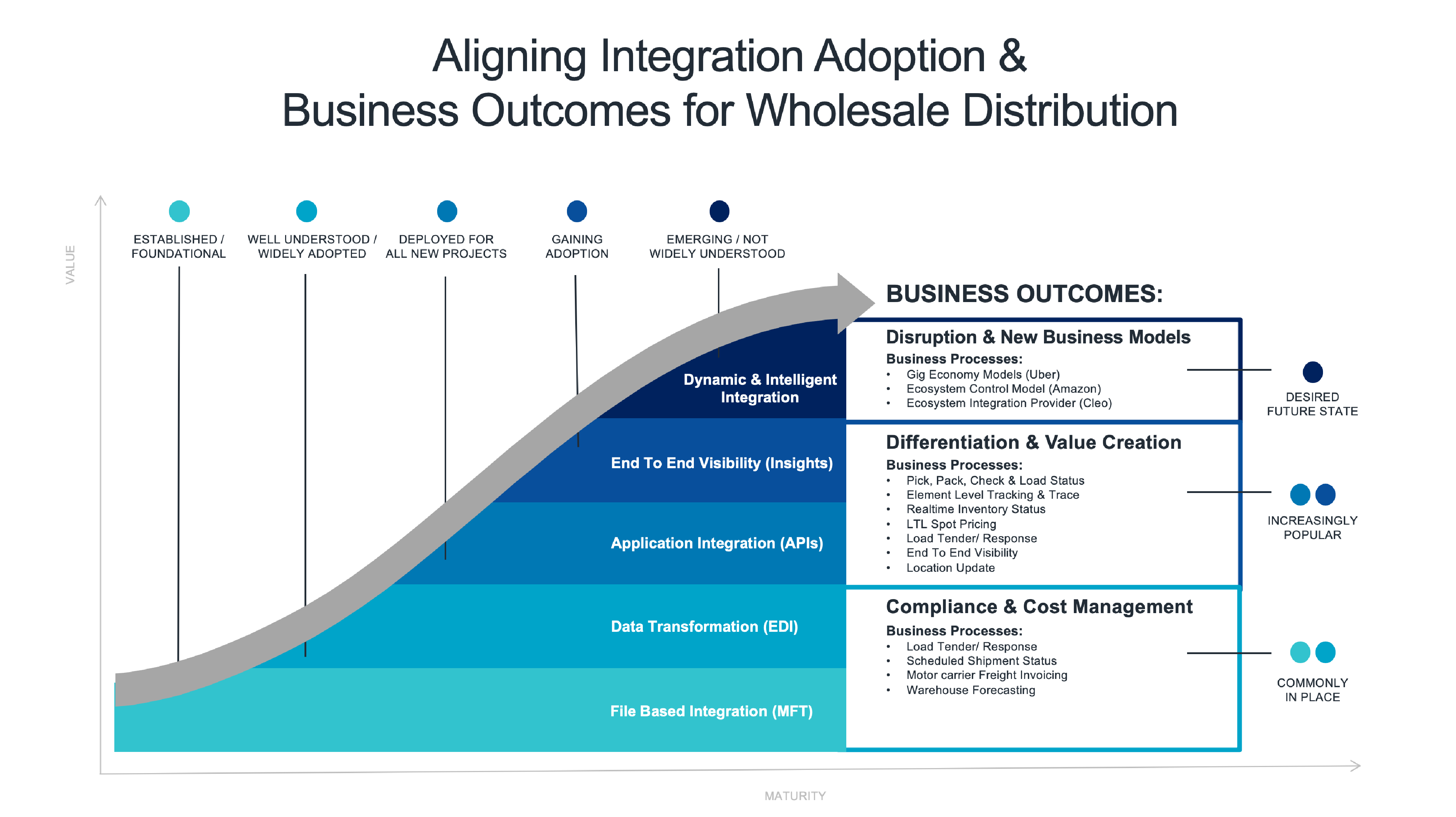 It doesn't matter where on this curve your business finds itself today. What does matter is that you have a vision, a plan and an executable strategy to steadily progress in your integration journey. Your competitors and business partners won't be standing still, why should you?
About Mahesh Rajasekharan
Mahesh Rajasekharan is President and Chief Executive Officer of Cleo, a global software company that delivers ecosystem integration software solutions to help companies discover and create value across their multi-enterprise ecosystems.
An experienced business leader, Rajasekharan has expertise in business strategy, operations, sales and marketing, supply chain management, SaaS technologies, enterprise software, consulting services, private equity, acquisition integration and P&L management. Since joining Cleo in 2012, he has built the company into a global integration software leader, overseen tremendous revenue and geographic expansion, and shaped the company's reputation through thought leadership, product innovation and customer-service excellence.
Prior to leading Cleo, he served as Chief Operating Officer at SumTotal Systems, where he led the dramatic turnaround of this $100 million multinational software company. Previously, Rajasekharan led the High Tech Industry Sector at i2 Technologies, where he managed global sales and a $60 million P&L.
Rajasekharan serves on the Board of Directors for Cleo, Omatic Software, Ascend Software, and Banyan Software, and is on the Advisory Board for StartupWind, a social ideation network. He holds a Ph.D. in Industrial Engineering from Texas A&M University, an M.S. in Industrial Engineering from Texas Tech University, and a B.E. in Mechanical Engineering from Anna University, India. He also earned an MBA in Finance, Strategy, and Marketing from the Haas School of Business at UC Berkeley, where he graduated No. 1 in his class.
Recommended for you
A confident integration strategy requires a certain level of control - and to get it, you need a playbook. Follow the strategies ("plays") outlined below and your potential for success if unlimited, no matter what integration use case comes your way.
Learn about the role of modern EDI in the enterprise and discover the ways EDI can drive revenue for your organization.
We've combined the best B2B integration capabilities onto a single ecosystem integration platform.
COVID exposed the costly gaps in global supply chain integrations. See the eye-opening results of our 2021 integration survey.