To conquer disintermediation, wholesale distribution companies need to transform themselves into digital enterprises.
But how?
The most efficient way is by investing in a modern integration platform that expands market opportunity, gives wholesale distributors a competitive edge, and enhances customer outcomes.
By increasing business agility, companies can minimize complexity without losing control – thereby expanding their market reach to enable e-commerce and digital marketplace channels.
From the integration mechanics standpoint, they need to leverage API-led ecosystem integration to tie together the five critical end-to-end business processes most wholesale distributors depend on to run their business:
Order to Cash
Procure to Pay
Record to Report
Forecast to Stock
Hire to Retire
Blending APIs and Ecosystem Integration
Embracing an API-led strategy and an ecosystem integration approach allows wholesale distribution companies to do a number of things.
For starters, it connects suppliers, customers, business applications, analytics, and e-commerce platforms. From there, API-led ecosystem integration can seamlessly connect with real-time supply chain, inventory, and order-status information to enable distributors to gain agility and flexibility across their business relationships.
This effectively counters the threat of disintermediation from suppliers and digital marketplaces.
While traditionally wholesale distributors relied on EDI as the mechanism to enable order-to-cash and procure-to-pay processes, EDI alone is insufficient; to enable the e-commerce and omnichannel capabilities, today's ecosystems require APIs are the best way to ensure real-time integrations are performing as expected across an enterprise's value chain.
The five-stage "maturity model" below provides a blueprint for wholesale distribution firms to steadily evolve in their ecosystem integration capabilities. Blending API and EDI integration on a single unified platform for end-to-end visibility (i.e., Levels 3 and 4 in the chart) is the ideal way to position your ecosystem integration capabilities required for the "Distributor of the Future"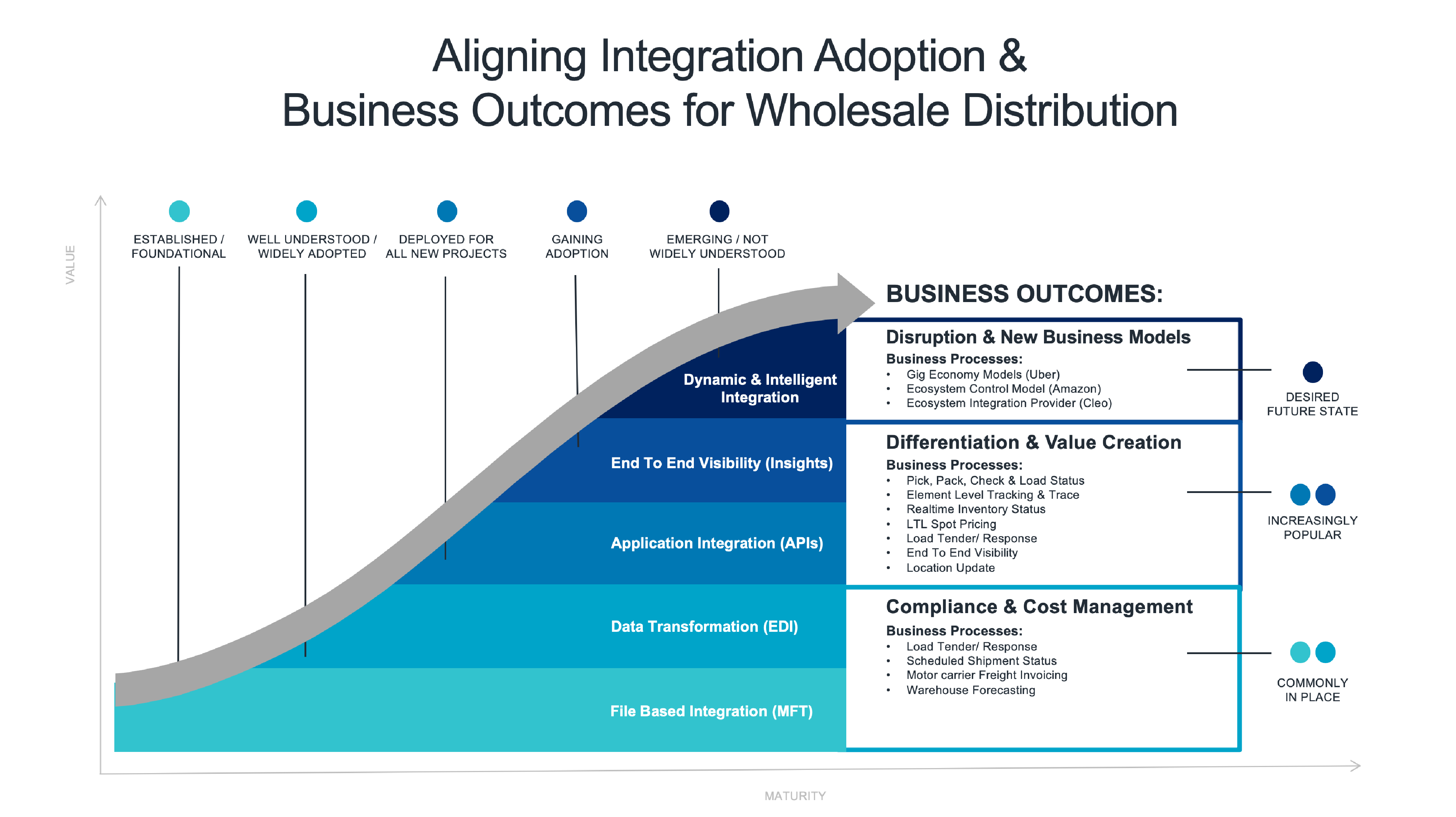 It doesn't matter where on this curve your business finds itself today. What does matter is that you have a vision, a plan and an executable strategy to steadily progress in your integration journey. Your competitors and business partners won't be standing still, why should you?