Cleo Integration Cloud Platform Extends Capabilities Beyond Traditional Integration Solutions to Help Customers Capture E-Commerce Growth
Latest Release Adds Application Connectors, Enhances Self-Service Business Insights, and Optimizes the Way Businesses Connect, Integrate, and Analyze Digital Ecosystem Interactions
ROCKFORD, Illinois – March 4, 2019 – Cleo, the global leader in ecosystem integration technology, today announced general availability of the Cleo Integration Cloud platform winter 2019 release. 
Cleo Integration Cloud is a single-platform ecosystem integration solution available as a service in cloud and on-premise deployments. Its flexible architecture lets companies choose between self-service and managed services models, enabling them to connect, transform, integrate, orchestrate, and analyze end-to-end application, B2B, and data integration flows for improved visibility across business ecosystems. 
Companies all over the world use traditional iPaaS technologies or managed integration services for basic point-to-point integrations. Cleo Integration Cloud takes an "outside-in" view of the many-to-many ecosystem interactions required for organizations to scale performance and efficiency, enhance product and service functionality, and structure end-to-end application integrations that increase the value of business relationships.

Traditional integration solutions fall short because enterprises require broader ecosystem integration capabilities as they evolve their business models and keep pace with digital transformation driven by external market forces, such as the explosive growth of e-commerce. As a recent report from Gartner states, "The business ecosystem opens up new markets and customers, new partners and collaborators, and opportunities to create entirely new business models." 1 

To ensure its customers are ready for the future of ecosystem integration, and positioned to fully operationalize e-commerce revenue streams, Cleo's latest release expands on a vast library of application connectors to include new e-commerce platforms and digital marketplaces. Additional role-based visibility enhancements empower business and technical users with real-time insight spanning B2B interactions and e-commerce transactions, all in a single view. Overall, this platform update is a significant step forward in helping companies reimagine and remaster frictionless ecosystem integration flows to streamline critical e-commerce business processes, improve trading partner relationships, and expand into new online business models. 
CLEO INTEGRATION CLOUD – WINTER 2019 RELEASE HIGHLIGHTS
New Connectors to Unlock E-Commerce Opportunities
Cleo has expanded its extensive library of connectors that help businesses connect and integrate SaaS and on-premise applications, data, infrastructure, and storage repositories. The latest additions include connectors for e-commerce applications Amazon Seller Central, Magento, and Shopify, as well as Volusion and BigCommerce, plus traction-gaining ERP connectors for Acumatica, NetSuite, and SAP applications, which enable businesses to orchestrate fluid e-commerce processes to automate data syncing between online storefronts and back-end systems.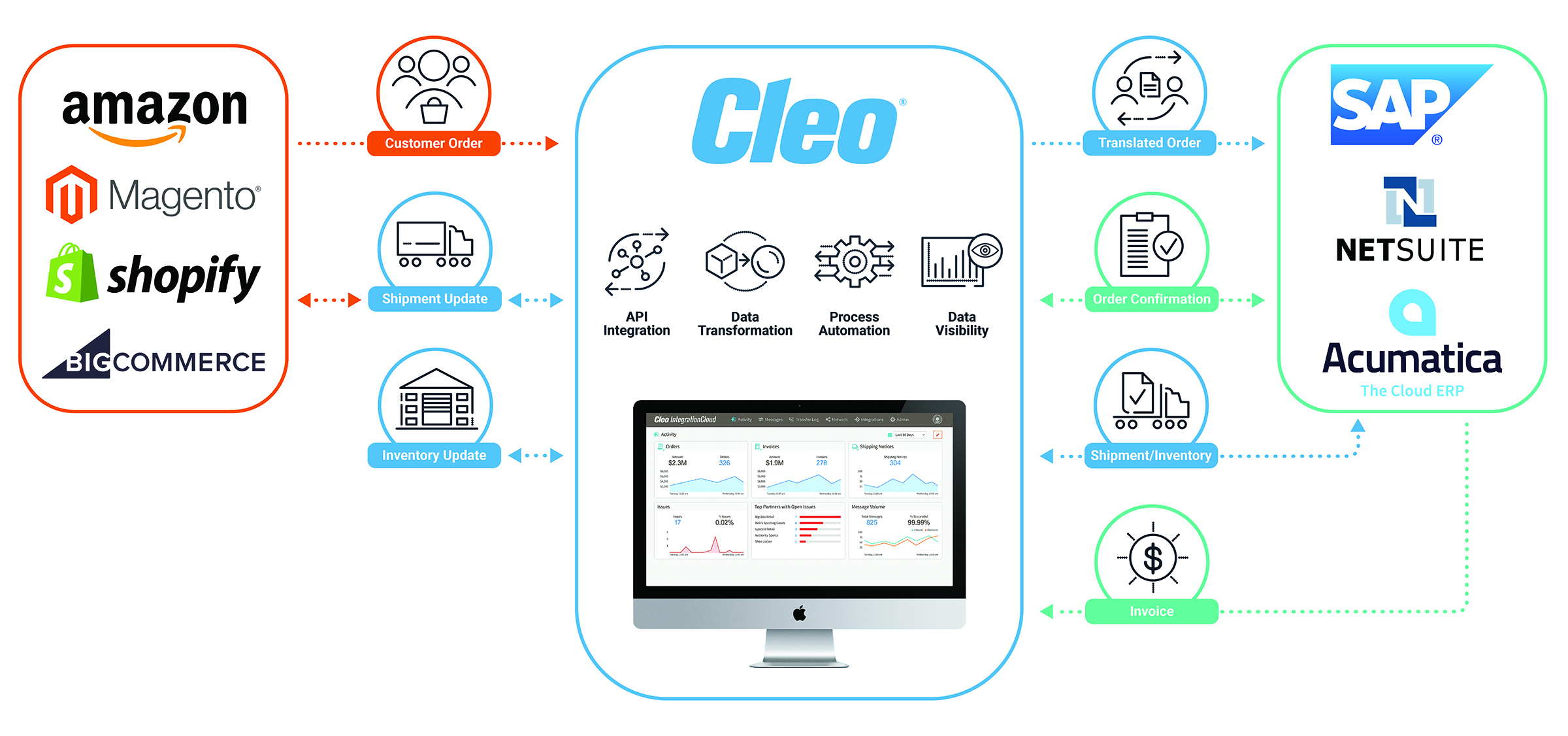 Business User Empowerment
Cleo's self-service business insights are designed to empower every user, in any role. Intuitive, persona-based views provide real-time e-commerce data that's content-rich and context-aware, so users can easily view, track, and update product, inventory, order, and fulfillment data. By enabling business users to identify what's on track or at risk, Cleo Integration Cloud provides clear, real-time intelligence into interactions happening across every partner, customer, supplier, and e-commerce system.
Enhanced Partner Collaboration
Cleo customers can set partner-based privileges to provision operational activity views, providing external customers, suppliers, service providers, trading partners, and internal stakeholders self-service access to business activity views. Such capabilities allow business users and integration professionals to view, interact, collaborate, and take direct action on business and digital selling transactions that impact end-to-end e-commerce processes.
Next-Generation Managed Services
Traditional managed services approaches are a "black box," providing users little visibility and control over any aspect of their integration processes. Cleo's next-generation managed services approach eliminates blind spots to provide greater levels of control and transparency by enabling direct interaction with the integration environment. This centralized support capability empowers users to reprocess e-commerce transactions and optimize exceptions directly, without added services costs.
Faster Issue Resolution
For those whose roles require deeper technical or transactional context, Cleo Integration Cloud enables users to quickly and accurately resolve time-sensitive e-commerce application and EDI integration issues using quick-read message boards presented as side-by-side panels. Now technical users can interact with integration flows and resend or reprocess transactions fast, and with pinpoint accuracy – saving time and money.
"With our latest platform innovations, Cleo customers can achieve better business outcomes to support their e-commerce initiatives by using a single platform for all of their ecosystem integration needs," said Cleo CEO Mahesh Rajasekharan. "The many new and enhanced capabilities elevate Cleo's ability to help our customers create value through frictionless ecosystem interactions and more dynamic end-to-end business processes. We are continuing to push forward on our vision of an intuitive, consolidated, and seamless platform for B2B, application, and data integration."
Michael Hegarty, Vice President of Technology – ERP | CRM | SRM with Lipari Foods, a Cleo Integration Cloud customer, agrees that the ecosystem-driven approach supports more modern growth aspirations.
"We looked at traditional iPaaS technologies, pure-play managed integration services, and various integration tools before choosing Cleo Integration Cloud," he said. "As our company expands through growth and acquisition, our ecosystem of customers and partners is rapidly growing … and as our business evolves, we want to make it easy for others to engage, communicate, and do business with us. Cleo provides the best balance of integration capabilities, managed services, and business insight to accelerate our strategy.
"We know we can trust the Cleo managed services team and the rich capabilities of the Cleo Integration Cloud platform to manage our ecosystem integration needs, now and into the future."
To experience how Cleo Integration Cloud can help your business, request a demo today. To learn more about the current and future state of the Ecosystem Integration category, download Cleo's 2019 "State of Ecosystem and Application Integration Report."
1 Gartner "Future of Your Business Ecosystem in the Age of Digital Business: A Gartner Trend Insight Report" by Marcus Blosch and Jan-Martin Lowendahl, September 12, 2018 G00368767
About Cleo
Cleo is an ecosystem integration software company focused on business outcomes, ensuring each customer's potential is realized by delivering solutions that make it easy to discover and create value through the movement and integration of enterprise data. Cleo gives customers a strategic, "outside-in" visibility into the critical end-to-end business flows happening across their ecosystems of partners and customers, marketplaces, and internal cloud and on-premise applications. Our solutions empower teams to drive business agility, accelerate onboarding, facilitate modernization of key business processes, and capture new revenue streams by reimagining and remastering their digital ecosystem through robust application, B2B, and data integration technologies. For more information, visit www.cleo.com or call +1.815.282.7695.
# # #
Media Contacts
Matt Torman
Senior Manager, Marketing Communications
Cleo
+1.815.282.7610

Drew Smith
Senior Account Manager
10Fold Communications
+1.415.800.5374