Cleo Earns Top 10 Spot on G2's 2022 Best Software List for IT Infrastructure Software Category
ROCKFORD, Ill., March 8, 2022 – Cleo, the pioneer and global leader of the Ecosystem Integration software category and provider of the Cleo Integration Cloud (CIC) platform, today announced it has been named to G2's 2022 Best Software Awards, placing 10th on the IT Infrastructure Software list. 
"Cleo is honored to officially be recognized by G2 with the top-most spot amongst all integration solution providers," said Mahesh Rajasekharan, President and CEO. "This distinction proves that our ecosystem-centric approach to integration is being recognized by the market as the modern way to solve B2B integration challenges. The feedback we receive is ultimately a win for our customers who, as users, publicly rate us on our product capabilities, services delivery, support, and sales cycle and post-sales cycle processes, all of which helps us to continuously improve."  
This is the company's second time appearing on one of G2's Best Software lists, earning its place this year thanks to its continuous innovation and customer-focused evolution of its Cleo Integration Cloud platform and outstanding Customer Experience teams. Cleo has received quarterly "Leader" ratings from G2 in EDI, iPaaS, and other integration technology categories for more than four years straight. The company has also earned recognition for "Most Implementable" and "Best Usability" amongst software players and continues to receive positive customer reviews on G2.
Operating a software marketplace used by more than 60 million software buyers annually, G2 is the definitive online destination to discover, review and manage the technology that businesses need to reach their potential. Its annual Best Software List ranks the world's best software companies and products based on authentic, timely reviews from real users. 
"As we continue to accelerate rapid growth, our online marketplace boasts 100,000+ software and services companies in 2,000+ categories and over 1.5 million trusted user reviews.Simply put, G2 is where you go for software," said Godard Abel, co-founder and CEO, G2. "Our annual Best Software List aims to guide buyers on their purchasing decisions, knowing they can trust in the credibility and objectivity of our scoring algorithms. We applaud those companies named to our 2022 list, as they've earned the satisfaction among their customers as well as an impressive market presence." 
The top 100 software sellers are ranked based on a combination of Satisfaction and Market Presence scores for each seller, and the top 100 products are ranked based on reviews across all categories they are a part of. To be included in one of G2's Software Sellers or Software Products "Best Of" lists, a software seller or product must receive at least 50 approved and published reviews during the 2021 calendar year. Scores reflect only data from reviews submitted during this evaluation period. 
To learn more, view G2's 2022 Best Software List and read more about G2's methodology.
To learn more on how Cleo creates value for customers, explore our customer testimonials and case studies.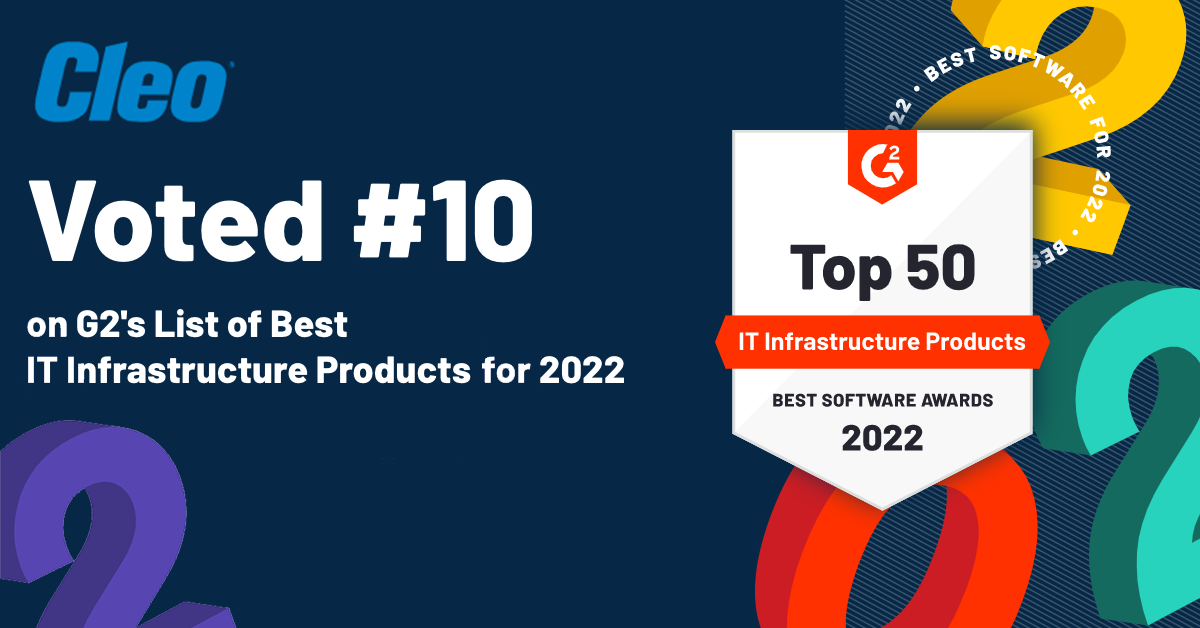 About G2
G2 is the world's largest and most trusted software marketplace, helping more than 60 million people every year make smarter software decisions based on authentic peer reviews. Thousands of companies partner with G2 to build their reputation, manage their software spend, and grow their business -- including Salesforce, Hubspot, Zoom, Adobe and more. For more information, visit www.g2.com or follow us on Twitter and LinkedIn.
About Cleo Integration Cloud
Cleo Integration Cloud (CIC) is a cloud-based integration platform, purpose-built to design, build, operate and optimize critical ecosystem integration processes.  The CIC platform brings end-to-end integration visibility across API, EDI and non-EDI integrations that gives technical and business users the confidence to rapidly onboard trading partners, enable integration between applications, and accelerate revenue-generating business processes.  On the platform, businesses have the choice of self-service, managed services, or a blended approach – ensuring complete flexibility and control over their B2B integration strategy.
About Cleo
Cleo is an ecosystem integration software company focused on business outcomes, ensuring each customer's potential is realized by delivering solutions that make it easy to discover and create value through the movement and integration of B2B enterprise data.  Cleo gives customers strategic, "outside-in" visibility into the critical end-to-end business flows happening across their ecosystems of partners and customers, marketplaces, and internal cloud and on-premise applications.  Our solutions empower teams to drive business agility, accelerate onboarding, facilitate modernization of key business processes, and capture new revenue streams by reimagining and remastering their digital ecosystem through robust application, B2B, and data integration technologies. For more information, visit www.cleo.com or call +1.815.282.7695.