Cleo's Latest Product Innovation Revolutionizes Supply Chain Integration
Company launches Accelerators to quicken time-to-revenue by up to 4x for eCommerce, marketplaces, and EDI connectivity; brings agility to respond to changing market demands
ROCKFORD, Illinois – October 7, 2021 – If supply chains are the revenue-critical lifelines that enable companies to make, sell and move their products, then what exactly gives these supply chains the agility to quickly respond to market disruptions or new business opportunities?   
The answer is a modern, comprehensive cloud integration platform that brings together end-to-end integration, business process automation and orchestration, and real-time operational visibility. All of it orchestrated across a company's multichannel ecosystem of API and EDI flows through eCommerce and marketplaces, as well as traditional trading partner networks. This combination empowers organizations to have the agility to drive impactful business outcomes at all levels of conducted commerce.
Given the complexity of business processes and the unique skills required, supply chain integration remains complex, and poor integration is costly. In fact, 66 percent of companies lost up to $500,000 and 10 percent lost over $1 million in revenue in 2020 from poor integrations. But Cleo, the pioneer and global leader of the Ecosystem Integration software category and provider of the Cleo Integration Cloud (CIC) platform, is about to change that. 
At its annual user conference, Cleo Connect: The Main Event, held today, the company unveiled its new library of ecosystem Accelerators in a bid to revolutionize supply chain integration.   
Accelerators are out-of-the-box B2B integrations between a system of record, such as an ERP, TMS or WMS, and an application or trading partner, such as Amazon Marketplace, Shopify, a retailer, or a customer. Each Accelerator comes with prebuilt end-to-end business process logic for deploying common API and EDI-based supply chain integrations. Now an integration owner merely configures these complex B2B integrations with no coding required.
Businesses can use these Accelerators to speed time-to-revenue by quickly connecting to eCommerce stores, marketplaces, or EDI-based trading partners and hence rapidly expanding their sales channels and new revenue. Additionally, Accelerators empower businesses to respond faster to changing demand patterns, ultimately driving organizational agility. Cleo enables every role in the organization to keep a finger on the operational pulse of supply chain integrations through real-time, end-to-end visibility of each and every transaction, which also enhances collaboration with external ecosystem entities for day-to-day operations. 
For instance, eCommerce teams get a single view to efficiently manage the complete lifecycle of transactions from multiple storefronts and marketplaces. Similarly, EDI teams gain proactive alerting and notifications to keep their trading partner ecosystem compliant.   
Simply put, Cleo's Accelerators stand to revolutionize supply chain integration, and they come at just the right time. Gartner® has predicted that "By 2023, use of packaged integration processes will grow from less than 30% in 2020 to above 65% of new integration projects.(1)" With this latest innovation to its popular ecosystem integration platform currently used by more than 4,000 customers, Cleo is leading the way.      
"Cleo is changing the integration game. We have taken decades of B2B domain experience, end-to-end business process knowledge, and industry expertise and 'baked' these into Cleo's new Accelerators," said Mahesh Rajasekharan, president and CEO of Cleo. "This is so timely as, today more than ever before, businesses must get ahead of ever-changing customer behaviors and demands by meeting them where they shop and buy. I'm thrilled that Cleo is helping supply chain businesses by empowering an 'endless aisle' via seamless connectivity to eCommerce stores, marketplaces, and traditional retail channels."
Cleo's Accelerators focus on supporting common supply chain integrations between industry leading systems of record, such as NetSuite, Microsoft Dynamics, or Trimble Truckmate TMS, and ecosystem endpoints like Amazon Seller Central, Shopify, or ANSI X12 EDI with traditional retail, wholesaler, logistics or other supply chain trading partners.  For example, out-of-the-box integrations include NetSuite-to-Shopify, NetSuite-to-Amazon, Netsuite-to-X12 EDI with retailer, Microsoft Dynamics-to-Amazon, and Trimble Truckmate TMS-to-X12 EDI with a customer. Each Accelerator built on the CIC platform comes equipped with:
End-to-end business process orchestration
Prebuilt integration logic for each process flows
Real-time visibility for instant insight in operations
Contextually linked, end-to-end business process visibility
Alert notifications to speed issue resolution time
For more information about Cleo's new Accelerators, visit our web page or watch this video. For availability information, contact us. 
INFOGRAPHIC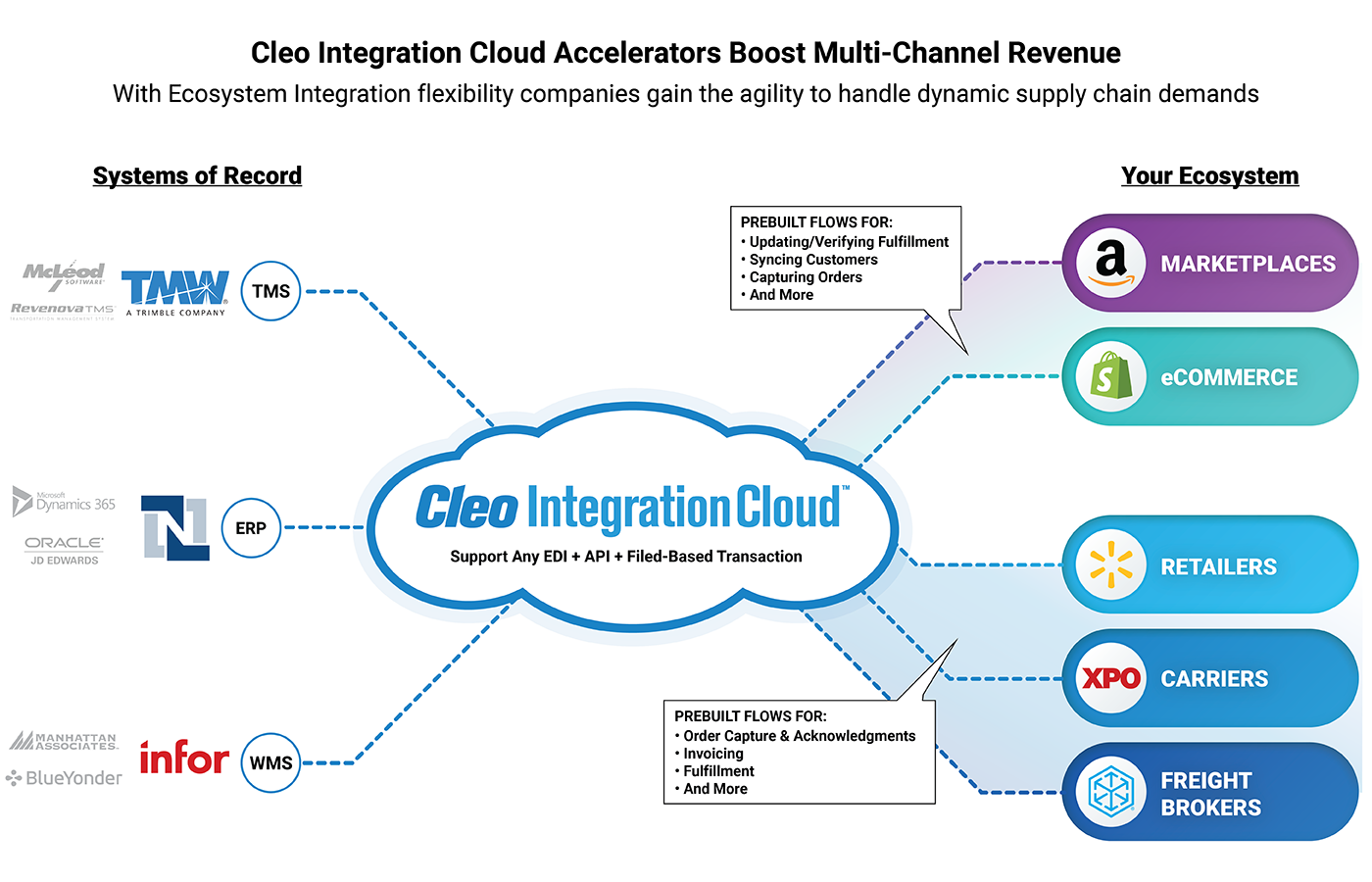 About Cleo Integration Cloud
Cleo Integration Cloud (CIC) is a cloud-based integration platform, purpose-built to design, build, operate, and optimize critical ecosystem integration processes.  The CIC platform brings end-to-end integration visibility across API, EDI and non-EDI integrations that gives technical and business users the confidence to rapidly onboard trading partners, enable integration between applications, and accelerate revenue-generating business processes.  On the platform, businesses have the choice of self-service, managed services, or a blended approach – ensuring complete flexibility and control over their B2B integration strategy.
About Cleo
Cleo is an ecosystem integration software company focused on business outcomes, ensuring each customer's potential is realized by delivering solutions that make it easy to discover and create value through the movement and integration of B2B enterprise data.  Cleo gives customers strategic, "outside-in" visibility into the critical end-to-end business flows happening across their ecosystems of partners and customers, marketplaces, and internal cloud and on-premise applications.  Our solutions empower teams to drive business agility, accelerate onboarding, facilitate modernization of key business processes, and capture new revenue streams by reimagining and remastering their digital ecosystem through robust application, B2B, and data integration technologies. For more information, visit www.cleo.com or call +1.815.282.7695.
(1)  Gartner, Inc., "Accelerate Your Integration Delivery by Using Packaged Integration Processes," by Abhishek Singh, Massimo Pezzini, 17 November 2020.  GARTNER is a registered trademark and service mark of Gartner, Inc. and/or its affiliates in the U.S. and internationally and is used herein with permission.