Nashville. It's fondly referred to as the Music City, but for one week in October, Nashville became the Integration City.
This year's Cleo Connect customer event was Cleo's biggest and most-attended one yet, as Cleo hosted hundreds of customers, partners, and stakeholders at the Gaylord Opryland Hotel in Nashville. Attendees traveled from across the United States to connect and discuss all things integration and cloud, and how they've been able to gain business value using Cleo solutions.
We tremendously enjoyed the discourse that occurred between our great customers, partners, and industry experts, and we collected a few of the many interesting quotes overheard at Cleo Connect, to give you an idea of what's affecting organizations today.
"The ability to say 'yes' to my business partners for virtually any connection is the most powerful thing Cleo gives me." – Mike Hegarty, Lipari Foods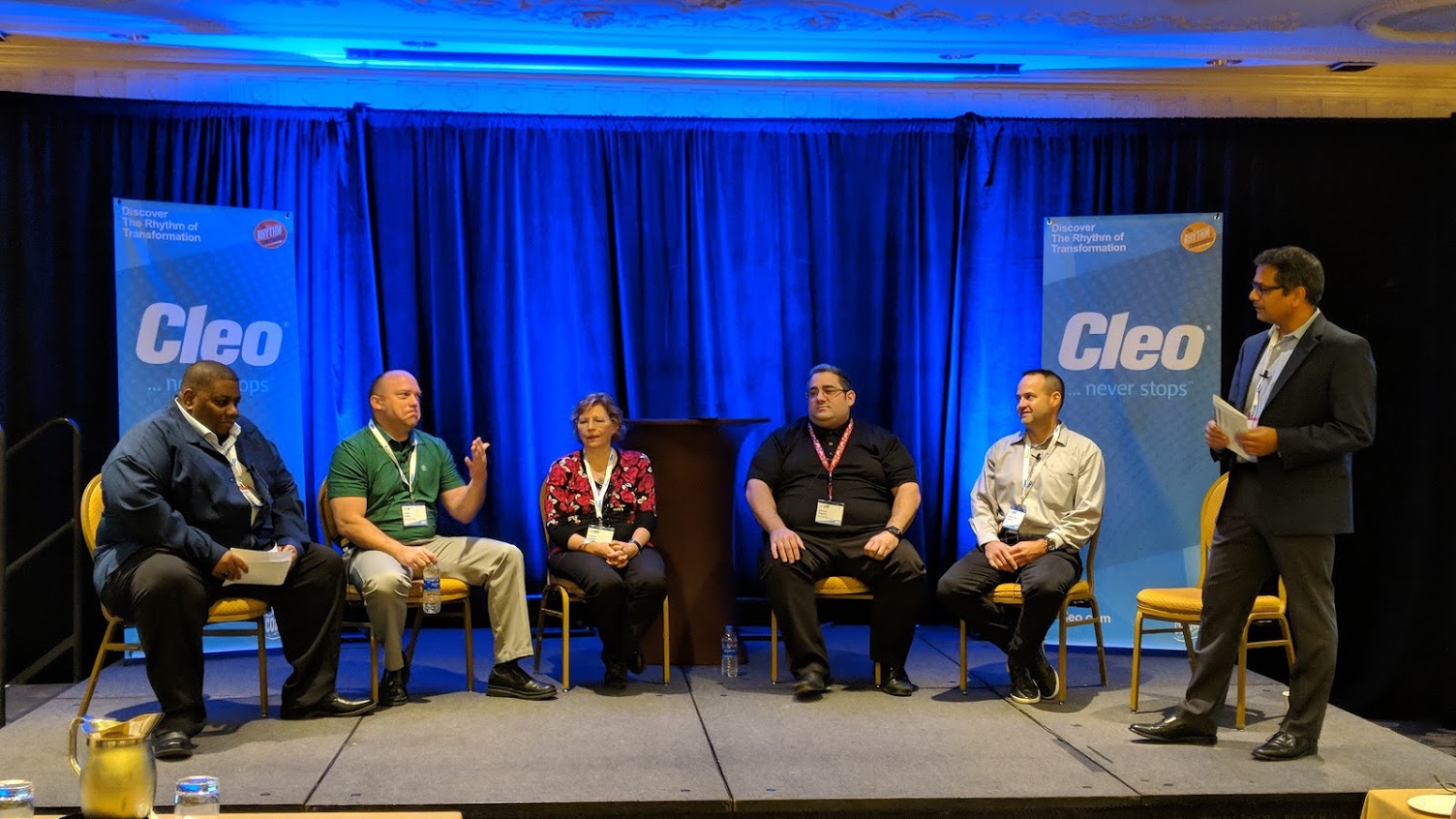 Michael Hegarty (third from the right) is the director of ERP and CRM corporate strategy at Lipari Foods, an independent food distributor based in Warren, Michigan, and spoke on one of the customer panels during Cleo Connect. This idea of "saying yes" is important to a company like Lipari, which serves more than 7,500 retailers across the U.S. Every trading partner in a business network can use different technologies and applications and has data and business demands, and it's up to you to meet all of them to continue to serve them and grow your business. Cleo Integration Cloud features the B2B, application, and SaaS connectors that make it easy for companies like Lipari Foods to meet those demands.
"The realities of digital transformation are creating new opportunities for businesses to deliver value and new experiences to their customers, fundamentally changing the competitive landscape across every industry." – Cleo CEO Mahesh Rajasekharan
Cleo CEO Mahesh Rajasekharan delivered a keynote address at Cleo Connect to speak on the challenges that arise from a digital transformation strategy and what enterprises can do to take advantage. In today's modern enterprise, companies need to integrate and connect with a dynamic network of customers and partners, and this includes connecting and integrating their disparate systems and technologies. The ability to meet all these integration needs ultimately enables the critical internal and external data interactions that drive business revenue and create new service opportunities.
"We were basically a slow pitch softball team." – Billy Beane
This quote from Billy Beane, the executive vice president of baseball operations and minority owner of the Oakland Athletics, talked about baseball's traditional (and outdated) approach of signing players that "look like baseball players." As Beane, subject of the "Moneyball" book (and later a movie starring Brad Pitt as Beane) explained at Cleo Connect, "Moneyball" was less about challenging the status quo and more about doing what was best for their organization. In the case of the small-market Oakland A's, it was finding creative ways to stay competitive against other large-market franchises that had huge payrolls. Enterprises that constantly evaluate all the ways to gain a competitive advantage – through data, technology, etc. – put themselves in a position to maximize value and ultimately, succeed.
"CIOs who consistently look inward versus outward at their ecosystem – looking for revenue and business opportunities – will be out of a job soon." – Frank Kenney
Ecosystems are already here, and it's likely that they are making quite an impact within your industry. As Cleo Director of Strategy Frank Kenney said during his presentation at Cleo Connect, CIOs and other leaders within an enterprise must gain insight and influence over their company's ecosystem in order to successfully transition short term and gain revenue over the long term while driving digital revenues. Today's integration platforms enable tomorrow's business ecosystems.