The results are in. PWC's latest Executive Pulse Survey has revealed that 87% of CFOs expect their revenues to increase over the next 12 months.  This is up from 28% only five months ago. This means that the world is ready to get back to driving economic growth after businesses around the globe have spent over a year in saving and cost-cutting mode. 
So now the question for CFOs is "what my the biggest financial growth lever?"  
The answer: integration software. 
COVID-19 has ravaged global supply chains in ways that will have a lasting effect for years to come. And it's those companies who have adapted, evolved, and embraced modern integration techniques that are best equipped to thrive going forward. The pandemic has forced companies across many different industries to re-examine their integration technology, with an eye toward the cloud. 
Integration software has the power to not only lift top-line revenue but drive operational efficiency which will result in cost savings and increased cash to your bottom line.
Here's how: 
Reduce Lost Revenue
Companies are losing revenue due to poor integration and most aren't sure what they can do about it. According to Cleo's 2021 State of Ecosystem and Application Integration Report, Seventy-four percent of companies said that they lost more revenue due to integration issues in 2020 than in 2019. 
When asked how much annual revenue was lost in 2020 due to poor integrations, 66% of respondents said their companies lost up to $500,000, compared with just 43% losing that amount in 2019, and 10% said they lost up to $1 million in revenue.
You heard that right - $1 million in LOST revenue.
What could that mean to your business?
Often organizations are losing revenue because they rely on disparate, legacy technologies that are cobbled together through spaghetti integrations. This typically happens over time.  For example, you may have made some acquisitions along the way, bought a tool to integrate with a specific trading partner, or simply needed a quick solution to put out a fire.  This traditional approach to B2B integration is broken and to fix it modern organizations need to leverage a modern cloud-oriented technology using an approach like ecosystem integration.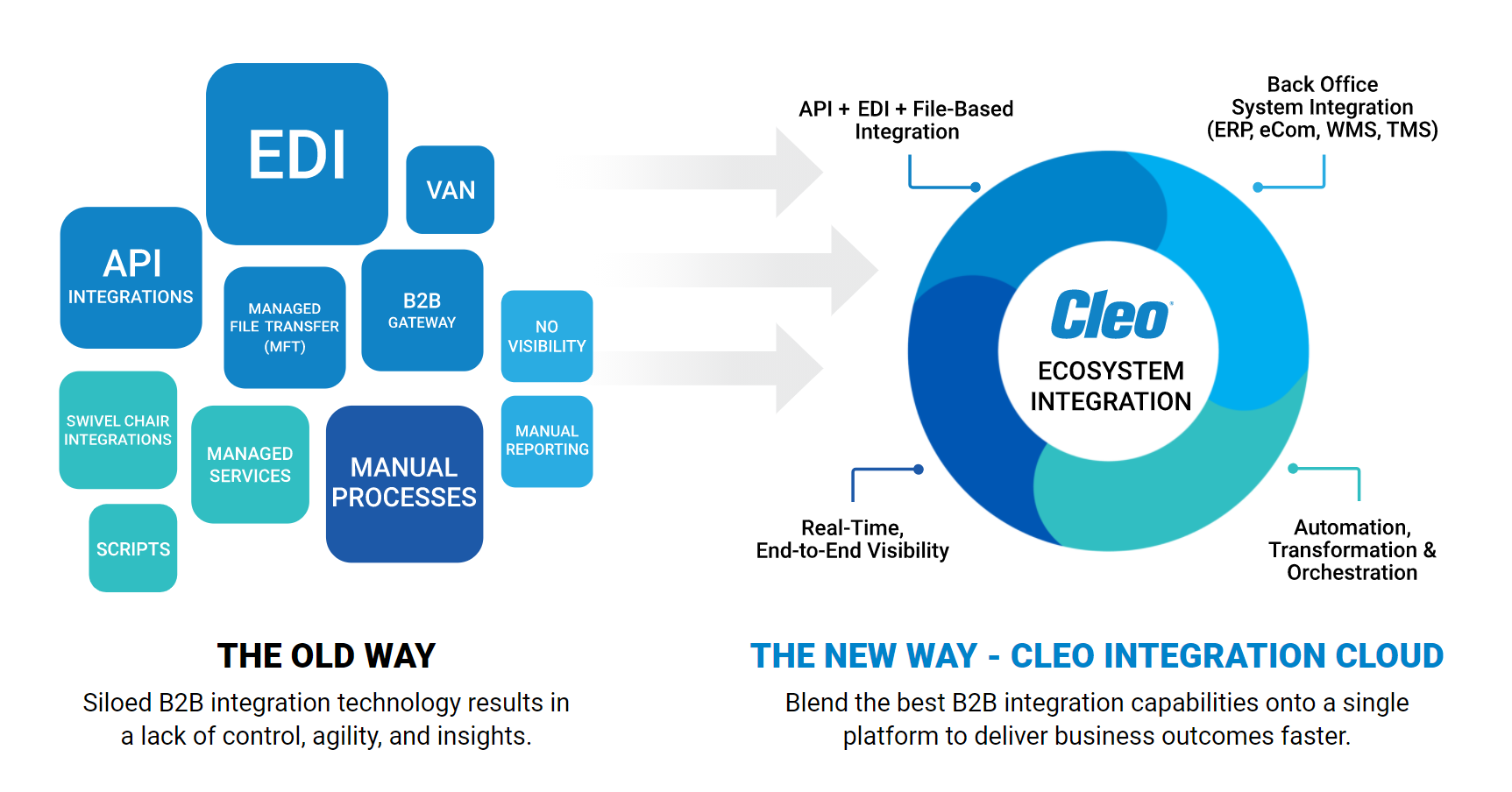 With an ecosystem integration platform, organizations can ensure end-to-end integrations are complete between external ecosystem entities (like customers) to their internal systems of record (like an ERP).  With end-to-end integrations, transactions are not lost between systems, and important business processes, like order-to-cash or procure-to-pay, can be properly automated, orchestrated, and maintained to ensure successful outcomes. 
Eliminate Lost Orders 
Poor integration is causing more lost orders than anyone could have imagined. Lost orders certainly impact revenue, but that is just the tip of the iceberg.  As a manufacturer, a lost order means product inventory sitting on the shelf (either at a warehouse or a retail store), which can be costly. Furthermore, if goods are perishable, a lost order can lead to expired products, which directly impact your margins. 
According to Cleo's 2021 State of Ecosystem & Application Integration Report, 88 percent of companies lost orders in 2020, with over half of the respondents (51%) reporting they lost more orders in 2020 than in 2019.
These lost orders can also cause larger issues with your ecosystem entities, such as customers. Your service level agreements (SLAs) may be impacted causing a dip in your vendor scorecards and putting future orders at risk. Once these relationships are impacted, they can be difficult to repair. 

Modern integration software can help eliminate lost orders by providing visibility to track and resolve errors, give proactive status updates, and empower customer-facing teams to access data to quickly communicate with customers and trading partners in the event of an issue. Errors slow down the collection of cash because they prevent three-way matching of advance ship notices (ASNs), purchase orders (POs), and delivered products. When teams have visibility, they can proactively identify errors and eliminate lost orders. 
Faster Trading Partner Onboarding 
The faster you onboard a new trading partner, the faster your revenue starts to flow. In 2020, organizations onboarded 51% more trading partners than in 2019.  While some of this is related to COVID-19 and the shifts in sales channels, the reality is that your organization must be agile. Typically we think of trading partner onboarding as adding new partners, but we must also consider our ability to adapt to changes coming from our existing trading partners.  
As you were hit with the reality of digitally transforming your organization, so were your customers, suppliers, and partners. Therefore, it is safe to assume onboarding is here to stay.  
A modern ecosystem integration platform can support onboarding in several ways.  
1)    Any-to-any transformation
Having a powerful protocol and transformation engine will allow your organization to say "yes" to virtually any trading partner requirement coming their way.  This means you will not need additional tools or software (saving you money) and also means you will be able to meet requirements faster because your technical teams will not have to go searching for a new solution. 
2)    API and EDI on the same platform
While EDI might be the lifeblood of your B2B transactions, the reality is that APIs are coming in hot. Most B2B integration solutions do not have the ability to support API-based integrations, and most iPaaS platforms are not well equipped to support EDI. APIs are needed to support new revenue channels, such as eCommerce, marketplaces, and other direct-to-consumer strategies. You need the best of API and EDI on the same platform, which is what an ecosystem integration platform can provide.
3)     Connectors, pre-built templates, and business profiles 
We have all heard the term "let's not reinvent the wheel." When it comes to onboarding, leveraging previous work and expertise in the form of connectors, pre-built templates, and business profiles, organizations can not only onboard faster, but they can do it cheaper.  Whether you are leveraging a 3rd party for implementing a new trading partner or utilizing an internal team, efficiency matters. An ecosystem integration platform is going to give you maximum efficiency with a plethora of options. 
As a CFO, you have many options to help your organization grow. You can move the budget from R&D or Operations to Marketing & Sales, take on more debt to fund growth initiatives, or do a complete overhaul of your technology stack to drive efficiencies. The reality is while all of those options are viable and effective, upgrading your legacy B2B integration tools into a modern, consolidated ecosystem integration platform is going to provide faster ROI and help you grow your business. 
To learn more about how other CFOs have discovered and created value through ecosystem integration contact us.