Evolving from Traditional Systems
In today's technologically focused world, businesses rely on countless applications and platforms to operate successfully. Managing all the different applications and ensuring the correct information is distributed to the necessary platforms is a time-consuming and intricate process. Therefore, businesses need systems that enable them to centrally manage their various processes and applications. This is where iPaaS enters the equation.
Here are the 9 Advantages of the iPaaS Approach
iPaaS, also known as Integration Platform as a Service, provides a centralized console to manage, govern, and integrate cloud-based applications.
This is done via iPaaS integration tools that connect cloud and on-premise applications and services, and control integration flows. To increase the value of business relationships, companies use iPaaS solutions to scale performance needs, add product functionality, and structure SaaS applications and on-premise application integration.
With that background, let's explore the nine greatest benefits of the iPaaS approach.
 
1. Productivity: Enable Integration via "Developing" Interfaces for all Applications
iPaaS software was built with efficiency in mind. Instead of manually moving data from one system or platform to another, iPaaS automates the end-to-end integration process between applications. Additionally, iPaaS can be set up to automatically complete tasks, such as sending invoices to trading partners when a project is completed. iPaaS platforms work 24/7 and reduces the reliance on human action.
 
2. Experience: Self-service and Self-Support
iPaaS simplifies the self-service approach. Since iPaaS platforms are characteristically low-code, users of all levels can create integrations and processes using pre-made templates and maps. Furthermore, users can edit these templates by simply clicking, dragging, and dropping. Therefore, even non-technical users are often able to manage the platform, integrations, and processes.
 
3. Visibility: Retake Control
Take back control of your business. iPaaS software provides real-time visibility across end-to-end business processes. This provides businesses with up-to-the-minute updates, fresh data, and timely alerts so they can make key decisions based on relevant information. Furthermore, companies have greater insights into data, performance, errors, processes, and more.
 
4. Connector Profile: Library of General, Basic Connectors
Data connectivity is an integral aspect of iPaaS. A solid iPaaS platform enables businesses to securely communicate with various connectors and support EDI protocols, such as:

          ●        Protocol Connectors: FTP/SFTP, HTTP/S, AS2/AS3/AS4, OFTP/OFTP2
          ●        Application Connectors/Adapters SaaS and On-Premise Applications
          ●        Data Formats: XML, JSON, and ASN.1
          ●        Data Standards: EDI, EDIFACT, HL7, and SWIFT
          ●        IoT Protocols: AMQP, MQTT, and Kafka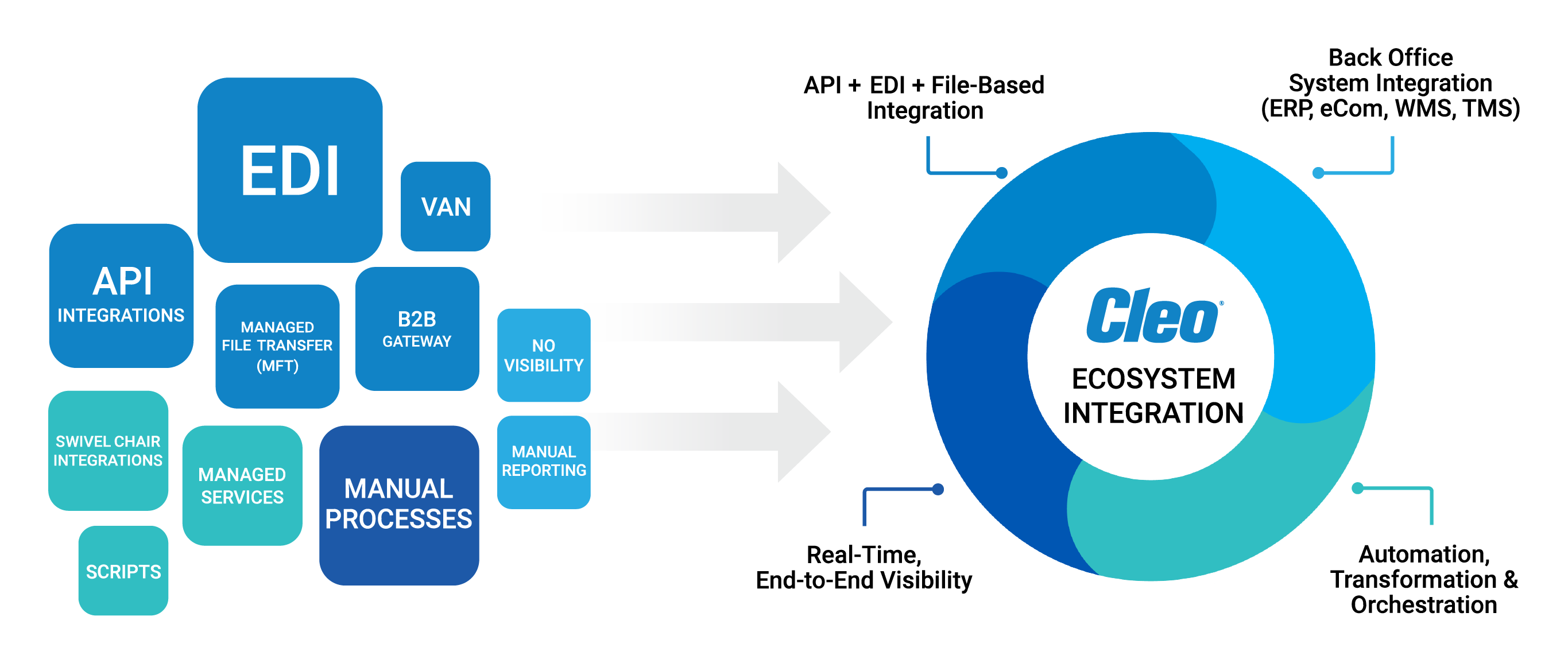 Supporting a variety of connectors and protocols allows businesses to work with more trading partners. This is because there is a greater chance the business can support whichever technology the partners use.
5. Ecosystem Style: Internal-Integration-Focused
As companies grow, more data and processes need to be interconnected so information can flow efficiently. That is why companies need to be internally integrated as well, not just connected to external partners, vendors, customers, etc. Internal iPaaS integration allows companies to knock down silos, share information and data in real-time, and promote cross-functional collaboration.
 
6. Streamlined Operations: Sales and Marketing
To shorten and improve the sales cycle, data and automation are key. Utilizing iPaaS software allows sales and marketing departments to integrate applications such as Salesforce, HubSpot, Oracle Netsuite, and Mailchimp, among many others. The benefits of integrating sales and marketing applications include:

          ●        Rapid lead identification
          ●        Discovering upselling opportunities quicker
          ●        Providing faster and more accurate quotes
          ●        More organized data
These benefits are the result of integrated applications automating traditionally manual tasks, including drafting and sending contracts, quotes, and data entry/analysis.
 
7. Integration Scope: Internal Application Integration with Support for Standard Cloud Applications
Integrating a variety of applications is a key benefit of iPaaS. iPaaS can integrate internal applications, cloud applications, and on-premise applications. Since iPaaS can integrate a vast array of applications, companies can focus on selecting the most beneficial apps, rather than having to select sub-par apps simply because they are integration capable.  
 
8. Scalability: Technical and Commercial Growth
As companies grow and new technologies are implemented, integration platforms need to be able to handle the influx of new applications, processes, and systems. iPaaS is scalable, meaning it can handle the addition or removal of applications without causing any disruptions. Businesses can grow without worrying about integration trouble or obstacles.
 
9. Enhanced Decision Making: Valuable Insights and Analytics
Now more than ever, businesses rely on data to inform decision-making. iPaaS allows for more informed decision-making since it provides greater visibility into data and analytics. Companies no longer have to analyze outdated and limited data that was manually accumulated from various sources. Instead, businesses can view data in real-time in one central location thanks to iPaaS integration.
 
How to Build Your Future-Proof Ecosystem
Technology moves fast. Therefore, it is important to consider which iPaaS vendor and solution will be a good fit for both your business today, and for years to come.
Identify Greatest Needs Based on Data
No two businesses are alike, meaning each company has different responsibilities and needs. Just because an iPaaS vendor is a perfect fit for one company, does not mean it is the best option for another company. Be sure to identify the most important requirements in an iPaaS solution for your business, so you can select the option to bridge the largest gaps in your current organizational structure and processes.
 
Be Sure to Consider Platform Functionality Thoroughly for the Most Sensible iPaaS Solution
When researching iPaaS solutions for your business, it is crucial to assess platform functionality. Thoroughly evaluate platform features and capabilities because iPaaS vendors offer a wide array of functions, with some being much more advanced and extensive than others. Selecting the best iPaaS solution will quickly prove indispensable as your team witnesses increases in efficiencies and revenue.