The urgency is real.
Business and IT decision-makers across logistics, wholesale, and manufacturing industries are feeling greater urgency to adopt newer, simpler integration alternatives as underperforming B2B/EDI, application, and data integration solutions are proving increasingly costly, both in terms of revenue and productivity.
That's why today's modern companies view the promise of ecosystem integration as a true strategic value driver for modern enterprises. Cleo's 2020 State of Ecosystem and Application Integration Report stems from a survey completed in October 2019. It is designed to reflect the collective opinion from business and IT decision-makers that represent multiple industries and job functions within companies of different sizes.
Here are some of the biggest takeaways from the report:
30% of respondents estimate they lose between $100,000 and $1 million per year as a result of integration-related issues, including data errors, technology impediments, or SLA violations
64% say they will upgrade their solutions in the next year
57% plan to migrate integration capabilities to the cloud in the next year
82% confirm that automating integration is either important or very important, and 60% say it is the greatest value driver for their business ecosystem
Those are just a handful of valuable data that resides within this report. This is the type of direct information from customers that helps enterprises make better purchasing decisions and shows why a modernized integration platform is so beneficial for success.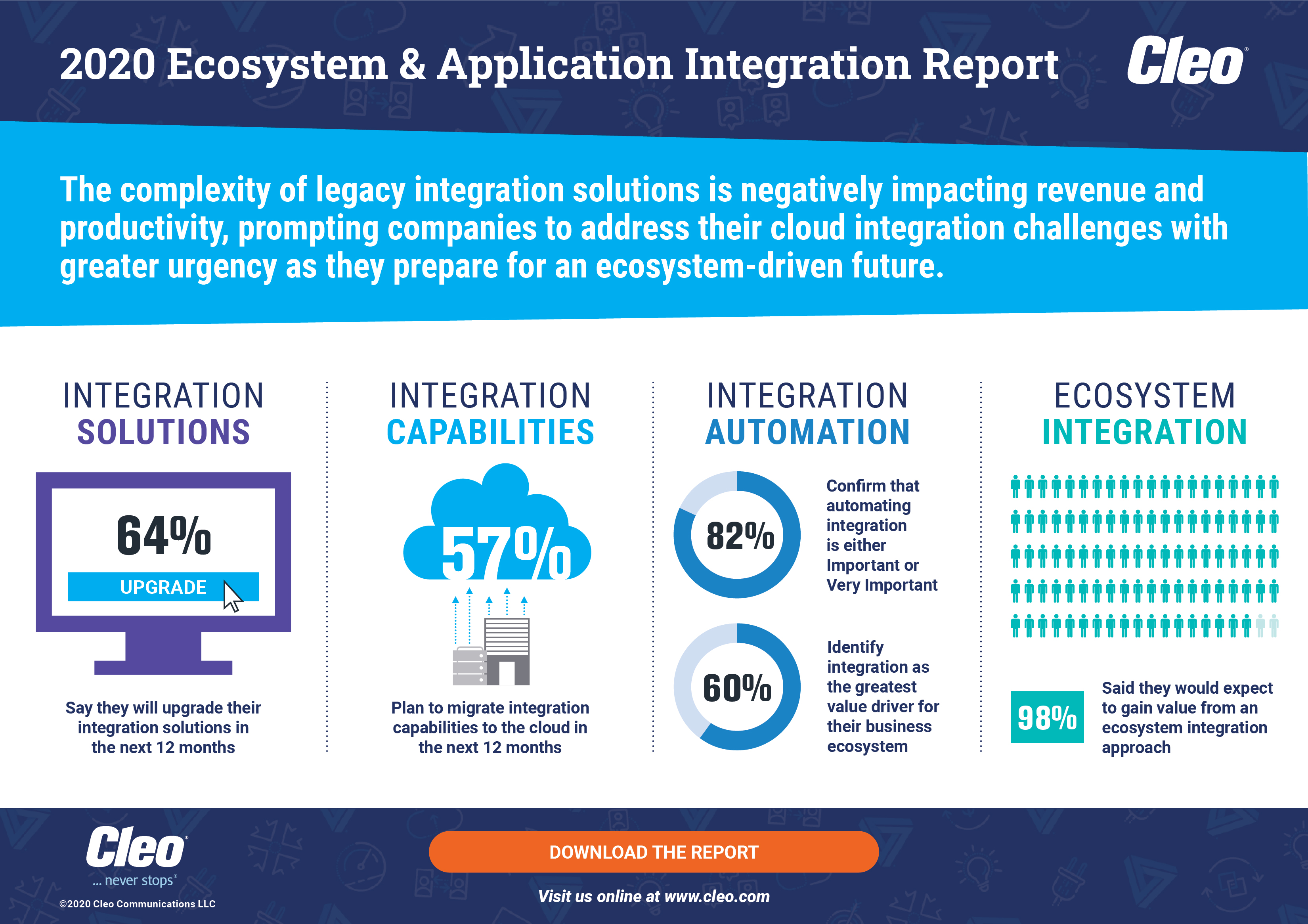 ABOUT THE REPORT
The survey was conducted for Cleo by Dimensional Research in Q4 2019. The primary research goal was to understand the scope and challenges of building and maintaining enterprise B2B integrations. Additionally, the research sought to understand the business impact of integration issues. A total of 305 participants that design, build and manage applications or infrastructure integrations completed the survey. Participants were from North America and Europe. The survey was administered electronically, and participants were offered a token compensation for their participation.